Judge Brian Sheridan brings gavel down on distinguished legal career at Mallow Courthouse
Click on the photo below to open a gallery of images from Judge Sheridan's last day at the Cork courthouse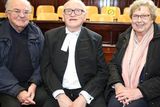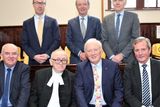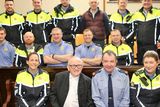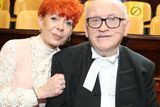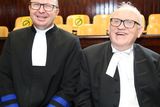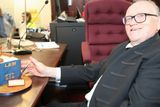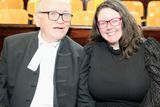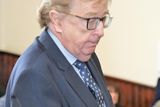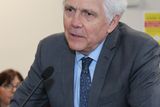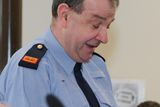 The gavel came down on a long and illustrious law career at Mallow Courthouse last Tuesday morning when Judge Brian Sheridan concluded his final session on the bench after serving as a judge for the past 18 years.
Family members, courthouse staff, solicitors and gardaí were on hand to wish Judge Sheridan a long and happy retirement.
District Court President Paul Kelly joined the gathering by video link: "As a result of modern technology I'm delighted to be able to join you today for the last sitting of our beloved friend and colleague Brian Sheridan. He has had a distinguished career as a judge, but also as a servant of the public in many ways and we acknowledge the many facets of his service.
"Judge Sheridan has dealt with all cases in his humane and compassionate way. On behalf of myself and my colleagues, I want to thank you Brian for your friendship, for your wisdom, help and advice and we wish you a long and happy retirement," Mr Kelly said.
Additional tributes were paid to Judge Sheridan by Mallow District Court Manager Valerie Lynch, Senior Solicitor Matt Nagle and State Solicitor Frank Nyham. Inspector Tony O'Sullivan congratulated the judge on behalf of the Gardaí and Probation Officer Eleanor O'Shea added her good wishes.
In reply, Judge Sheridan thanked everyone for their kind words.
"Thank you all very much, it's the end of a 43 year legal career and the past 11 years here with you have been full of life and spirit. I want to pay particular credit to Valerie and the staff here in Mallow, as well as the teams in Fermoy and Midleton, probation officers, solicitors and the gardaí and on that note i wish you all well and I will be thinking of you," he said.
Minister for Justice Simon Harris wrote to Judge Sheridan commending him for his many years of dedicated service as a judge of the District Court. "Although you have served the public for almost 18 years as a Judge, your time as a Solicitor also stands out. Your work has been of great importance for all the citizens of the State. I would like to express my sincere appreciation for your hard work, commitment and dedication in your service to the State, not just on my own behalf, but on behalf of the Irish public who you have served through your role," Minister Harris said.
43-years ago, Judge Sheridan began his career as a solicitor with the Legal Aid Board. Throughout his career, he has been involved in numerous facets of the legal scene in Ireland.
In 1994 he founded the Burren Law School with Mary Hawkes Green and Michael Green. The conferences held at the school addressed important issues such as Travellers' rights, the use of simpler language in legal practice, access to justice and the prosecution of historic sexual abuse cases. Judge Sheridan was head of the Cork Legal Aid Board and former Chair of the Law Society's Family Law and Civil Legal Aid Committee.
He was a member of the District Court Rules Committee and contributed to various statutory instruments revising the District Court rules since 2007. He served on the bench in Dublin before being appointed to District No. 20 in 2012, encompassing the districts of Mallow, Midleton and Fermoy.
After giving so unselfishly in the service of the State over the past 43 years, Judge Sheridan who is known as a man of culture and learning with a great interest in history, architecture and antiques, will now have time to pursue his many hobbies and interests in the years ahead.