John's journey from dad to father between papal visits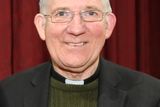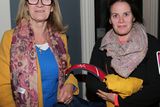 Although the heavens opened with torrents of rain on Sunday morning it did not deter pilgrims from North Cork from setting out before dawn to join the thousands of people from all parts of the country who travelled to see Pope Francis at the Pheonix Park.
People from Kanturk, Lismire, Newmarket, Meelin and Rockchapel who travelled with Clifford Coaches were happy to share their thoughts on this landmark occasion with the Corkman when they arrived back home, tired but elated, at 12.30am on Monday morning.
Fr. John was in Galway to see Pope John Paul II in 1979. At the time he was married and had his baby daughter with him. Fast forward 39 years and Fr. John's life has changed vastly.
"That time when I was in Galway, I never thought I would be attending the Papal visit in 2018 as a priest!" Fr. John said.
After his wife passed away, he felt drawn to the priesthood and was ordained last year. A native of Whitechurch, he was subsequently assigned to Kanturk Parish.
His daughter Gemma, who was a baby at the time of Pope John Paul's II's visit, accompanied Fr John to see Pope Francis last Sunday, she was a volunteer and a Eucharistic Minister.
Meanwhile, Fr. John was among the hundreds of priests who concelebrated Mass with the Pope.
"It was a wonderful occasion and will give us a great lift," Fr. John said.
"When Pope Francis asked for pardon, I don't think people expected it and it might go some way towards healing a lot of the bitterness and hurt that people feel." he said.
"Even though we've been through the winter, we hope now for a new spring" In addition to the honour of concelebrating Mass with Pope Francis, Fr. John had the opportunity to meet up with his many friends in the priesthood from around the country.
"A great day was had by all, it was so uplifting and peaceful. The bus service was marvellous. Thanks to everyone for their cooperation in making it such an enjoyable day".
"I really enjoyed the day, it was all I expected, overall people were great, there was a lovely atmosphere, and it was a great honour to have Pope Francis visit Ireland. We had to walk for 90 minutes to get from the coach park to the Pheonix Park, I didn't mind the walk but I think some people were deterred by the prospect of such a long walk in and back. I want to compliment those who organised the event for us locally, they did a great job".
"It was a trip of a lifetime, so glad I was able to be there. I travelled with Clifford Coaches, it was really comfortable and the pilot was brilliant".
Traffic management was absolutely brilliant with a dedicated bus lane from the Red Cow roundabout to the Kylemore Coach Park. This speeded things up no end, even faster than a normal day.
However, it was a 5.9km walk for people from the coach park to the Phoenix Park which made it very difficult for elderly people or parents with young children. There should have been a shuttle bus service going to and fro for the duration of the day. We were not allowed exit the coach park until 8pm in the evening, traffic was a bit slow at the start but soon began to move freely and the N7 continued to flow along nicely.