Former north Cork school attended by Eamon De Valera reopened as social housing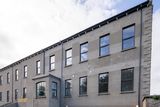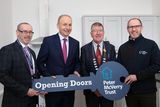 Concubhar Ó Liatháin
Corkman
The north Cork school once attended by former President of Ireland and Taoiseach Eamon De Valera has been restored and repurposed as a social housing development which was opened on Friday by Tánaiste and Fianna Fáil leader, Micheál Martin.
The project in the north Cork town of Charleville is the latest in a growing list of innovative social housing projects delivered by Peter McVerry Trust that specialises in reusing derelict and empty buildings to create new homes.
The school has been a landmark on Charleville's Main Street since 1866 and was attended by President Éamon de Valera for three years between 1896 and 1898, with the teenage schoolboy walking seven miles each day from Bruree, Co Limerick.
Remodelled in the 1920s and eventually closed in 1972, the building was delisted in 2014, and used by various community groups until it fell into a state of disrepair in more recent years.
Peter McVerry Trust secured the project with the support of Cork County Council under the Department for Housing's Capital Assistance Scheme (CAS).
The first tenants have already moved into their new homes and Centenary House, as the new scheme will now be known, will soon be fully occupied. The property comprises of seven one-bed apartments as well as a three-bed and a two-bed apartment for families, along with communal garden facilities developed for the enjoyment of tenants.
The old building had a BER rating of G, but all apartments have been upgraded to a high BER rating, B1 or A3, above the minimum standard for social housing units in Cork County. The new homes range from 44m2 to 90m2 in size.
In 2022, the charity worked with over 12,000 people across Ireland, including 125 people in Cork. Peter McVerry Trust delivered 48 homes for people in Cork experiencing homelessness last year and is ramping up its delivery of homes for individuals and families in the city and county in 2023. The charity currently supports 77 tenancies across Cork City and County.
As he launched the development on Friday, Tánaiste Micheál Martin said said it was geatly encouraging to see a derelict building brought back into use for social homes, particularly one of such historic importance.
"Peter McVerry Trust is a valued partner in the Government's efforts to tackle homelessness, and I've always been impressed by their ambition and expertise in transforming vacant properties right across the country."
"The delivery of more one-bedroom homes are a crucial part of successfully delivering programmes such as Housing First and reducing the number of people impacted by homelessness in Ireland."
Pat Doyle, CEO of Peter McVerry Trust, said the body was delighted to be delivering the social housing project in Charleville as part of the Government's Housing for All Plan.
"The nine homes that the Tánaiste has officially opened today are very much in keeping with our expertise as a housing provider; that is the redevelopment of derelict buildings as social housing.
"This building is particularly special given its historic landmark status in the heart of the town.
"All Peter McVerry Trust tenants who will make this their new home will receive ongoing supports from our local Housing with Supports team and will come from the local authority housing list."
"Peter McVerry Trust is active in 11 towns across Cork and delivered 48 homes for people impacted by homelessness in the county since January of last year. In 2023 the charity will deliver another 45 homes in the County with 30 in Cork City as part of its ambitious national housing programme."