Cork county councillors Bernard Moynihan and Ian Doyle get the nod from Fianna Fáil faithful to seek re-election
Duo selected unopposed as they bid to retain their Kanturk Local Electoral Area seats at the 2024 local elections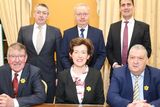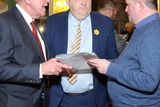 SITTING Fianna Fáil Cork county councillors Bernard Moynihan and Ian Doyle have been given a resounding thumbs-up by the party faithful in their quest to seek re-election to the local authority.
Both councillors, who have served on the council since 2014, were selected unopposed to run for the party in the Kanturk Local Electoral Area (LEA) in the next round of local elections, which will take place in May of next year.
There was a large turnout for last Friday night's selection convention at the James O'Keeffe Institute in Newmarket, with local party members joined for the occasion by Minister For State Jack Chambers, Deputy Michael Moynihan, MEP Billy Kelleher and a number of county councillors.
The evening commenced with the screening of video presentation outlining the achievements of Cllrs Moynihan and Doyle and the various projects they have played a role in bringing to fruition in their respective areas.
Chair of the convention, former county mayor Cllr Gillian Coughlan was clearly impressed with what she had seen.
"It's a great privilege for me to be back in Duhallow once again to chair this convention," said Cllr Coughlan.
"The key people here are yourselves and your good work on behalf of your constituents needs to be broadcast," she told Cllrs Moynihan and Doyle.
Minister Chambers said party members had gathered to select the strongest possible candidates to put before the people "and members have done that by selecting Bernard Moynihan and Ian Doyle."
"Fianna Fáil is very fortunate to have candidates of the calibre of Bernard and Ian. I spent the afternoon and evening in many of the communities represented and saw at first-hand the real record of delivery for these communities," said Minister Chambers.
"People know workers when they see them. They know the difference between talkers and doers. And we all know that Bernard and Ian are very much doers. As you all know elections are won by hard work. They are won door by door, street by street, lane by lane and that's what gives us the edge over the competition. That's what is going to get Bernard and Ian re-elected," he added, to nods of agreements from the crowd.
Speaking to The Corkman both councillors spoke of their immense pride at being selected to fly the Fianna Fáil flag in May 2024 and outlined their priorities they should retain their seats on the council.
"The slogan in 2014 and 2019 was 'Local Matter's and this will still apply in 2024. I very much see my role as being an important conduit between Cork County Council and the communities and constituents that I am so proud to represent," said Charleville-based Cllr Doyle.
"By working together, we can ensure we have the best possible services and infrastructure in place, making our towns and villages great places to live and work in," he added.
Cllr Moynihan said key priorities would be the provision of more housing in the Duhallow area, increased investment in infrastructure and improving broadband access and mobile telephone coverage.
"I am, and always will be, solely focussed on delivering for Duhallow and doing my level best for the people of the local electoral area. If they put their trust in me for another five years, I guarantee I will deliver," said Cllr Moynihan.