Charleville CBS, derelict for decades, is reborn as social housing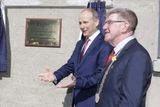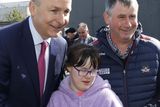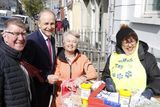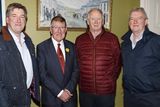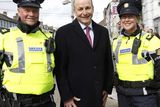 Concubhar Ó Liatháin
Corkman
The official opening of the new social housing facility last Friday saw Charleville's old Christian Brothers School (CBS) fade into oblivion, and the emergence of a new entity called Century House, which will be operated by the Peter McVerry Trust.
It is so called, we are advised, to mark the centenary of the Irish Free State, and its association with the school's past pupil, Eamon de Valera, who fought to deliver Ireland from colony to nationhood status.
The Christian Brothers came to Charleville in 1866 following an invitation from Rev. Fr. Thomas Croke, who was Parish Priest of Charleville from 1827 to 1873. He had already brought Catherine Macauley's Mercy Sisters to Charleville in 1836. He wanted the Brothers to do for the boys of the town and area what the Mercy Sisters had done for the girls, i.e. give them a Catholic education.
Following a public meeting in the local Catholic church in February 1864, at which Fr. Croke and other wealthy citizens of the town and area pledged over £1,000 for the purchase of a site and the erection of a new school for both junior and senior boys. It also included accommodation at the school for the Christian Brothers, who would come to Charleville.
The building was ready for occupation two years later in April 1866 when 200 boys enrolled in the school. It was extended in 1935 when extra classrooms were added. The Brothers later moved out to live in a house (after occupied by the Cummins family) on what is now the old Limerick Road. They were there until 1921 when they bought the town's former rectory on Clanchy Terrace, Charleville in 1927.
The CBS at Main Street was in operation until 1970 when a site was purchased and two new primary and secondary schools were built at Baker's Road, which were opened in 1970.
The old school then became a community centre and was also a centre for the Holy Family School (now St. Joseph's Foundation) for disabled children for a period.
The building deteriorated in the nineties and was put up for auction, and was on the market for a number of years before being acquired. The building, which was listed, was delisted by Cork County Council in 2014 and sold by the diocese of Cloyne to the present occupiers.
Some of the famous past pupils that received their education at CBS Charleville include:
President Eamon de Valera was there from 1896 to 1898, Dr. Daniel Mannix, President of Maynooth and Archbishop of Melbourne; Dr. Robert Browne, President of Maynooth and Bishop of Cloyne; Dr. Henry Murphy, Bishop of Limerick; Tom O'Donnell T.D. and Minister for the Gaeltacht and the Islands; Senator Rory Kiely, Caothaoirleach of Seanad Eireann; Professor Patrick Quinlan, Chair of Mathematics at UCC; Professor Michael Mortell, President of UCC; Donncha O'Dulaing, RTE Radio and Television; Tim Moloney, National Hunt Champion Jockey; Tim Lehane, RTE Radio Presenter; Dr. Mainchin Seoighe (Mannix Joyce), Dominic Foley, Irish International soccer player; Kieran O'Donnell, T.D.