Boherbue emerge as the top club at Cork Scór na nÓg final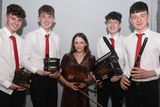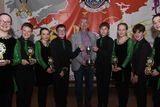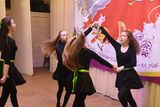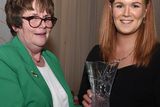 Exciting action was had at the 50th Cork Scór na nÓg Finals in a highly entertaining programme in the Eire Óg GAA Pavilion, Ovens.
It was here that participating teams from across the county paraded terrific cultural fare in a splendid hosting.
Boherbue hit winning ways, securing the honours in the set dancing category with their interpretation of the " Caledonian Set" performed by Chloe Linehan, Katie Clifford, Holly O'Riordan, Emma Enright, Cathal Hegarty, Aaron Breen, Niamh Aherne, and Aidan Keohane.
For their all round consistent efforts enroute from divisional level, Boherbue secured the best overall club, the Perpetual Trophy, which was accepted jointly by Margaret Kiely and Niamh Aherne.
There was a big win also for Kilmurry Figure Dancers, Courtney Rose Ni Linechain, Sinead Allen, Eibhlin Ni Donachda and Clodagh de Brun, the lone Muskerry victors was greeted with joy.
Carbery clubs contributed handsomely to the staging, striking a rich vein of vein to dominate the proceedings. From the historic staging, Carbery Rangers claimed a double with Kilmeen/Kilbree, St. James, Diarmuid Ó Mathúnas and Clonakilty delighted to sample wins.
Individually, Isobelle Moore from Carbery Rangers delivered a surperb rendition of the song "Ned of the Hill" to sample success in the solo singing with Katy O'Donovan from Kilmeen/Kilbree retaining her title in recitation with an offering titled "Dancehall Days".
Carbery Rangers took custody of the honours in the Ballad Group, the Ross quintet put together excellent harmonies with their double presentation bettered Dungourney.
Diarmuid Ó Mathúnas took joy to win the instrumental music with a selection of jigs and reels, second position awarded to Boherbue.
And reigning All Ireland champions St. James kept West Cork flags flying from a merited win in the novelty act with an entertaining presentation. For good measure, Clonakilty completed back to back titles in Question Time, by doing so, they offset the intentions of Aghabullogue, Carrig na bhFear and Castlemartyr Camogie.
See all the results below:
- Iveleary's Tracey Cronin compered the proceedings as Bean An Tí.
- Rince Fóirne: (1) Kilmurry, (2) St. Finbarr's;
- Amhránaíocht Aonar: (1) Isabelle Moore (Carbery Rangers); (2)Aoife O'Riordan (Boherbue);
- Aithriseoireacht: (1)Katy O Donovan (Kilmeen/Kilbree); (2) Chloe O'Halloran(Éire Óg);
- Bailéad Ghrúpa: (1)Carbery Rangers, (2)Dungourney
- Nuachleas: (1)St. James, (2) Boherbue;
- Ceoil Urlise: (1)Diarmuid Ó Mathúnas, (2) Boherbue,
- Rince Seit: (1)Boherbue
- Tráth na gCeist: (1) Clonakility, (2) Aghabullogue.
The Cork champions go forward to the Munster Scór na nÓg Final on Saturday, April 15 in the Éire Óg GAA Pavilion, Ovens