Art For The Heart group in Cork turn focus on women in history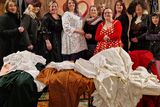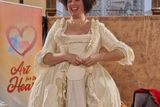 The Art For The Heart group hosted a wonderful event celebrating International Women's Day in St. Mary's Church, Doneraile.
The event was opened by the Reverend Meurig Williams, followed by Mary St. Leger who welcomed everyone and dedicated the evening to the women of Ukraine.
Marion Quirke was first up entertaining with a story before singing 'The Galway Hooker' after which members of the audience offered snapshots of some of the famous women of Ireland.
The invited speaker for the evening was heritage and re-enactment expert Melissa Sheils who gave a fascinating insight into a day in the life of a Georgian woman.
Entertaining the audience with glimpses of a time gone bye, Melissa managed three changes of authentic costumes and shared some 18th century beauty tips on hair and make-up.
The talk concluded with a very specific tea etiquette bringing to an end a lovely evening.
Art For The Heart thank all those who assisted in making the event such a success and those who came to support and celebrate this important day.