2019 Cork Person of the Year to be named
Winner(s) set to be unveiled at a gala bash in front to 250 guests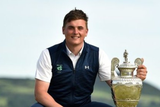 On Friday, January 17, another name – or names – will be added to the illustrious lists of those previous bestowed with the coveted title of Cork Person of the Year at a gala bash in the Rochestown Park Hotel.
One of the undoubted highlights of the local social calendar, the event will see more than 250 guests join MCs Marty Morrissey and Áine Lawlor to celebrate all that is good and great about Cork and the people who make it such a special place to live and work in.
The Cork Person(s) of the Year will be presented with their award by County Mayor Cllr Christopher O'Sullivan and Lord Mayor of Cork Cllr John Sheehan.
While the winners of the 12-monthly awards come from widely different backgrounds and spheres of interest they have one thing in common – their outstanding achievements and the selfless work many have done on behalf of their communities that deserved to be formally recognised.
As in previous years, the 2019 monthly winners epitomise the many admirable qualities that Cork people are renowned for – their warmth, creativity, generosity of spirit and willingness to go that extra mile to achieve their goals.
Awards founder and organiser, Mallow native Manus O'Callaghan, said he was proud to say that after 27 years the awards were still going strong.
"With so many worthy nominees in 2019 our judges, Tim Lucey the CEO of Cork County Council and Ann Doherty, his counterpart at Cork City Council, will once again have a particularly difficult job on their hands to pick an overall winner," he said.
Mr O'Callaghan said number of special presentations will be made on the day, with Fermoy's Dr Tom Cavanagh being inducted into the Hall of Fame and historian and broadcaster Dr John Bowman, who will be bestowed with the title of 'Honorary Corkman'.
Mary Kennedy, who along with fellow Nationwide presenter Ann Cassin and programme producer Eoin Ryan were honoured at last year's awards, marking 25 years of the popular RTÉ show, will this year be presented with an award to mark her retirement from the programme.
"Mary is one of Ireland's best known and respected broadcasters. Her work covers news, talk shows, the Eurovision Song Contest and handling the commentaries on many important state occasions," said Mr O'Callaghan.
"As well as a 41-year-long career in radio and TV, she also found time to write many award winning books.
"Given her outstanding career it is right and proper that we recognise her outstanding contribution to the work of Irish broadcasting."
Guests of honour and speakers at the event will include Tánaiste Simon Coveney, Fianna Fail leader Micheál Martin, RTÉ director general Dee Forbes, Irish Examiner editor Tom Fitzpatrick and Irish Times MD Liam Kavanagh.
2019 Cork People of the Month
January
John Dolan
For his work in producing the 122-year-old Cork institution 'The Holly Bough'.
February
Máire Ní Chéileachair
Award -winning Sean-nós and traditional Irish singer.
March
Frankie and Norma Sheahan
Founders of the self empowerment 'Pendulum' summit.
April
Catriona Twomey
Manager and driving force behind Cork Penny Dinners.
May
Carmel O'Keeffe
Founder of the Dress for Success female empowerment initiative.
June
Gerard and Tim Sheehan
For their years of voluntary community activism and leadership in North Cork.
July
Dinny Kiely
Long serving volunteer with Cork City Missing Person Search and Recovery.
August
Jim Walsh and William Hammond
Co-directors and organisers of the Cork Folk Festival.
September
Stephen Heap
For his work on behalf of those affected by the cervical cancer scandal.
October
James Sugrue
Mallow golfer who won the 124th British Amateur Championship.
November
Peter Coppinger and Daniel Mackey
Co-founders of the award-winning 'Teamwork' software development company.
December
Patrick Horgan
All-Star Cork captain and Glen Rovers hurler.