Salmon make a welcome return to local stream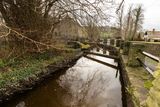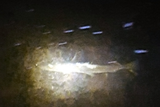 A fisherman with 50 years of experience under his belt and his 12 year-old son recently spotted two salmon at the rear of Bealick Mill in Macroom.
Why is this so unusual? Well, according to fisherman Tom Sweeney, before the local dams were built salmon were a common feature on that stretch of water but since then, salmon haven't been spotted for over five decades.
"I would have heard older fishermen telling me about the salmon but they were regarded as long-gone from that stretch of river called Delana. It was actually my 12-year-old son Dan who spotted them first. He has a huge interest in salmon and really enjoys fishing. We both really couldn't believe it and we took photos of them," said Tom.
He said they spotted the salmon about a week ago, and when asked why did he think that salmon were making a return, he simply replied that he didn't know.  The Delana river is a tributary of the Sullane and in turn the Sullane is a tributary of the Lee.
"This for me and Dan was really lovely to see but I just don't know why they decided to come back to the area," Tom continued.   "As I was saying, I would have heard other fisherman, older than me, talking about the salmon in that stretch of water years ago but, as far as I know, none have been spotted since.
"We saw two salmon that day but who knows, maybe more were in the river and we just didn't see them. We are glad though to have seen the two that we did," Tom added.