Around the Districts: Buttevant and Lismire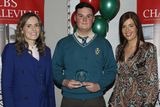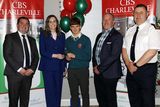 Cemetery Masses
The annual Cemetery Masses in the local graveyards are currently taking place. The annual Mass at Templemary Well will be celebrated on Friday May 26th at 8.00p.m. Please share these dates, with those who may have relatives interred, in these sacred places, and may wish to attend these ceremonies.
Local Lotto Draw
The local lotto draw continues to take place weekly on Thursday night in the club's Pavillion, at New Street, Buttevant. The jackpot amount has passed the €4,400 mark, and will continue to rise until won by some lucky punter, who can match the four lucky numbers drawn on draw night. The draw is live-streamed on the club's Facebook page from 7.00p.m. Your support of all club activities is greatly appreciated.
G.A.A. Nursery
The Butevant G.A.A. Nursery has resumed at Buttevant G.A.A. grounds at 6.00p.m. on Fridays, This facility is open to 4-6 year old, boys,and girls, and parents must be present. For further details contact Sharon on 087 6084483.
Dorada School of Dance
Weekly classes at this School of Dance have resumed on Saturdays in the Muintir na Tire Hall, Buttevant. Tiny Tots classes commence at 12 noon, Intermediate classes commence at 12.30p.m. and Advanced will commence at 1.30p.m. Further details can be had by contacting Theresa on 0872324143.
Club activities
With the Spring and Summer seasons looming, many clubs are arranging activities for their members. Buttevant Soccer Club, has organised, a summer camp for their juvenile members and friends, taking place, in July.
Buttevant G.A.A. club has organised a Cul Camp, commencing on July 3rd.
They also are arranging their annual, Batt Thornhill Memorial Tournament for the weekend of June 10th. The clubs' weekly training sessions continue at the local venue.
I.C.A. Guild
Buttevant Guild's Monthly meetings continue to be held on a regular basis, and new members, are always welcome.
Mercy Centre
The Coffee Morning has resumed at the Mercy Centre, Buttevant and will be a regular feature as before, from now on. The coffee morning was held on Wednesday April 12th, following the morning Mass, and will continue every second Wednesday. There will be bingo and a "cuppa", and loads of chat between 2.00p.m.,and 3.30p.m., and all are welcome.
Folk Group
Buttevant Folk Group continue their rehearsals in Buttevant Parish Church on Tuesday nights at 7.0Op.m. New members will be welcomed.
Summer Soccer Camp
Buttevant Soccer Club, has arranged their annual Summer Soccer Camp for this year. This year's Camp will take place between the dates of July 17th and July 21st inclusive, and will be held daily with the hours being advertised, in the near future.
There are limited places available, and early booking, is advisable, to secure a place, for your child. All activities, will be supervised, and organised by, experienced coaches, and club officers. There will also club kits and goodies for participating children at the end, of the Camp Activities and a certificate of participation for each member.
A packed lunch will be required for those attending and strict supervision will be maintained. For further details and relevant information, please contact the club office at their Pavillion,at New Street, Buttevant.
Buttevant Running Club
Buttevant Running Club is commencing a new initiative for 2023 for all levels of interested persons, beginners, intermediate, and advanced runners, who may wish to partake in this new venture at their own pace and time.
The club will be meeting and training at Buttevant G.A.A. grounds in a safe and secure environment, every Tuesday and Thursday, evenings, commencing at 7.00p.m. Yearly Athletics Ireland registration fees apply.
All those interested are asked, to register as soon as possible. All Information can be had, by telephoning 087 9881025 or DM, Facebook page, on Instagram pages or by email,@buttevantrc@gmail.com.
Social Dancing
The social dancing classes have resumed and re-located to Buttevant Muintir na Tire Hall. Classes will take place on Wednesday night and will continue on a weekly basis. The classes will be held between the hours of 8.00p.m. and 9.30p.m. inclusive. Further information can be had by contacting Yvonne on 087 2448535.
Knitting and Crochet
The Pins and Needles Group have revived their activities and will continue to meet every Wednesday from 7.00p.m. in the club room at Buttevant Soccer Club Pavillion. A warm welcome awaits you if you would like to share your skills, or learn new skills and enjoy a cuppa and a chat to brighten the long and dark winter evenings.
Takewon-Do
Classes in this form of self-development and protection continue to take place in Buttevant Community Council Hall on Tuesday and Thursday evenings. Information can be had by contacting 087 94279763.
Bingo
The weekly bingo session continues, to be held, in the local G.A.A., Hall, on Monday night, commencing at 8p.m. There is a substantial monetary jackpot to be won and also there are other monies to be won in other games that take place. The monetary jackpot continues to rise, and there is also a "mini-jackpot" and an in-house lotto to be won. All will continue to rise, until won by some lucky player.
Walking Club
The Buttevant Walking Club continues to meet on Monday and Wednesday evenings at 7.00p.m. The meeting point is at Scoil Mhuire na Trocaire, and is open to all who wish to walk at their own pace. Details can be had by contacting Laura at 086 402609. Hi-vis clothing is necessary.
St Vincent De Paul
The Buttevant conference of St Vincent de Paul has a designated mobile number, where those who may need, help and assistance. All contact will be held in the strictest confidence. All information can be had by contacting 086 0209477 or visit www.svp.ie.
Be Aware
Do keep an eye out for your living alone, infirm, or elderly neighbour.
Sympathy
Sympathy is extended, to those who have suffered a bereavement, or personal loss, recently. Well Wishes
Well Wishes
Well Wishes go to those who are ill, at home. or in hospital, at this time. Hope you all, will be well again soon.
LISMIRE
County Football
Lismire advanced to the semi-final of the Bon Secours Junior C Football Championship with a convincing win over Rochestown at Mourneabbey recently. Lismire led by 7 points to 3 at half time courtesy of points to Cian and Darren O'Sullivan, Daragh O'Keeffe and Stephen Bourke.
The second half saw Lismire continue to dominate with Cian and Darren O'Sullivan, Mark Field, Daragh Kearney and Rory Sheahan pointing. A goal from Cian O'Sullivan with time nearly up saw Lismire run out winners on a 1.16 to 0.04 scoreline. Full report in sports pages.
Lismire: Thomas Stritch, Patrick Buckley, Sean McSweeney, Conan Walsh, Eamon Hayes, Michael McSweeney, Conor Sheahan, Oisin O'Connor, Daragh O'Keeffe, Diarmuid O'Connor, Cian O'Sullivan, Jack Sheahan, Stephen Bourke, Mark Field, Darren O'Sullivan. Subs: Daragh Kearney for Stephen Bourke, James Moynihan for Eamon Hayes, John Daly for Darren O'Sullivan and Rory Sheahan for Mark Field.
Scrap Metal
A load of scrap metal is being prepared for collection. If you have any unwanted scrap metal, please bring it to the GAA Grounds and leave it at the designated scrap metal area.
Please be reminded that only scrap metal and batteries are suitable for recycling e.g., farm machinery, old cars, engines & parts, gates, corrugated iron, wheelbarrows, trailer chassis, cement mixers, transport boxes, electric motors, batteries, milk cans, slurry tanks, electric cookers, dishwashers, washing machines, radiators, food mixers, lead, bicycles, solid fuel cookers, barrels and any old iron. Please do not bring fridges,freezers,TV,microwaves,plastics,tiles or tyres.
First Communion
Congratulations to the 15 boys and girls who received their First Holy Communion on Saturday last. Mass was celebrated with Canon Bluitt, Father Magner and Deacon James with the lovely singing by Shauna O'Connor and the school choir.