Around the Districts: Banteer, Castlemagner, Kilbrin and Kilshannig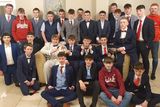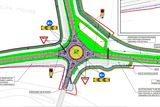 Ballyumaquirke Junction works
A 60km/h temporary speed limit will apply for the duration of the above works from Wednesday 22.03.23 to March 2024
This will apply in both directions of the N72 carriageway, from a point approximately 335m to the west of the junction and to a point 270m east of the junction (from Easting 537880, Northing 598851 to Easting 538427, Northing 598946).
Also in both directions of the R579 from a point 65m to the south of the junction and to a point 310m to the north of the junction (from Easting 538089, Northing 599207 to Easting 538174, Northing 598858).
This proposed speed limit reduction is necessary to facilitate works for the N72/R579 Ballymaquirk Junction Upgrade Scheme.
Sundays well
Sundays Well annual rosary and prayers will take place on Good Friday at 5pm.
Sportsfield AGM
The Banteer Sportsfield AGM will now be held on Mon 17th April at 8.30pm in Digital hub-important that officers /members of all user clubs attend -please inform all your members
Text Alert System
60+ members of the local text alert system have not paid the 10e/year fee and will be deleted from the system. Please contact John Buckley Denis Withers Mary Cahill to pay asap as we need income to pay for the system
Community Council news
A public meeting of Banteer Lyre Nadd and Districts Community Council was held at the Glen Theatre recently to review and discuss community plans for the Banteer and Nadd areas.
The main items raised were as follows: Need for improved traffic safety at Nadd village due to excess speed; Dumping in all areas is a problem; Tidy Towns Committee in Nadd; Development of an active retirement centre/sheltered housing; Need for improved traffic safety at Banteer NS is important a proposal to start a one way system around the astro building with kids being dropped at the back entrance school gate should be pursued /tested. Speed ramps also needed
Local community shop; Community websites; Mark historical areas and record history; Recruiting of volunteers; River walks in Nadd and Banteer; Improved early morning train times from Banteer as well as bigger carpark and improved sight view at the entrance; Various road improvements in all areas; Research a greenway from Banteer to Kanturk; County Council should reinstate the existing footpath on Kanturk road
Please liaise with any officers re any community queries: Chairperson James Twohig; Vice chairperson Rory O Driscoll; Secretary Rosie Cronin; Assistant Eleanor Duggan; PRO Denis Withers
Ianroid Eireann are planning to install a new bridge and personnel lift over the railway lines at the railway station soon
Ballymaquirke tree felling work is now complete and main construction work will start in April a full traffic management plan will be issued to the Community before then.
Community Council elections are in May this year
Banteer Bingo
Bingo is played at Banteer Community Centre on Tuesday nights at 8.30pm, playing for jackpot of €2,700. Looking forward to seeing everyone.
Glen Theatre events
Upcoming events (all shows start at 8pm) - Sunday 2nd April: Brandon McPhee with guest Manson Grant and 5 piece band. Saturday 22nd April: Eleanor Shanley. Booking: 087 7558752 029 56239.
CASTLEMAGNER
Holy Week and Easter
Programme of Ceremonies for Holy Week and Easter for St Mary's Church Castlemagner
Saturday 1st April (Palm Sunday): Vigil Mass at 7.30 pm Palms will be blessed at the Mass.
Tuesday 4th April: Mass at 9.30 am. Confessions after Mass.
Wednesday 5th April: Chrism Mass in St. Colman's Cathedral, Cobh at 7.30 pm. ALL are welcome.
Holy Thursday 6th April: Evening Mass of the Lord's Supper at 7.30 pm. All new and continuing Special Ministers of Holy Communion are asked to attend a short ceremony of installation or renewal during Mass of the Lord's Supper on Holy Thursday. Please take the reserved places towards the front of the Church. Trocaire boxes are to be handed in at the Evening Mass of the Lord's Supper or given to the sacristan over the Easter weekend.
Good Friday 7th April: Celebration of the Lord's Passion at 3.00 pm. Stations of the Cross at 7.30 pm. Good Friday is a Day of Fasting and Abstinence. The Annual Collection for the Shrines of the Holy Land is taken up at the Good Friday ceremony.
Holy Saturday 8th April: Solemn Celebration of the Easter Vigil at 7.30 pm. Candles with grease cards will be provided for the Easter Vigil. Easter offerings for the Priests will be taken up on Holy Saturday night. Your support and generosity is very much appreciated.
Easter Sunday 9th April: Easter Day of the Lord's Resurrection Mass 9.00 am
Easter Tuesday 11th April: Mass at 9.30
We hope this Easter that you will experience the mercy, compassion and inner peace that the Risen Lord promises. Happy Easter to all.
KILBRIN
New Entertainments Commitee
On Tuesday April 4th at 8pm there is an open meeting for anyone wishing to be part of the Community Entertainments Commitee in the Social Club. Looking for people to come forward with new ideas and energy to take our Community to the next level. No ideas are too big or too small. Everything considered and everyone welcome.
Kilbrin National School
Confirmation - Best wishes to the 5th and 6th classes of Ballyclough and Kilbrin that received their confirmation in Ballyclough this morning. Wishing Anina-May, Eimear, Ava, Sarah, Saoirse H, Conor, Aaron, Ivet, Shannon, Saoirse D, Jack, Ryan, Scott and Billy a fabulous day. May you all continue to grow spirituality and may your faith always be strong.
Basketball - Thanks to Clodagh Clernan for training the children of 4th 5th and 6th in preparation for their basketball tournament held on Tuesday and Thursday in the Convent Hall.
Defibrillator
Amazing to have our new defibrillator fitted during the week outside the Social Club.
Thanks to the Community Council for organising this & Karlton O'Leary for fitting it.
Thanks to Kilbrin Gaa Club for loaning a defibrillator for the last few months while waiting on this.
If we have anyone in the community with AED training and would like to be added to list of available supporters - please message us here or contact Paulina on 0864097267.
We will add the Eircode to this unit too.
Basketball
Wishing Anina-May Cremin and the Kanturk U14 girls the very best of luck in their Championship Basketball Final against a tough Glanmire team on Sunday 2nd April in the Parochial Hall @10am.
Congratulations
Congratulations to Ryan O'Leary son of Malcom & Ellen who was successful in being selected for the Cork U16 football panel. Their first game is in Mitchelstown against Westmeath. Wishing you and the team the very best of luck.
Rugby
Best of luck to our local under 14 and 16 boys who are competing with Kanturk RFC in a invitational rugby tournament in Wales this weekend.
Foróige
Kilbrin Foróige had a great day out paint-balling in Shanagolden on Saturday last. We had 10 members and 3 volunteers attend. It was a very enjoyable day out for everyone and certainly had some very tired members coming home.
Bingo
Our Bingo continues every Monday night at 8.30pm sharp. The jackpot is €1,400 @ 48 calls. We would appeal to all to please support this weekly event as it is our main fundraiser to keep our Community Centre alive.. as you know with the rising cost of living this is such an important event to keep things afloat. Thanking you in advance for your support.
Village Renewal Group
The Fairy Grove is now opened! Everyone must pay a visit sometime to see this magical place.. located down by the Masters Bridge.
With the long bright evenings upon us the village renewal will be starting back soon with new planting and tidy up around the locality. We would love to see new volunteers for this amazing group so Please contact/message Pat O Leary @0863522411 for more information.
Did you know???
Kilbrin is the Irish for "St Bran's Church". The Field Book of 1840 says that Kilbrin is a large parish, nearly all arable, rest rough pasture, rocks and a piece of bog. It contains 40 Danish Fort sites, an old Abbey, one holy well, a site of an old castle, a mound, fox covert and a small Protestant Church in a graveyard.
Our parish also has one old church and graveyard and one R.C Chapel. Adding to this Kilbrin boasts of nine gentleman's Houses and 8 demesne, an old cave, several Wells, portions of rivers and streams, limestone quarries and lime kilns.
Want to hear more?? Tune in next week..
Kilbrin GAA
GAA Fixture - JB Hurling League Kilbrin v Millstreet in Millstreet on Sunday the 2nd at 3 pm. Please support the lads.
Lotto Draw - Our lotto draw took place on Wednesday 22nd March for a jackpot of €15,500, numbers drawn were 23, 24, 27 & 29. There was no jackpot winner and lucky dip winners were Michael Dennehy Coolmahane, Jim O'Reilly Castlecor, Geraldine Lynch Kilbrin, Dylan Connolly O'Callaghan Kilbrin and Mary Scannell Kiskeam. Next draw is Wednesday 5th April. Please support.
Rebel Bounty Draw - This is your last chance to join the Rebel Bounty Draw for 2023, if you have not done so already. Three draws for January, February and March on tomorrow Friday night with €20,000 first prize in each draw with thirty other valuable prizes to be won. Contact Tom O'Reilly on 087-2392442 to be in with a chance.
Sympathy
Sincere sympathy to Esther Hayes and family and Veronica O'Callaghan and family Mallow on the sad passing of Noel McCarthy Whitegate. May his soul Rest in Peace
KILSHANNIG
Heritage Society
The first general meeting of the Kilshannig Heritage Society will take place on 3rd April at 8.00pm in GAA complex, Glantane.