Around the Districts: Banteer and Kilshannig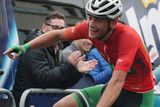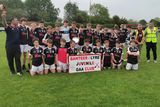 Dillon Corkery wins Ras Tailteann 2023
One of the most popular riders in Irish cycling, Dillon Corkery dominated the final stage of the Rás Tailteann to capture overall victory on the streets of Blackrock, Co Louth on Sunday last.
Clearly focused on taking the yellow jersey on the final Sun stage Dillon got up the road in a strongman's breakaway which gained almost three minutes on the peloton, containing race leader Conor McGoldrick (UK Richardsons Trek DAS). In the previous days, McGoldrick's team had gone to the front of the peloton and proven strong enough to catch the breakaways and defend the yellow jersey.
And just as it looked like they would do the same on Sun, when the gap to the breakaway began tumbling, Dillon drove clear of that front group with four other riders. Dillon set the pace and the five men started to pull out the gap again. He finished the stage in 5th place and was a clear overall winner of the 2023 Ras Tailteann. This is a major step forward in his career after so many years of hard work.
When Dillon raced across the finish line at the end of the Rás Tailteann on Sunday, his expressions and body language were of elation and disbelief. He was visibly shocked by what he had done; snatching victory in Ireland's top bike race on what is normally a processional final Sunday stage.
He rolled up the road and came to a halt approximately 100 metres up the road. He was immediately surrounded by well-wishers, with hugs and handshakes adding to the enormity of the moment.
At one point he blessed himself and discretely pointed skywards. The reason for that became clear when he gave his first post-race interview.
"Look, I'll be honest with you," he said "The only thing that was going through my head throughout that whole stage was my uncle, John Mulcahy. And I'd just like dedicate this win to him. It means the world to me and my family. He passed away in February. He was a big fan of my racing and always came to all of my races. It just hasn't been the same without him. So I think he was waiting for this one for me."
Congratulations to Dillon and family and well done on your fabulous win
U14 North Region Football League Final
Lyre enjoyed a deserved Final victory over rivals Mitchelstown in Banteer on Friday evening, May 19th, last.
Played in ideal conditions in front of a bumper home crowd the Lyre team did not disappoint their loud & vocal supporters.
The first half saw both sides exchanging scores with little to separate the teams in that opening thirty odd minutes, Lyre ahead 1-4 to 1-2 at the opening quarter mark, with Conor Kelleher goaling on 8 minutes, Emmet O' Shea & Evan Vicaire pointing.
The second quarter saw the visitors in red & black take control, grabbing 1-2 to a lone Jack O' Connor point for the Lyre side. Half Time Mitchelstown narrowly in front 2-4 to 1-5.
The resumption saw the boys in black and white up their intensity & scoring game considerably, with Midfielder Tomas Kiely goaling straight from the throw in. O' Connor & Vicaire pointed again before Kiely added his second & Lyres third goal on 37 minutes, Lyre leading 3-7 to 2-5.
The visitors were to point next, but they would then go twenty more minutes before scoring again such was the dominance of the Lyre team especially the defence & Goal Keeper Billy Looney who made a number of point blank saves. O' Connor added 1-1, O' Shea & Conor Óg O' Keeffe both pointing before O' Keeffe got in on the goal scoring act slotting home Lyres fifth goal on 54 minutes.
This would prove to be Lyres last score of the game with the visitors adding two late consolation points leaving an impressive Lyre victorious on a scoreline of 5-10 to 2-8.
Well done to all of the Players involved & also the Management Team of James Kearney, Michael O'Connor (Nadd) & Teddy Kelleher.
'Seperate Beds'
The Glen Theatre Drama Group presents 'Seperate Beds' in memory of the late Noreen O'Connell, on Saturday May 27th at 8pm. Proceeds to 'The dogs for the disabled ' and 'The Irish Cancer Society' Please support.
Pride of Place
Banteer has been chosen to represent Cork County in this year's Pride of Place competition under Category 7 Community Well Being Initiative with the judges visit due in July or August.
Chess success
Congrats to Akim Pikh Banteer who at 8 years of age came 2nd in the Under 18 Munster Junior Chess Championships.
Grants
Banteer Community Sportsfield welcome a €1,400 grant and Banteer Community Centre a €1,000 grant under the Community Support fund
Banteer Community Sportsfield/Park
Café is open Wednesday, Thursday and Fridays 10am till 2pm (note time change) for granola pots, selection of toasties, sandwiches to go, ice creams, scones, treats and coffees.. Also opened on Mon Tues WedsThurs Fri evenings from 6pm to 8.30pm.
Litter dumping - users of the Sportsfield /Park are asked to report any dumping in the area -recently domestic refuse including house items, food waste and dog waste has been discovered in litter bins near the entrance to the Pondfield. This has been reported and CCTV footage is being reviewed also.
Banteer Sportsfield/Park first draw is due on Sun 28th May tickets available from members
Banteer Bingo
Bingo is played at Banteer Community Centre on Tuesday nights at 8:30, playing for jackpot of €3,600. Looking forward to seeing everyone.
Community Council Elections
Thanks to all those who put forward nominations for Banteer Lyre Nadd and Districts Community Council.
The following are the final list of new members for Banteer Lyre Nadd and Districts Community Council:
David O'Leary, Denis Withers, Denise O'Keeffe, Eleanor Duggan, Gerard Leahy, James Twohig, John Buckley, John Kirwan, Kathryn O'Connor, Marguerite Roche, Mary Cahill, Mary Leahy, Mike Withers, Norah O'Riordan, Patrick Barry, Patrick D. Buckley, Patrick V. Buckley, Rory O'Driscoll, Rosie Cronin, Sarah Rehill, Tom Hartnett.
Summer camps
Banteer Lyre Juvenile GAA Cul camp takes place on 3rd to 7th July
Banteer underage soccer camp takes place on 19th, 20th and 21st July
Text Alert System
60+ members of the local text alert system have not paid the 10e/year fee and will be deleted from the system. Please contact John Buckley Denis Withers Mary Cahill to pay asap as we need income to pay for the system
Macra notes
Congratulations to Caroline O Keeffe who won the regional over 23 dairy stock judging last weekend. Social night this Saturday the 27th of May in the white Country Inn Banteer. This night will be a great opportunity for people to learn what macra is about and meet some current members. All welcome.
Junior A' Hurling League
Banteer made the trip to rivals Kilbrin on Tuesday evening last, May 16th, for the League 5th Round tie.
In what was a low scoring contest the hosts started brightly scoring four points without reply inside six minutes.
Denis Roche hit the visitors opening point on seven minutes before Eoin Wilson goaled for the boys in red & white, further points from Roche & Luke Philpott helped Banteer go in front 1-3 to 0-5 on 22 minutes.
A Kilbrin point leveled matters before two Donal Wilson placed balls, one a free & the other from a '65 saw Banteer in front 1-5 to 0-6 at the break.
The 2nd half saw the visitors dominate, holding the hosts to just one goal & two points in that thirty minutes of play.
Tadghy Sexton had Banteers opening point of the half with Kilbrin hitting only one point in that opening twenty six minutes, Donal Wilson (2) & Philpott pointing for Banteer. The boys in red & white ahead 1-9 to 0-7 after fifty five minutes, thanks especially in the main through the positive play of Kevin Roche, Kieran Sexton, Alan Coughlan & Ruairí O' Connell.
A Kilbrin goal on fifty six minutes jolted the game back into life but points from Donal Wilson, Philpott & Cal Shine along with a well taken goal from Denis Roche saw the visitors emerge with all three points. Full Time Score: Kilbrin 1-8 Banteer 2-12.
Junior A Football, Ducon Cup: Round 4
Lyre made the short journey over to Rathcoole to take on neighbours Dromtariffe in what was a must win game for the visitors.
The hosts raced into a 0-3 to 0-0 lead after 6 minutes. However the visitors replied with a trio of white flags of their own through Alan Kearney, Cathal O' Donoghue & Alan Coughlan.
The boys in red & white responded with a point before points from Coughlan from a mark, O' Donoghue & Evan O' Brien, Lyre 0-6 to 0-4 in front. Both teams then exchanged points with Coughlan on target for Lyre. Half Time the visitors ahead 0-7 to 0-5.
The changeover saw both teams again trade points, Coughlan with a mark & a free while O' Donoghue hit an outstanding score from distance, Lyre ahead 0-10 to 0-7 at the three quarter mark.
The closing quarter saw Dromtariffe narrow the margin to a single point by the 55th minute. But Lyre dug deep sealing a thoroughly deserved victory with points from O'Donoghue, Conor O'Keeffe & Jay Archdeacon to win out in the end 0-13 to 0-9.
KILSHANNIG
Kilshannig Heritage Society
Following about a year of weekly video tutorials, meetings and a lot of work, our website Kilshannig.heritagecork.org is now up and running.
About 20 articles, with photographs, have been added but this is only the start of a huge amount of work to research, digitise and upload features to the site. When opened the website has a scrolling banner of iconic views in the parish that can be changed at will.
We welcome visits to the site and look forward to your comments on the contents. On the site posts are divided into three main categories, people, places, topics and by clicking on one of these you will be able to see and read the articles.
You can contact Donie O'Sullivan at 0862579106 or email donieosul@gmail.com for more info, or contact us through the website email address kilshannig.heritagecork@gmail.com
Church news
The Corpus Christi procession will take place on Sunday 11th June commencing in Nazareth House. You are asked to assemble in the grounds of Nazareth House at 2.45p.m. in order to arrange the procession which will leave Nazareth house at 3p.m.
Cemetery masses - Bweeng Cemetery Mass will take place on Tuesday 13th June at 7.30p.m. Glantane Cemetery Mass is on Wednesday 14th June at 7.30p.m.