Around the Districts: Ballyhea and Freemount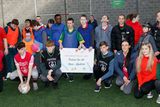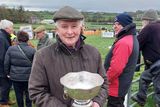 Church news
Mass Times – Friday, March 31, 10 a.m.; Saturday, April 1, 10 a.m. Latin and 7.30 p.m. Vigil Mass; Sunday, April 2, 8.30 a.m., and 11 a.m. Palm Sunday; Monday, April 3, midday; Tuesday, April 4, midday; Wednesday, April 5, midday Latin; Thursday, April 6, 8 p.m. Holy Thursday; Friday, April 7, 3 p.m. Good Friday 8 p.m. Stations of the Cross; Saturday, April 8, 9 p.m. Easter Vigil Mass; Sunday, April 9, 8.30 a.m., 9 a.m. Latin and 11 a.m.
Adoration and Benediction of the Blessed Sacrament will take place after 10 a.m. Mass on Thursday. Confessions are heard on request.
Receiving Holy Communion – Only those receiving Holy Communion should approach the Altar and only on a seat-by-seat basis.
Booked Anniversary Masses – Booked Anniversary Masses are accepted on the understanding that Funeral Masses and month's mind Masses take precedence.
Palm Sunday – Sunday, April 2, is Palm Sunday. Palms will be blessed at the Masses.
Month of April – The month of April is dedicated to the Holy Eucharist.
Feastdays for the coming week: Monday, April 3, St Richard of Chichester. Tuesday, April 4, St Isidore. Wednesday, April 5, St Vincent Ferrer. Thursday, April 6, Ss. Timothy and Diogenes. Friday, April 7, St John Baptist de la Salle. Saturday, April 8, St Redemptu's. Sunday, April 9, Easter Sunday.
A note of thanks – The parish priest wishes to thank you for the Lenten Stations Offerings. Late offering made still be made.
Irish Catholic Newspaper/Sacred Heart Messenger – The Irish Catholic newspaper and the Sacred Heart Messenger are available in the Porch for purchase. Irish Catholic €2.50. Sacred Heart Messenger €2. Money for these purchases should be put into the box marked Church Maintenance in the Porch. Thank you.
Sympathy Mass cards, Mass Bouquet cards are also available for purchase in the Porch.
Readers – Saturday, April 1: Louisa Carroll. Sunday, April 2: Audrey Morrissey; Thursday, April 6, Holy Thursday: Elizabeth Ryan. Friday, April 7, Good Friday: Mary Byrne. Saturday, April 8, Holy Saturday: Ger. O'Shea. Sunday, April 9, Easter Sunday: Sheila Fennessy.
Flower Arrangers – Saturday, April 8, April 15, April 22: Theresa O'Keeffe. Saturday, April 29, May 6: Bernie Leahy.
Easter Ceremonies – Holy Thursday: Celebration of the Lords Supper 8 p.m. Good Friday: Celebration of the Passion 3 p.m.; Stations of the Cross 8 p.m. Holy Saturday: 9 p.m. Easter Sunday: Masses 8.30 a.m. 9 a.m. Latin 11 a.m.
Church gate collections – No church gate collection taken up at St Mary's Church, Ballyhea is endorsed by the parish. Any group or organisation intending to collect outside the church gates are asked to present copies of their permits in the sacristy, together with copies of letters of authorisation of those collecting on their behalf. This should be done before the collection commences.
GAA club news
Lotto – The numbers drawn on March 25 were 7, 22, 41. There was no winner of the jackpot of €12,600. Lucky-dip winners of €30 each: Charlie Quinn c/o John Mortell, Kathleen Murphy c/o Liam Murphy, Mary Shanahan c/o Willie Shanahan.
Next draw is Saturday, April 1, for a jackpot of €12,700. Get your tickets before 5 p.m. on Saturday from Costcutters Ballyhea, Corbett Court, The Idle Hour or from any of the ticket sellers or they can be purchased online at play.clubforce.com/play_newa.asp?ll_id=199#Anchor Thank you for your continued support.
Due to the continuing Covid 19 situation and to ensure transparency and integrity in the lottery draw, the club have decided to hold the lottery draw on Saturday nights. The first three numbers of the National Lottery Main Draw will be the jackpot numbers. If a number higher than 42 is drawn in the first three, the draw will continue with the next number drawn under 42.
The club appreciates the support of lottery players and supporters during these difficult times and are very grateful for your continued support. Keep safe and the best of luck in draw.
Rebels' Bounty Draw – The Rebels' Bounty Draw for 2023 will re-commence at the end of March. Thank you to all who have and continue to support the draw as it is the club's only fundraiser towards club development and payments towards development loans.
The draw has €500,000 in prize money and the entry fee is €100 which can be paid in one payment or €10 per month direct debit for 10 months. If you have any queries please contact Ger O'Shea or Jim Codd. The club had six winners last year, an increase from four winners in 2021 and hope to improve on that this year. So if you are not in the draw already, you might consider joining.
Cúl Camps – Ballyhea GAA will be hosting a Kellogg's Cúl Camp from the July 10 to July 14 inclusive. Bookings can be made online from Monday, April 3, Looking forward to having another enjoyable and successful Camp this year. If there are any queries, please contact Ger O'Shea Cúl Camp Coordinator.
Club Membership – Club Membership for 2023 is €25 for each Juvenile, €25 for students, €50 per adult or €100 for Family (two adults and all children under-18).
Online Shop – The club's online shop is proving to be very popular. All the latest club gear can be purchased from the O'Neill's website. Check it out at oneills.com/shop-by-team/GAA/ireland/ballyhea-GAA.html
Instagram – The club can now be followed on Instagram. To see the latest club pictures go to ballyheagaaclub.
'Ballyhea in Black and White' – A new Publication 'Ballyhea in Black and White' is a collection of memories from local photographer Michael McGrath and photos that have been collected. It features some great GAA and camogie memories from down through the years. Books can be purchased at Costcutters shop in Ballyhea for €20.
Calendars – Ballyhea County Champions 2023 Calendars are now available, €5 each or three for €10. These are available from Eamon Morrissey or Ger O'Shea.
Community Employment Scheme
Ballyhea GAA are looking for two people to join this scheme. Male and Female can apply and to qualify you must be in receipt of social welfare for a minimum of 12 months. Anyone interested please apply to any committee member of Ballyhea GAA.
Community Alert
Ballyhea Community Alert has successfully set up a Text Alert Network to immediately alert our community when an incident occurs. Prompt information to and from Gardaí deters criminal activity. If you are interested in becoming a member of our Text Alert Network please phone any of the following people for information and sign up details – Phil Ryan 087 2937465, Pat Daly 086 1220114, James Horgan 087 2572271, Willie Meaney 087 1936842, Con Walsh 086 8570355. The fee for this service is €10 annually.
FREEMOUNT
Weekly 45 Drive
The weekly 45 Drive was well attended on Sunday night last. The following is a list of the lucky winners.
First prize went to Tim Curtain & Tim Aherne. The ladies prize was won by Delia Conway & Eileen Scott. Gents prize was won by Hugh Murphy & Jerry O Callaghan. Mixed team winners were Paudie Kennealy & May Wall, Tim & Mary Delee, Paddy O Leary & Mary Nunan
Spot prizes were won by Joan O'Leary & Eileen O'Sullivan, Kathleen Guiney & Eileen Twomey. The following won raffle prizes: Joan Dillane, Con Foley, Nora May Deane, Eileen Scott, Theresa O'Regan, Mike O Callaghan, Paudie Kennealy, Jack O Keeffe
The 45 Drive continues this Sunday night at 8pm.
Social Dancing
The weekly social dancing continues every Sunday afternoon in Freemount Community Centre from 3pm to 5.30pm. All top bands are booked for the year ahead, sohead for Freemount on this Sunday April 2nd, where Michael Sexton will supply the music for the afternoon. Coming on Sunday April 9th is Michael Collins.
Freemount Community Alert
It's time again to renew your membership to the beAlert Text Service. This service is provided for a yearly fee of €10. It's provided by Muintir na Tire and you will get beAlert texts that are relevant to your location.
Membership can be renewed using Envelopes with forms that can be collected and returned to Casey's shop in Freemount, including €10 fee. Or use this link https://www.muintir.ie/bealert/ to renew membership online.
Group name is Freemount Community Alert. Group ID is FRE0001
Thursday Club
The Easter Mass and anointing which will be held in Cois Abhann on Monday April 3rd. At 2pm. As usual everybody is welcome.
Used postage stamps
If you have used postage stamps you can hand them into The Heritage Centre any morning.
Comhaltas
All classes continue on Wednesday nights at the usual time.Tin whistle and flute classes on Saturday morning.The Co. Fleadh Cheoil will be held in Bandon on 28th, 29th and 30th April.
Community Food Services
Duhallow Community Food Services provide a home delivery meal service for the elderly or housebound .Meals can be booked on a long or short term basis.Dinner and desert €7.50 per day delivered to your door, Monday to Friday.Menu changes daily,and special diets are catered for. Chilled meals are also available for you to heat up at home when required.For further details contact Orlaith/Olive @ 029-76375
St Michaels Church
Mass on Sunday morning at 10.30am Mass on Monday evening at 8pm. And Tuesday morning at 9.30am.You can now tune into all Masses in St.Michael's Church by tuning into Freemount Church on your phone, computer or tablet, as new equipment has been installed. This is great news for all those unable to attend Mass in Church.
G.A.A. club news
Weekly Lottery - Here are the results of our weekly Lottery draw for last week-end.Numbers drawn were 20-29-33-36. There was no jackpot winner. Lucky Dip winners were: 1 The Haggart Bar, Freemount; 2 Denis & Peggy O'Brien, Ballinla; 3 Eoghan o hAodha, Curraleagh; 4 Mary Coleman, Cappnagoul; 5 Ita Toner, Freemount. Jackpot this week-end is €1,300. If you're not in you can't win.
Rebels' Bounty Draw - Freemount G.A.A. would like to thank you for supporting the Rebels Bounty Draw last year.We hope you can join again this year as it is a vital source of income to the Club.The 2023 draw is now available for subscription. The first draw will take place on March 30th and will incorporate the draws for January, February and March.You can join the draw by making a payment of €100 to Freemount G.A.A. This can be given to any Club member or alternatively you can pay by bank transfer The bank details are -BIC-AIBKIE2D.IBAN-IE32 AIBK93631612150052.To enable us identify your payment,it is essential to include your name as a reference.If you have any queries in relation to the draw ,please do not hesitate to contact Kate Keane @ 086-2320994 or John O'Flynn @ 087-2479784.
Notes
Items for these notes should be with the correspondent each Monday night before 8pm.-email osullivanpj38@gmail.com