Around the Districts: Aghinagh, Boherbue, Meelin and Mourneabbey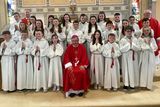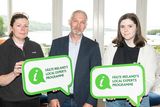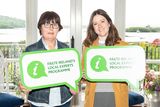 G.A.A. Lottto Results
No winner of jackpot of €3,100 Numbers drawn 3, 14, 22. €50 Pat O'Leary, Dromduv. €20 Timmy Manning, Ballinagree; €20 Sarah O'Mahony, Mullinhassig; €20 Asling O'Callaghan, Knockrour; €20 Emily Cremin, Woodview, Ballyvongane.
Mushera Platform Dancing
What a wonderful crowd of supporters came to dance the afternoon away in the Open Air Platform in Ballinagree Village last Sunday afternoon to the wonderfull music of The Lee Sound followed by the equally exciting C/M Sound.
The tea tent was laid out with tables and chairs and served teas and coffees sandwiches and cakes before the change over of the bands. People came from the far west of Ballydehob to the north of Scartaglen to the east around Blarney area and all parts in the middle.
Those supporters didnt come by accident, Johnny and Rita and others like Jackie Spillane, Donnacha and Tim Lehane and a few more supporters of car and tractor runs, scriorths, and threshing days always take part in their fundraising activities We have a great community here in Ballinagree who gives support to other communities and they return the compliment
Ballinagree's Special Olympian
Seamus O'Sullivan is representing Ireland in the Special Olympics World Games in Berlin in a Compition that's called Bocce. Its a form of Bowls, and you have to be very accurate in rolling those balls into place. Seamus has spent some time in Dublin training for these games. There are over 7000 competitors from all over the world attending the Games.
It is a great honour for Seamus, and for his Family and also for the Community of Aghinagh Parish. There will be a party in the Laine Bar for Seamus on Friday night June 2nd to honour Seamus on his great achievement so come along and wish him the best of luck.
New Book on St Gobnait
A comprehensive new Book on St Gobnait written by Con Lynch will be launched by Bishop Crean in The Abbey Hotel on Whit Sunday May 28th at 3pm. Call in to the Abbey after doing your round and buy the book.
BOHERBUE
Tidy Towns
The following is an up to date statement from the local Tidy Towns Committee on work in hand, projects in the pipeline and judging dates etc.
''We have recently submitted our Tidy Towns report to National Tidy Towns. Judging for this year's competition will begin in mid-June.
Boherbue Tidy Towns have been selected by Cork County Council to represent the county in the National Pride of Place Competition along with Banteer, Youghal, Rylane and Clonakilty communities. This is a great honour for Boherbue and for Boherbue Tidy Towns group. A community event will be held on the day the judges visit Boherbue in late July, early August. More on this later.
Boherbue Tidy Towns have also entered Cork County Council Litter Challenge for 2023. Judging of the competition is ongoing.
Judging periods include: 15th May to 24th May; 29th May to 7th June; 12th June to 23rd June; 10th July to 14th July. The areas judged will be between the 50/60km zones.
Marks will be deducted if even cigarette butts are found on the streets. Please help in any way you can with this challenge.''
COFFEE MORNING
A Coffee Morning will take place at the home of Den and Eileen O'Connor, Knocknacurra, Boherbue, P51TR84 on Saturday, June 10th, 10am to 2pm. Eileen will be travelling to South Africa in November as a volunteer to help build a school with Niall Mellon educate. Everyone welcome.
Active Retired
The Active Retirement next outing takes place on Thursday next, June 1st visiting Clare via the Ferry from Tarbert and returning via Limerick. The bus will leave Kiskeam at 8.30am and Boherbue 8.45am. Contact Ned 087 9228151 or Noreen 087 6914968.
Cemetery Mass
The Annual Mass in Boherbue Cemetery takes place on Thursday, June 29th at 7.30pm.
GAA club news
The Lotto numbers were 6, 12, 26, 30. Lucky dip €50 Muireann O'Callaghan, Derryleigh. €20 each Alan Cremin, Farrandoyle; John Keohane, Derrinagree; Mgt Murphy, West End. Online €20 Rena Murphy, Main Street. Sellers prize Tony Ankettell.
On Saturday last the Intermediate team had to make a comeback in their League tie with Mayfield to win on a 2-13 to 2-9 scoreline. Trailing approaching injury time two quick fire goals from substitute Bryan Herlihy turned the game on its head and a victory for Boherbue.
Their next outing is on Tuesday next in Kiskeam where they play Rockchapel in the Duhallow Cup semi-final at 7.30pm.
MEELIN
Meelin GAA
Div 6 HL fixture: Date for diary Meelin vs Ballygarvan away in Ballygarvan on Friday 26th May at 7.30 pm. Best of luck lads.
Spin and Win results
Winners on Friday, 19th May were: Donagh Linehan, Meelin, €35. Kieran & Helen Linehan, Meelin, €35. Leah & Gavin Fleming, Newmarket, €35. Confined members lotto winners (No.10) Liam Collins €100.
Spinners for next week Friday 26th May are: Gerard Buckley, Gooseberry Hill, Meelin; Liz O'Sullivan, Gooseberry Hill, Meelin; Jack Roger, Meelin. Next week's jackpot is €1900. Best of luck to all.
This is a reminder that we are now on Smart Lotto online and you can purchase your tickets online for just €2.
You can add a certain amount to your account and use it for a number of weeks as well. It could be a great way forward for those near or far.
Find more info and the links on social media.
MOURNEABBEY
Clyda Rovers GAA
Lotto - Results last week: Jackpot €12,500; Numbers: 2-3-7-11; No jackpot winner; €20 Cian Maunsell, Lissard; €20 Denis Nagle, Annabella; €20 Trish Walsh, Dromore; €20 Jerry O'Donoghue, Knuttery; €20 Mary Dennehy, Toureen.
Results from last week: Senior Football League–DIV 2 Fermoy 4-8 Clyda Rovers 0-11; Junior Football DIV 2 Clyda Rovers 1-8 Glanworth 3-7.
WESTERN DUHALLOW
DANCERS
Congratulations to the Kiskeam under-12 set dancers who took both first and second places in the recent County Fleadh Cheoil in Bandon.
The members were Darragh Curtin, Cian O'Leary, Conor Herlihy, Daniel Quinn, Nina O'Mahoney, Katie Cremin, May O'Mahoney, Ellen O'Keeffe, Alice Hawk, Amber Drumm, Evanne O'Mahoney, Chloe O'Leary, Kevin Curtin, Patrick Brosnan, Tommy Clifford, Cathal O'Keeffe, Clodagh Brosnan and Orlaith Cahill.
They now advance to the Munster final in July. Best of luck.
CEMETERY MASSES
Friday, May 26th: Tubrid Well, 7.30pm.
Friday, June 2nd: St Mary's, Millstreet, 7.30pm.
Tuesday, June 13th: Drishane Cemetery, 7.30pm.
Thursday, June 15th: Cullen New Cemetery, 7.30pm.
Friday, June 23rd: St John's Well, 8pm.
Monday, June 26th: Kiskeam Cemetery, 7.30pm.
Thursday, June 29th, Boherbue, 7.30pm.
CEILI
This Friday, May 26th, Tim Joe and Anne will be on stage at the Old Schoolhouse in Foyle from 9.30pm. Everyone welcome.
KISKEAM LOTTO
The numbers drawn were 8, 12, 22, 24. Lucky dip €50 Jack Mc, Ballydesmond.
€20 each Paddy Fitzgerald, Kiskeam; Ollie McSweeney; Kitty O'Mahony, Knocknacurra.
Sellers prize Christy O'Keeffe.