Real Health Podcast: "I did every terrible shift there is under the sun" – Life lessons with Carl Mullan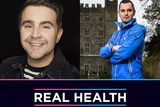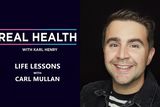 Carl Mullan's life has been non-stop. He is flat out with presenting the 2FM breakfast show, being a dad, creating content for social and just the small matter of competing and winning this year's Dancing with the Stars. To top it off, last week he announced that he and wife Aisling are expecting their second child.
This week as part of our Life Lessons series, Carl joins me to talk about career, family and balancing it all.
As Carl himself says, many people look at his career and say it all happened overnight for him. While it might seem that way, years of difficult hours and hard work was happening behind the scenes.
"My first time on air on 2FM was in 2014. It was on Stephen's Day in 2014. I did every terrible shift there is under the sun.
"There was so much graft went into it and I did weekends for years...don't get me wrong, I still loved it and they were really great training grounds."
With a second baby on the way, a lot has changed for Carl since becoming a dad.
"Everything I do is for our little baby Daibhí. Even with your work, I want to do things to make him proud.
With Dancing with the Stars, I was always aware while doing it that he could come across these videos down the line on YouTube.
"I'm sure he'll be mortified. I still want him to be able to look at them and say; God, fair play to my dad for giving that a go, for having a crack at that."
We also chat about being an "influencer" and creating content for social media.
For more episodes, tips and advice from the show just go to: https://www.independent.ie/podcasts/the-real-health-podcast/
And you can get in touch - I'm @KarlHenryPT on Instagram and realhealth@independent.ie.
Don't forget to rate, review and subscribe on Apple and Google Podcasts, Spotify, or wherever you get your podcasts from.