Sinn Féin deputy leader standing by Adams defies logic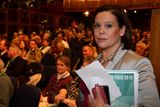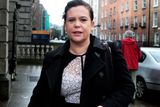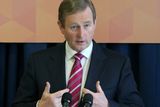 There is only one logical conclusion to the illogical behaviour of Sinn Féin's deputy leader - there are, in fact, two Mary Lou McDonalds.
The first Mary Lou is a familiar figure, the feisty, formidable parliamentarian who more than holds her own in the testosterone-riddled bear-pit which is the Dáil chamber during question-time. The Mary Lou who routinely discombobulates the Taoiseach and various ministers with tough questioning, who is articulate when angry and who has passionately championed women's rights, such as taking the Government to task over justice for the Magdalene women.
And then there is the second Mary Lou, the increasingly forlorn Tammy Wynette figure who stands unquestioningly by her man, even though this particular man and the party he leads have many questions to answer. The loyal lieutenant who will not have a word said against her chief, even as so many of his own words have a hollow ring to them. The Mary Lou who clearly abhors the sexual abuse of vulnerable young men and women, even as she robustly defends the party accused of being involved in a cover-up of alleged instances of such abuse.
Unfortunately, the second Mary Lou is more in evidence now. For two days after the shocking story of Paudie McGahon was revealed on BBC's 'Spotlight' programme, she kept her own counsel on the latest controversy to engulf Sinn Féin.
But yesterday she set off on a round of explications, declarations and obfuscations, both on the airwaves and in the Dáil chamber. And although it wasn't an unfamiliar trail to her, having trodden a similar path a mere three months ago when 'Spotlight' interviewed IRA rape victim Mairia Cahill who also claimed Sinn Féin took part in the subsequent cover up, Mary Lou seemed a little uncertain of her terrain.
She did the two Stations of the Cross, facing cross-examinations first by Pat Kenny on Newstalk and then by Sean O'Rourke on Radio One. Under a grilling from Pat, the usually cool Mary Lou seemed to wilt a bit. Her interview directly followed a powerful contribution from Paudie McGahon on his ordeal and the aftermath, and she seemed rattled, veering between defensive, repetitive answers, pleas for any other victims to come forward and expressions of heartfelt sympathy.
She walks between the raindrops, does Mary Lou.
A short while later, a hard rain was falling on the Sinn Féin Tammy, as she tangled with Micheál Martin and Education Minister Jan O'Sullivan (who was taking Leaders' Questions on behalf of Joan Burton who is on Paddy's Day duty in the US).
The Fianna Fáil leader called for a statutory commission of inquiry to be set up to look into the allegations.
"It defies any credibility that senior people within the ranks of Sinn Féin did not know what was going on, given the circumstances surrounding the case itself and the personalities involved," he reckoned. "No satisfactory response or explanation has come from the leader of Sinn Féin, and none will come because we are tired of the mantra of 'Please come forward'," he added.
Jan O'Sullivan was in agreement. "I find it incredible that there is no knowledge of these matters because, inevitably, from the information we have from Mairia Cahill, and from Paudie McGahon, there was extensive practice that anybody who has knowledge of must bring forward now," she stated.
Mary Lou then embarked on a counter-offensive. "It's more than a mantra to say that those with information must come forward. It was most eloquently put by Paudie McGahon who said that nobody should be afraid to come forward," she said. "I echo what Paudie has said - nobody be afraid," she added, before complaining that the Taoiseach had taken several months to reply to Martin McGuinness's proposal to set up a north-south commission.
Jan rose to reply. The Education Minister is a low-key, unexcitable sort, but she neatly skewered the mantras of Sinn Féin: "I put it to Deputy McDonald that in the first part of her intervention she put the onus back on the victims, people who were abused. In the second part of her contribution, she put the onus on other authorities. It is about time the deputy and her own party took their responsibility in this matter rather than putting it on people who were abused."
Mary Lou stood once more and said she was directly addressing republicans. The onus on them, she said, "is to ensure the safety of our children to ensure that where there has been an injustice done to anybody, that it is corrected," she said.
But she looked weary and tense as she went over the top once more for her embattled boss. She must realise how so many women voters, in particular, who warmed to Mary Lou One, are dismayed by Mary Lou Two. There's a fine line between loyalty and blind faith. And Mary Lou has crossed it, and is now marooned in Sinn Féin's sea of eternal ambiguity.