Letters: Where's the second swallow that would make my summer?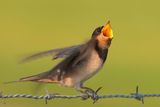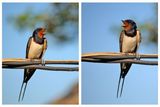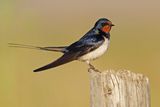 Sir — My two friends arrive every year in early April, and their companions come some weeks later. It has been the same routine year in, year out, and I have eagerly looked forward to their arrival each year. I am talking, of course, of the swallows coming to my farmyard after travelling thousands of miles across oceans and deserts, fighting their way through storms, thunder and lightning.
Why the two friends arrive weeks before the rest is a mystery to me, and I always look out for them. When I spotted one swallow on the telephone wires in front of my house in early April, I was naturally wondering where his or her companion was. When a few days passed without any trace, I worried.
It was so sad to see the one swallow ducking and diving for flies on its own, and resting on the wires from time to time.
So, three weeks have gone by and there is still no sign of the usual group yet, while the one still continues its own fly-hunting gymnastics, but probably pining for its mate.
I am still hoping to see the second swallow making a late homecoming to join its long-time companion and make me happy when I gaze outside each morning and see them going about their daily routine, including the building of a nest in the barn, and hatching and feeding a hungry brood.
Murt Hunt, Ballyhaunis, Co Mayo
Rural voters won't be taken in by bluster
Sir — It's ironic that one of the most liberal democracies in Europe, with the lowest rate of teenage pregnancies and where young people's first sexual encounter will most likely happen with the knowledge and consent of their parents, is now being touted by conservative Catholics as a model for a new, rural-based political movement (David Quinn, 'Rise and shine: politics waking up to wokeness', April 23).
The Netherlands is also an agricultural export powerhouse, second only to the United States. It should, therefore, not come as a total surprise that, when 30pc of its agricultural livelihoods are threatened by the government and climatologists alike, farmers and their allies would rise up in anger to form a new political party.
Ireland is a long way from the intensive nature of Dutch agriculture that farms an area 1.7 times smaller than this country but has three-and-a-half times the population.
Seven thousand farmers here still enjoy a nitrates derogation from Europe and, unlike a lot of our European neighbours, most ruminants in this country spend much of their lives outside on pasture-based systems producing greener, more environmentally sustainable and marketable foodstuffs.
Starting a new political party is not an easy task — just ask Aontú or the Social Democrats. It would also be naive to assume that voters in rural Ireland do not see through some of the agenda from people who now claim all of a sudden to have their best interests at heart.
Tom McElligott, Listowel, Co Kerry
​Farmers are awake, not woke, Mr Quinn
Sir — David Quinn needs to realise that the term "woke" is subjective and can vary depending on one's personal beliefs and values. His use of the term is always dismissive or shorthand for rubbishing whatever opinion he challenges.
The term "woke" is often used to refer to social or political awareness, particularly in the context of advocating for marginalised groups and addressing issues such as discrimination, inequality and social justice.
Reducing cattle numbers is typically discussed in the context of environmental conservation and sustainability. It has nothing to do journalistically with "wokeness"; the term was used as a cheap shot at those looking at initiatives to move away from reliance on highly subsidised cattle farming and to consider alternatives.
The decision to reduce cattle numbers is a complex issue that involves considerations of various factors such as environmental impact, animal welfare, public health and economic factors arising from consumption or subsidy decline. It is not necessarily inherently linked to being "woke" or socially aware, but rather can be based on scientific evidence, policy objectives or economic considerations.
As behaviours are changing, opportunities other than cattle farming are becoming evident and far too many vegetables are imported. Demand for organic produce is increasing exponentially. It is the progressive, awake (not woke) farmers who will best adjust to this necessarily changing world.
Bob Storey, Raheen, Skibbereen, Co Cork
​I would welcome a Farmer-Citizen party
Sir — I was delighted to read the piece by David Quinn last Sunday regarding political developments in the Netherlands (the Farmer-Citizen Movement) and the possibility of perhaps something like that happening here.
I think this would be a wonderful development. However, when David said it might strike fear into Fianna Fáil and Fine Gael hearts, he omitted the elephant in the room — Sinn Féin.
I live in rural Roscommon and I wouldn't dream of voting for Sinn Féin, but older people like me are crying out for another centre party we can vote for. Sinn Féin has stolen the clothes of the moderate parties.
I'm not a farmer, but I feel farmers and older people like me would vote for a Farmer-Citizen party in huge numbers.
Dermot Walls, Co Roscommon
​Will Trinity be razing the buildings next?
Sir — It would appear that renaming the Berkeley Library is a mere exercise in semantics.
If people were genuinely concerned about any and every connection to slavery, all the historical buildings in Trinity should be razed as they were founded in part on the proceeds of tobacco (an industry not hailed as espousing equality, fairness and freedom in bygone years ).
Trinity also reserved fellowships for those not of the Catholic faith for many years. Religious discrimination, I perceive. Women were only admitted as full members from 1904. Do I detect sexism here? If names are being removed, surely buildings cannot be far behind.
Aileen Hooper, Stoneybatter, Dublin 7
​Let's hope we get the truth about Stardust fire
Sir — The Stardust inferno, which killed 48 people and injured 214 in 1981, was a consequence of this country's lack of concern for fire safety and its reluctance to hold anybody responsible for anything. It is without doubt the biggest travesty of justice in the history of the State. Forty-two years on, the quest for justice and to resolve doubts about two contradictory reports following the blaze goes on in the shape of a new inquiry.
The Coffey Report in 2008 found the previous finding of probable arson hypothetical, but it was heavily redacted in parts that could have shed light on what exactly happened.
It should be remembered that the Stardust complex was a converted factory and had to undergo significant modifications before planning was eventually approved.
There were also concerns about political influence being brought to bear to clear the planning process. There was a litany of fire and safety failings, which included blocked access and locked doors, failed emergency lighting, an extra-long wire feeding two lights and staff who acted inappropriately in trying to fight the fire rather than start an evacuation.
Overcrowding was also cited by an inspector on January 15, 1981, just a month before the blaze. Let's hope the new investigation can bring out the truth without redaction.
Maurice Fitzgerald, Shanbally, Co Cork
​GAA has let OAPS down by axing pass
Sir — Reach the ripe old age of 65 and qualify for the old age pension and free travel — but the most powerful organisation in the country has still not brought back the GAA pass it took away during Covid. It's a disgrace.
Is this how the GAA treats people who supported them for 50 or 60 years? Why give someone something if you are going to take it off them with no valid reason? OAPs have been let down.
Claire Mulrooney, Birr, Co Offaly
​Why the glowing testimonial for Robert Watt?
Sir — Jody Corcoran's glowing testimonial about Robert Watt in last week's Sunday Independent and his assertion that Watt is the best civil servant of his generation was interesting.
Civil servants, no matter how high up the pay scale, are still responsible to government and taxpayers for their actions and called to account when they overstep their brief.
Portraying Mr Watt as the Government's fall guy for the failed secondment of Tony Holohan to Trinity College was totally unfounded. When Mr Watt decides to move on to a still more senior appointment, he should have no problem getting a glowing reference from your correspondent.
Brian Lube, Co Meath
​I doubt we'll see '03 Team' reincarnated
Sir — Celtic Tiger Ireland is gone, but not forgotten — or forgiven, for some of its excesses. I greatly enjoyed Emily Hourican's trip down memory lane with the former members of the Sunday Independent 03 Team, 20 years after their exploits (Life, April 23). Somehow, though, I won't be holding my breath for the formation of a 23 Team.
Dervla Chambers, Glenageary, Co Dublin
Age should not be held against Joe Biden
Sir — The major organs of the western media are reporting that there is a movement in the US advocating that President Joe Biden should not seek a second term because of his age.
Question: Why is it unacceptable to advocate a person should not seek public office because of their ethnicity, sexual orientation, gender, religion, physical disability, race and it apparently is acceptable to state that a person's age should deny him/her the right to seek office?
Vincent J Lavery, Dalkey, Co Dublin
​Does Niall Collins realise perceptions matter?
Sir — Richard Sharp, the now ex-chairman of the BBC, was found to have breached the code for public appointments twice, albeit in a minor manner.
The Heppinstall report stated that "perceptions, including things which might be wrongly misconstrued by others, are as important as actual conflicts of interests" because of "the erosion of public trust and confidence". Sharp has resigned.
Niall Collins, on the other hand, has taken no responsibility for his alleged breach of the Local Government Act 2001, Section 172 — "You must disclose a pecuniary (i.e. financial) or other beneficial interest".
Moreover, the leaders of the three coalition parties are supporting Niall Collins. What conclusions should we draw from this dichotomy of outcomes?
Andy Hales, Kenmare, Co Kerry
Keep long wave RTÉ, it's a lifeline for many
Sir — The decision by RTÉ to cease broadcasting on long wave is a most retrograde step.
Those who favour this move express the view that the diaspora in Britain does not contribute to the licence fee. I beg to disagree. I spent many years in Britain in the 1950s and 1960s. During those years I met many of my countrymen; many never returned home, not even for a holiday. They couldn't afford to. That generation of Irish who sent money home every week were betrayed by successive Irish governments when they grew old and experienced homelessness and loneliness.
Very few put down roots as they intended to return home some day, but that some day never materialised. Many worked "on the lump" and ended up with no pensions.
I retain a sadness for the way those unfortunate 1940s, 1950s and 1960s emigrants were treated — the forgotten Irish generation. The Government should at least fund the cost of retaining the long wave service for those overseas.
Tomás Ó Cúipéir, Templeogue, Dublin 6W
It's a bit rich to vilify The Ditch, Micheál Martin
Sir — I found it risible to hear Tánaiste Micheál Martin accusing an Irish political website of a political campaign against his colleague, Niall Collins.
Even if no laws are broken by a public servant, the citizens of this country have every right to know the business interests of our TDs.
I find it a bit rich for the Tánaiste to be vilifying The Ditch when all it was doing was attempting to uncover the truth. Good journalism can never be silenced.
John O'Brien, Clonmel, Co Tipperary
​Biased journalism shown in hate for Sinn Féin
Sir — Your journalists' hatred of Sinn Féin has again been made clear in your edition of April 23. Your attempts to link the party that has been consistently topping opinion polls to criminality is petty and another example of your biased Blue-shirt journalism.
Young people know and condemn what the IRA did for 30 years in the North. However, Sinn Féin is the only party now that seems capable of changing the country for the better.
The general election in 2025 will be as much about putting Sinn Féin into government as it is about getting rid of the two-party system we have had for 95 years. Time for change.
Liam Doran, Clondalkin, Dublin 22
​Let's not go sneering at the Irish diaspora
Sir — US president Joe Biden's expression of deep personal and familial affection for Ireland before and during his visit here has been the subject of some challenge and, indeed, no little ridicule.
It is, however, a historical fact that the emigration from Ireland to the US, immediately post-Famine and during the latter half of the 19th century, was mainly driven by the human need to escape a life of toil and starvation.
True, all stories, are "embellished with the telling". However, escaping the Famine, arriving on coffin ships, then progressing to attaining high office is the narrative of the Irish diaspora. Surely they're entitled to have us respect their beliefs. It's not for us to disparage this sincerely held narrative.
Mick O'Brien, Springmount, Co Kilkenny
Inflation is now even starting to hit cats
Sir — It is being reported that the Government is considering a giveaway Budget. Inflation commonly results from increasing the money supply without a corresponding increase in the production of goods and services. We already have a significant degree of inflation. For example, last year I used to buy a bag of nuts for my cats for €6.50 — that item is now €13.40.
Putting more money into the economy would be likely to result in spiralling inflation. There may be cheers for Leo et al if they hike welfare payments, but the recipients are unlikely to be any better off in the long run.
The national interest would be best served by a reduction in government expenditure.
James Harden, Adare, Co Limerick