Sinn Féin attempt to distract from abuse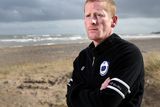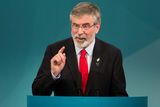 After failing spectacularly to deal in any meaningful way with the Mairia Cahill rape case, Sinn Féin are now, apparently, trying 'sleight of hand' to deal with another abuse victim, Paudie McGahon, who was raped in his home by an IRA man.
The cynical way that Sinn Féin is dealing with this issue and its abject failure to address abuse allegations have been alluded to by the Fianna Fáil leader Micheál Martin, who says the decision of Sinn Féin government representatives in the North to withdraw support from the welfare reform bill in Stormont was a ploy to distract from last night's BBC 'Spotlight' programme featuring Mr McGahon. When Mr Martin says that Gerry Adams's credibility is in 'tatters', he is surely near the mark, but whether or not that deters any of its supporters or those attracted by its anti-austerity rhetoric remains to be seen.
The bottom line is that Sinn Féin as a political party with ambitions on both sides of the border has to be held accountable for its past and cannot be allowed to get away with the criminal activities of members of the party or its military wing, the IRA.