Editorial: Sinn Fein sick murder joke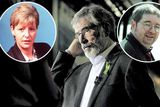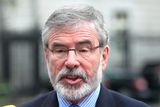 In the Masque of Anarchy, Shelley famously wrote of how ''I met Murder on the way - He had a mask like Castlereagh - Very smooth he looked, yet grim'. Although murder can adapt a plausible face, most politicians are uneasy in its company.
Given the blood that still emerges, dripping from behind the curtains that so artfully splits Sinn Fein from the IRA, one would have thought it imperative that a politician such as Gerry Adams would be particularly sensitive about any references to violence.
Instead, at a time where the maggots of Sinn Fein/IRA's past now proliferate past the point of embarrassment, Mr Adams last week chose to regale an audience of guffawing high-rolling millionaires with what he claimed was Michael Collins' response to the Irish Independent's criticism of him.
According to Adams, Collins dispatched volunteers to the newspaper offices where 'they held the editor at gunpoint and then dismantled and destroyed the entire printing machinery!'
Mr Adams was cunning enough to note that 'I'm obviously not advocating that," before his audience of influential donors.
But it is noteworthy that he ommitted the caveat from the blog he pens for his devoted followers.
The fact that there appears to be no record of Michael Collins or his followers holding an editor at gunpoint (the presses were smashed in 1919 and ironically again in 1922, when the IRA disagreed with the paper's support for Michael Collins) lends an even more sinister dimension to his "joke". The uniquely Irish phrase of felon-setting came to mind.
The frequency with which death occurs to those who are the enemies of SF/IRA means our currently free press is obliged to take Mr Adams comments with the utmost seriousness.
If Mr Adams knew a little bit more about the Republic, he might understand the sensitivities of the Irish media about journalists being held at gunpoint.
Someone might tell Mr Adams that Veronica Guerin, a crusading journalist, wife and mother, was murdered at gunpoint.
Mr Adams might also recall that the courageous journalist Martin O'Hagan, who was kidnapped by the IRA, was shot by their terrorist kissing cousins the LVF.
A man who has beaten such a regular path to the Press Ombudsman should understand that context is all.
The outburst by Mr Adams is all the more crass when set against the context of the delicate Northern negotiations.
But crass self-indulgence, mingled with a vague air of threat and vulgar abuse when they are questioned, is the default position of Sinn Fein. And it is a position that, behind all the artfully applied make-up and false smiles, is as prevalent amongst their new breed of representatives as the old.
As Sinn Fein attempts, for reasons of corporate political advantage, to lead Ireland on a masque of fiscal and moral anarchy, then we must remind them that not everywhere is like their idealised republic of west Belfast. Jokes about breaking up a free press and holding editors at gunpoint is not how our Republic conducts our public affairs.
There is an old saying that if the devil always wore horns every-one would be safe. Mr Adams is a politician who has a special relationship with context and shades of grey. When it comes to freedom of speech there are no such shadows. We know where we stand, Mr Adams. But do you?