Editorial: Refusal of Niall Collins to answer questions is a dark day for democracy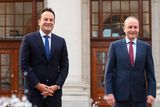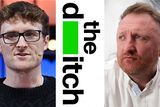 The decision of the junior minister Niall Collins not to answer questions from the opposition in relation to the circumstances surrounding his wife's purchase of land in Co Limerick represented a poor day for parliamentary democracy.
In defending Collins, Leo Varadkar compounded the Government's error of judgment by stating he did not believe in "summary justice and kangaroo courts", which was an extraordinary manner for the Taoiseach to refer to Dáil Éireann.
After an unedifying week in Leinster House, the minister concerned has declared he did not break the law, and the matter has been referred to the Standards in Public Office Commission, which will adjudicate in due course.
In defending Collins, Leo Varadkar compounded the Government's error of judgment
A speedier way needs to be found to conclude, one way or the other, such matters.
At a minimum, though, Collins should not only have recused himself from the Limerick County Council local area meeting which decided to recommend the sale of the land concerned, but he should have also declared to the meeting that his wife had expressed an interest in its purchase.
Tánaiste Micheál Martin has strongly supported his junior minister and robustly defended the Government's actions last week, claiming it was being unfairly targeted by political opponents in the form of news platform The Ditch.
He has criticised the by now routine use of loaded words such as "corruption" being attached on wider social media to the government parties.
He has also stated that, generally, there is a "toxic atmosphere" online in relation to the manner in which politics is conducted in this country.
The Government has now decided to fight back against any charges it believes to be false. That is as it should be, too.
Martin has made some valid points. For example, Ireland is ranked 10th out of 180 countries on Transparency International's corruption perception index, placing the country among the least corrupt in the world.
It is important to note this country is not some banana republic, but a modern and progressive democracy at the heart of the European Union, with appropriate checks and balances in place which must always be updated should the need to do so become evident.
However, the Tánaiste was wrong to make several sweeping statements against the news outlet concerned, which has done good work in exposing wrongdoing, irrespective of motivation and how unfairly he believes the Government is being targeted.
Governments have the benefit of parliament, and associated privileges, to defend its reputation and decisions.
The news outlet concerned has done good work in exposing wrongdoing
In future, Sinn Féin may well lead a government. With regard to the Niall Collins affair, that party has been untypically restrained, which itself is raising questions in some quarters.
Should further matters arise for that or any political party, it would be unfortunate if a precedent is relied upon not to allow the opposition to question a minister in the crosshairs.
It will be important that such future administrations also be held to account by the media and in the national parliament.
Micheál Martin has said he is a democrat and that he believes in parliamentary democracy, which few could argue with after his long career in public service.
However, several government decisions last week have poorly served that cause.