Editorial: Ireland must find a way to unite around common goals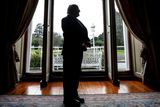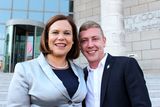 Historic ceremonies such as yesterday's coronation of King Charles III may look anachronistic in this day and age; but in their symbolism and pomp, they offer nations the chance to come together and rediscover a common identity.
How long any 'coronation effect' will last is another matter. The UK is increasingly ill at ease with itself, unsure of its place in the world. An anointed sovereign is unlikely to be sufficiently inclusive to change that.
In recent years, Irish people have, justifiably, been able to pride themselves on avoiding the bitter divisions blighting their neighbours, and relishing instead their place as a prosperous, stable nation inside the European Union.
The poll shows a country which is more than ever at odds over its future direction
People may have traditionally voted for different political parties, but by and large they shared a vision of what Ireland meant to them.
What today's Sunday Independentpoll confirms again is a country which is more than ever at odds over its future direction.
There are institutions which still command widespread loyalty. The President remains a unifying figure.
Even when he speaks out on controversial issues — such as his opposition to an "obsession" with economic growth at a cost to the environment — he commands huge support.
When it comes to the question of which option voters would prefer after the next election if forced to make a choice — a continuation of the present coalition of Fine Gael, Fianna Fáil and the Greens, or a Sinn Féin-led government excluding the two main parties who between them have governed Ireland since independence — there is, of course, far less common ground.
The country is split almost exactly down the middle on this question, with a new and untested government coming out narrowly ahead.
If it wasn't for a deep suspicion of Sinn Féin which lingers in large swathes of the electorate, the chances are that the thirst for sweeping change would be even stronger.
Only one in four of those polled believe the party's leader and prospective taoiseach, Mary Lou McDonald, when she insists that neither she nor Sinn Féin were aware that Jonathan Dowdall had any links to criminality when he joined the party and ran as a candidate.
Dowdall is now serving a four-year sentence after pleading guilty to facilitating the 2016 Regency Hotel murder of David Byrne.
These divisions represent radically different visions of where Ireland should be going
Many are so dissatisfied with the status quo that they're willing to give a chance to those they believe to be lying to them, about a subject of the highest and most troubling seriousness.
Four in ten also say they either would or might give their number one preference at the next election to candidates standing under the banner of a new rural party, which does not even exist as yet and therefore has no policy platform.
These divisions in the country are no longer between mere differences of priority.
They represent radically different visions of where Ireland should be going.
Discord may be inevitable, given the scale of the global challenges; but we still need common goals and symbols around which to unite.
What those should be remains a daunting challenge for politicians of all stripes.
We don't have crowns and thrones to bring us together. It's hearts and minds our elected representatives must win to earn our continued loyalty.