'Stranger things have happened' – Jennifer Zamparelli flattered at being linked to 'The Late Late Show' job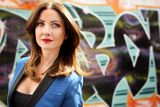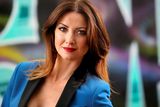 Jennifer Zamparelli has said it is a "huge compliment" to be considered a contender to front The Late Late Show.
Asked if she would like to step into Ryan Tubridy's shoes, the 2FM broadcaster and Dancing with the Stars co-host said: "Look, stranger things have happened."
Speaking as she launched the Darkness into Light fundraising event that will take place on May 6, Zamparelli said it was flattering to be linked with RTÉ's top presenting job, amid growing speculation that a woman will land the job for the first time.
"I never thought in my career that I would even make it into a bookies' list for that," she said.
"It's a huge compliment, and it's a huge shock, though I think it was a huge shock to everybody that Ryan would leave the show.
"I'm excited to see who the next presenter is. I never thought it would come about in my lifetime.
"How many times has this job opportunity come about? Three times? So it'll be really interesting.
"I think they'll just pick the best person for the job, regardless, because it's a tough auld gig and the person needs to be ready – so who knows?
"Hopefully, we'll find out soon enough, because I'm getting tired of the question."
The process of finding Tubridy's replacement is under way, with Claire Byrne and Sarah McInerney the favourites, but Zamparelli is among the top 10 fancies, as are Anton Savage and Dara Ó Briain.
Zamparelli has just finished co-fronting another successful series of the hugely popular DWTS with Doireann Garrihy.
"It was a really good series and a lot of fun," she said, "but nobody knows if it's going to come back.
"I'm just praying that it does, because it's a joy to work on and I think there's a lot more left in it.
"It was good fun working with Doireann. We just got on with it. I think she was a bit shell-shocked, because it's a long run and it's pretty full-on – but we're a very supportive team. We looked after each other.
"It's a huge gig – loads of things to contend with and to think of. You sacrifice a lot to be on a show like that.
"You sacrifice time with your friends and family, the nights out, your weekends – all that stuff."
The entire cast and crew hit the town on the night of the final, which was won by TV and radio presenter Carl Mullen, and she said they were "like wild animals".
"It was crazy. It was a total release after 11 weeks of hard work and also a celebration that it went so well," Zamparelli said.
The mother of two joked that her secret to looking so good was "enduring misery for 11 weeks".
"I cut down on wine, I was in the gym every day. I went for it – and I felt great," she said. "I'd never restrict my food, I love it too much, but curbing the wine definitely helped.
"My husband got me a Fitbit, so I'm now obsessed with counting steps. It was really just looking after myself and curbing the nights out."
She was speaking after being named as an ambassador for Pieta's Darkness into Light charity fundraiser.
The event involves more than 100,000 people in 200 locations globally coming together for the 5km sunrise walk.
"Each year, myself and a group of good friends take part, and it's great to see so many thousands of people out together, starting in the darkness and walking together into the sunrise," Zamparelli said.