James Martin, star of An Irish Goodbye, wins outstanding newcomer award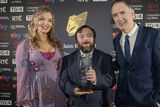 An Irish Goodbye star James Martin has been crowned outstanding newcomer by the Royal Television Society Ireland (RTS Ireland).
Martin has been a mainstay at the awards circuit this season, having graced the stage at the Oscars earlier this month while he also appeared on The Late Late Show St Patrick's Day special.
An Irish Goodbye, follows the story of two estranged brothers, played by Martin and Seamus O'Hara, who come together after their mother's death to fulfil her bucket list.
It won the Academy Award for best short feature, and director Ross White described Martin as "the beating heart of our film". Martin became the first star with Down's Syndrome to win at the Academy Awards.
The actor turned 31-year-old at the Oscars and enjoyed a unique experience when Hollywood's elite sang happy birthday to him.
He received his RTS Ireland outstanding newcomer award at an event in Galway city this evening.
The Gradaim RTS/RTS Ireland Television Awards gather professionals in the Industry to celebrate the breadth of talent in the Irish TV sector.
Awards were presented in 11 categories.