Ireland's gems shine in David Attenborough's new series but his warning of nature's decline hits home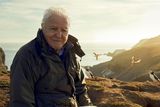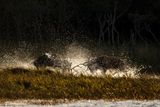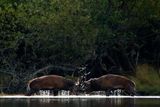 It took three weeks in a sodden hide with water and anxiety levels rising. But for the crew who filmed the stunning footage of Ireland's majestic red deer for David Attenborough's new series, every cramp was worth it.
Their film of the stags rutting, the autumn ritual when males battle for supremacy, captures the ferocity of their rivalry in a way that shows there are still remnants of raw wildness to be found in the country if you know where to look.
Naturalist and filmmaker Simon King, who shot most of the film, was enthralled - and he's been watching red deer for more than 40 years.
"One of the challenges was to try and record something that felt new and different and fresh with a species that is pretty familiar," he said. "That's where Killarney came in."
The film, shot in Killarney National Park, features in this Sunday's episode of the BBC's Wild Isles series.
It's the first series in which the venerable David Attenborough focuses fully on the nature closest to him, in Britain and Ireland.
But despite being on home soil, the series is as mesmerising as anything shot in the many more exotic locations he has visited in his 70-year career.
Simon and series producer Nick Gates had the idea of filming the rut beside a lake in the hope they could capture the stags in a water fight.
"When the stags fight on land, you get an impression of the power but if you don't know red deer very well, you don't know how big it is, you don't know how heavy it is, you don't know what that impact is going to be like," Simon explained.
"When you see them in the lake and the water is exploding around them, you get a very real sense of the drama and of the might of these creatures.
"You can stand them alongside any other ungulate on the planet and they are magnificent, not just their physique and the way look but their voices too.
"Their closest cousin in the US is the elk and it's a big animal but when the elk opens its mouth it whistles.
"When a red deer stag opens its mouth, you know he's a big, mean beastie. He's got a voice to match his physique and he sounds fabulous."
Eavesdropping on wildlife takes patience and, in Simon's case, that meant sitting from dawn to dusk every day for three weeks in a wet hide waiting and wondering whether the desired scene would materialise.
"It rained so much that about a third of the way in, I was up to my shins in water and towards the end it was somewhere near my knees.
"But it was beautiful because whilst I'm sitting there, I'm watching all sorts of life going by.
"I watched a fox hunting and I saw an otter hunting in front of me. That's the joy of being able to spend so much time in one place simply sitting and watching and being ready to respond when the moment kicks in.
"And one of the most glorious elements of the rut is the soundscape that comes with it.
"I would be up before light every morning, hearing those voices coming through the mist hanging on top of the lake.
"It's spine-chilling, it's beautiful and we don't want to lose that. We've lost so much and we're losing so much at such an alarming rate across the whole of the archipelago."
That message comes across loud and clear throughout the series, which stresses that the wonders filmed are rarities in landscapes almost completely devoid of true wilderness.
The scenes in Killarney are particularly poignant because, just months after filming in late 2020, large swathes of the park were destroyed in a devastating fire.
Producer Nick Gates said being straight about the state of our ravaged nature was always the intention when programme planning began five years ago.
He got particular joy out of another segment filmed in Ireland for the fifth and final episode that shows the return of the basking shark to the west coast.
"You can see groups of 15-plus sharks coming together to feed on plankton bloom and it's a wonderful story of recovery.
"But we were very clear from the start that there can be no pretence that all is well.
"That's a challenge as a filmmaker. We want to wow the audience with images but we also want them to hear the other message.
"It's a balancing act, how we weave that message into the film so that people come away feeling that they've seen something astonishing but also knowing how precious it is."
The fact that the message comes from a narrator such as David Attenborough helps, but it also adds pressure.
"We always want the best footage but the fact that David is on the series raises the bar," Nick said.
"But that's a good thing. It makes more people watch and, just as importantly, listen."