'I thought I was going to die' says well known entertainer on nearly drowning while taking a dip
Finbar Coady has warned people to be extra vigilant when swimming while on holidays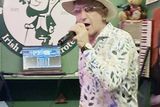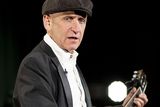 Well-known Irish entertainer Finbar Coady has warned people to be extra vigilant when swimming, particularly as people plan their seaside summer holidays.
Finbar Coady, a father of two, from Waterford who lives in Mullingar, Co Westmeath, said he was lucky to be alive after almost drowning when taking a dip in the sea at Matagorda, Lanzarote, over St Patrick's weekend.
Mr Coady, (57), said he was swept out of his depth "within seconds" by an "undercurrent" on stretch of beach he had previously not swam at and which he said did not have any life-guards, nor warning flags or signs.
Tired and suddenly out of his depth, he said he started to sink, but eventually managed to swim back to dry land.
"It is good to be talking to you, because this it happened so quickly, one minute you are here and then you are gone," said Mr Coady.
"I was thinking about my daughters, they are aged 11 and 9, and my partner," he said becoming emotional.
"I was thinking is this the end of my life, just like that. As I was swimming back in to shore I could hear the radio broadcast in my mind, 'Irish man drowns in Lanzarote'."
"I thought I was going to die, and like I said, even though I am mindful of (the dangers), it happened so quick. Within eight strokes I was out of my comfort zone."
"I would say it was an undercurrent, I could feel it when I was walking in the water and I would normally swim out further - normally to my chest - but fearing the current I waded in to a level that was just deep enough for me to swim in and I thought it was ok."
"I tell you something, I got some fright, even though I was mindful of it, all of a sudden I could see that it was much deeper, really quickly. I came to my stopping point to put my feet down, and Jesus, down I went, it all happened really quickly."
"From being ok to not being ok - in about eight strokes - was really frightening, it happened in seconds."
Mr Coady said he was no stranger to Lanzarote's "old town" beaches around Puerto del Carmen where "there's always life-guards and no undercurrent", but he said had never swam in this particularly stretch of water at Matagorda.
"If you're swimming here you would want to be careful, and don't go swimming there unless you have someone with you or you are a good swimmer."
Mr Coady continued, "it's a dangerous area to swim in, I would not go back in that water again down there".
Mr Coady said that despite his ordeal he did not cancel a pre-booked gig that night at The Auld Triangle Pub in Puerto del Carmen. .
"The show must go on, I'm still in the game," he said.