Family of late Sligo footballer Red Óg Murphy appeal for those struggling to 'seek help'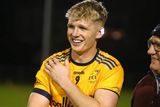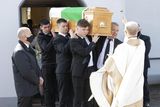 On April 1, 2022, 21-year-old Sligo GAA star Red Óg Murphy died by suicide, and with the anniversary of his death this weekend, his parents are urging people to seek help when needed.
The footballer was studying teaching in Dublin City University (DCU) and he was just about to be named on the Sigerson Cup team of the year.
Tomorrow marks the one-year anniversary of his death and as chance would have it, Red Óg's native Sligo are also playing in the Division 4 National League Final against Wicklow in Croke Park.
His father Redmond and mother Geraldine said they miss their son "every day" and tomorrow's final will bring an added element of emotion to the first anniversary.
"Every time we watch Sligo play we think of Red Óg playing with them. So, there's a little bit of that but you learn to cope," Redmond Murphy told the Second Captains podcast.
"You never forget… As people say, you do learn to deal with it but he'll never be forgotten. The love that was in it, will never be broken," Geraldine Murphy added.
Red Óg began his football career with his local club Tubbercurry and would go on to star for his county at underage level. A string of standout performances in the All-Ireland minor championship drew the attention of Australian Rules Football scouts and he was offered a trial in Melbourne.
The Australian experiment did not stick and Red Óg returned to Ireland, finished his Leaving Cert and earned a place at DCU.
Geraldine said her son was ambitious, "always very lively" and he "always wanted to do his best". His love of Gaelic football was obvious from a young age too, his mother said.
"He had a diary and he had it kept from every match he played," she said.
"Everything is in it but at the end of every match is 'courage'. This is what he has at the end, 'courage'."
Geraldine explained how there were complications during her pregnancy with Red Óg. She called him her "miracle" and said they feel "blessed" for the 21 years they with him.
She said Red Óg would be "embarrassed" by the outpouring of love and admiration that people have expressed for him since his death. "He never realised how popular he was", she added.
Red Óg's parents said there were no signs of distress in their son leading up to his death.
Neither of his parents, nor his girlfriend Rachel, or his brothers Óisín and Daithí were aware of any mental health issues he was dealing with.
Redmond and Geraldine said they hope their son's death can shine a spotlight on the importance of asking for help when needed.
"That Friday night Red Óg had reached a point of no return," Redmond said.
"Whatever the reason was he reached a point of no return and what we're begging people to do, especially the younger groups, is to not let it get to that point. If there are early warning signs or if suicide comes into your head for any millisecond, tell your best friend.
"There's loads of help out there where you can go, ring up. It's all very anonymous but it's very supportive."
Helplines: If you have been affected by the contents of this article, click here for more information.