Charlie Bird hails Vicky Phelan on first anniversary of his 'momentous' climb up Croagh Patrick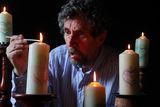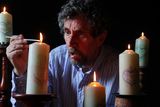 Former RTÉ journalist Charlie Bird is encouraging others to light a candle to mark the first anniversary of the Climb with Charlie fundraiser.
He revealed in October 2021 that he had been diagnosed with motor neurone disease.
On April 2 last year, he and his supporters climbed Croagh Patrick to highlight the physical and mental battle people with the disease face and raise funds for the Irish Motor Neurone Disease Association and suicide prevention charity Pieta. The efforts raised more than €3m.
Climb with Charlie hikes also took place in the US, South Africa, Australia and Spain, and about 10,000 supporters took part.
On completing the climb, Bird lit five candles in the small chapel on top of Croagh Patrick.
He said he will light the same candles at home this weekend to commemorate the event and to remember some special people, including the late cervical cancer campaigner Vicky Phelan, who he has often described as his hero.
Ms Phelan died last November 14 at Milford Hospice in Limerick. She had hoped to take part in the climb the previous April but was too ill at the time.
"This weekend is the anniversary of the great climb of Croagh Patrick last April," Bird said. "To mark that momentous occasion this weekend, we're lighting the same candles that we lit in that lovely church on the reek.
"The first candle I'm lighting is in memory of the great Vicky Phelan, who is not just my hero, but a hero for everyone in the country. She was so courageous.
"The second candle is to show support for everyone in the country who has a terminal illness.
"The third candle we're lighting for everyone who wakes up every morning in a dark place. None of us know what torments someone we might be standing beside is going through.
"The fourth candle is to show solidarity with all our great frontline workers, who every day are there to help any one of us.
"The last candle is to show solidarity with the people of Ukraine, who have been going through hell for over a year now.
"All five of these candles is about extending the hand of friendship. And I'm inviting everyone across the country to light a candle in solidarity.""
Bird said recently his health has got worse, but he will continue to support others for as long as he can.
Pieta CEO Stephanie Manahan said: "Charlie has become part of the Pieta family and we are so honoured and thankful for everything he has done for our charity.
"Climb with Charlie has been an amazing initiative and brought so many people together that it is only fitting we celebrate the anniversary.
"Not only did Charlie make the wonderful donation to Pieta, but the work he has done in raising awareness of the services we provide has been so important in helping people who need to reach out to us," she said.