Two victory nights that were worlds apart
When Obama was elected in 2008, Niall Stanage was in Chicago to drink in the joyful atmosphere. Eight years on, he was looking out over an eerily quiet Time Square in New York as the Trump Tide washed away Clinton's hopes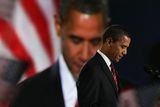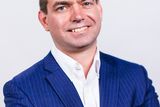 The TV networks called the race as soon as the polls closed on the west coast. A new president had been elected, his picture flashing up on video screens in the media tents that had been put up specially for the occasion.
Outside was a crowd numbering well over 100,000 people. Their response to the news was an enormous roar. I rushed out and, for a few seconds, just took in the scene. Some people were embracing, others shedding tears of joy, still others raising the Stars and Stripes high on the unusually mild autumn night.
It was November 4, 2008, and I was in Grant Park, Chicago. The hometown hero, Barack Obama, had just been elected as America's first black president. His win capped the most extraordinary - and, yes, inspiring - political rise that anyone could remember.
Donald Trump's election to the same office this week didn't feel like that - and not just because it was the early hours of the morning before the final verdict was delivered, and I was sitting in a makeshift TV studio in New York, overlooking an eerily quiet Times Square.
Earlier that night, I had been at Trump's election-night headquarters a few blocks away. The atmosphere at the start of the evening had been casual, the first supporters trickling in, more in hope than expectation.
Virtually all the opinion polls were predicting a Hillary Clinton victory by a comfortable margin. Even some of Trump's staunchest supporters were willing to speculate, on the record, about what he might do once the tortuously long election campaign was finally over.
Then things began to change. Clinton's margins in states she had been expected to carry easily grew narrow, then disappeared. Trump edged up in one battleground state, then another. The crowd grew bigger and more bullish. Fist-bumps were exchanged. The signature accoutrements of Trump's campaign - red baseball hats adorned with his "Make America Great Again" slogan - were suddenly much in evidence.
The Trump Tide just kept flowing. Ultimately, it carried him to victory in Florida - the biggest of the battleground states - and washed Clinton's hopes away across the Rust Belt. The writing was on the wall in returns from Michigan, Pennsylvania, Ohio and Wisconsin long before the news became official.
Trump's supporters were exultant. "This is the end of the old establishment that has been running this country for years," Carl Paladino, a co-chairman of the Trump campaign across the state of New York, told me. "This is about an uprising of the middle class in America and about saying, 'Enough is enough, we've had enough of your bullshit'."
Less than two miles away, the mood at Clinton headquarters, according to those in attendance, resembled a family home visited by tragedy. Many supporters were in tears.
Not even Clinton, rightly famed for her resilience, could face giving a concession speech that night - although she did so the following day. Her campaign chairman, John Podesta, was instead sent out to say that there was still some hope. He convinced no one. He encouraged supporters to go home. Soon afterward, word broke that Clinton had phoned Trump to concede.
Those two nights - Obama's victory and Trump's - were not just separated by eight years. They seemed, in many ways, to take place in entirely different nations.
Obama's win was perceived - at least by those on the left of the political spectrum - as an infusion of hope after the wrenching years of the George W Bush presidency.
The sight of Obama, his wife Michelle and their two young daughters in Grant Park also seemed a powerful symbol of the hope that even America's deepest and most enduring wound - over race and the legacy of slavery - could be bound up.
Those who cheered Obama's victories in 2008 and 2012 were, by and large, horrified by Trump's victory a few days ago. His campaign, they contended, had fanned flames of xenophobia and racial resentment.
The day after, on the streets of New York, it was almost impossible to avoid overhearing snatches of conversation expressing shock or sorrow. By that evening, anti-Trump protests had erupted in major cities across the US, including New York, Oakland and Seattle.
Trump's fiercest detractors are not entirely wrong - a man who begins his run for the White House by suggesting that a disproportionate number of Mexican immigrants are "rapists," and who later calls for a blanket ban on Muslims entering the United States knows the powerful pull of demagoguery. (He later softened the demand for a Muslim ban.)
Yet it would be wrong to say that Trump's only appeal is to the darkest instincts in American life.
The voters who propelled him to victory also include those who feel ignored, demeaned or condescended to by the political establishment, news media and the guardians of pop culture, virtually all of whom are based in the major coastal cites: New York, Washington and Boston in the East, Los Angeles and San Francisco in the West.
There is a well-known term of derision in those circles for all the states in that vast American heartland in-between: "Fly-over country." Many of the states within it, including Ohio and Michigan, have been especially hard hit by the erosion of US manufacturing.
On Tuesday, when the voters of fly-over country went to the polls, they took their revenge.
They have taken a massive risk, even if some of their concerns are valid. They have entrusted the fate of the world's most powerful nation to a man who has never held political office, whose strategy to fight ISIS is to "bomb the shit out of them" and who, even on a more mundane level, seems incapable of avoiding feuds over the smallest of slights.
It seems very likely that he will want to undo Obama's legacy in as many areas as possible, from the massive healthcare reform the current president piloted through Congress to his nuclear deal with Iran.
Such issues sound huge, and they are. But their individual impact can sometimes feel just as powerful.
In the hours after Trump was declared the president-elect, a friend texted me. A bartender, she had lived for years in the US with no health insurance. Obama's reform had made coverage affordable for her for the first time. Now, she worried it would be snatched away again. She might be right.
The United States is about to leap into the unknown.
Only one thing is sure: Obama's America and Trump's America will be very different places.