#UnlockNYC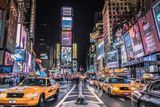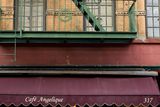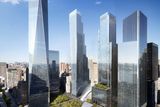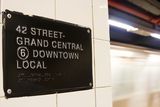 January, February and March are the cheapest months to experience all that's new in NYC, says Deirdre Conroy.
I love New York.
Even a walk in Central Park fills my heart with joy. I never did a J1 stay in the city as a student, and I've been making up for it ever since - cramming Big Apple segments into my life whenever I can.
There's always a new reason to visit - in the last six months, in fact, four incredible destinations have opened or re-opened in New York. You won't see anything like them anywhere else, and you can comfortably see them all in just two days.
Here's how I did it.
First off, hit the Ellis Island museum (libertyellisfoundation.org) - re-opened following flood damage caused by Hurricane Sandy. A winter visit means smaller queues, and I was really impressed by the 19th-century reception centre, a beautifully preserved Italianate building complex, which our guide told us was chosen deliberately to make immigrants feel as if they were arriving in a castle.
The new exhibit is the Peopling of America Center, designed by ESI Design (esidesign.com) - with an innovative visual history of Irish immigration along with Italian, German, Polish, Chinese, Ukranian and many others that make up the cultural trove of the city. Crossing by ferry gives you a whole new perspective on Hudson Bay and Downtown, too.
Disembarking in Manhattan afterwards, I took a stroll through Battery Park towards Brookfield Place (World Financial Centre).
The chic space here, with its glorious views across to New Jersey, is the latest New York sensation: Le District (ledistrict.com). Opened just this year, it includes Hudson Eats, an artisan food-hall and a fine-dining restaurant, Beaubourg. We lazed outdoors on comfy sofas and washed down succulent snails with Sancerre followed by seafood platters served family-style. I could easily have loitered there for the afternoon.
A short walk from Le District is One World Observatory (oneworldobservatory.com), which opened in May. It crowns One World Trade Centre, the distinctively sculpted skyscraper that replaces the Twin Towers and now the tallest building in the western hemisphere at 1,776ft (reflecting the date of the Declaration of Independence).
Entering the elevator, a guide instructed us to face towards the back. It shot up 102 floors in 60 seconds, the interior transforming into a fascinating surround-sound visual and sensory moment as Manhattan flashed past. Stepping out on the top floor, you are embraced by another kaleidoscopic view of the city - before proceeding to a 360° sky portal with panoramic views.
The design and technology are another reason I find New York so inspiring. I always return home from a visit revved up with ideas, pledges and resolutions.
Back outside, you can't miss the vast 9/11 Memorial. Set aside a couple of hours for this - the contemplative memorial and the inner sanctum demand time, not solely for viewing, but also for rest and recovery.
It is a bristling experience. Illuminated by a watercolour mural in 3,000 shades of blue (representing the colour of the sky on 9/11 - everyone has a different memory of it), the twisted girders, burnt airplane parts, news reports, firemen's uniforms and photographs strike you in a way you least expect. Similar to the Jewish Museum in Berlin, the heart feels heavy.
And so, for the beauty. I headed over to the Meatpacking District, where the Whitney Museum (whitney.org) has relocated to a superb building designed by Renzo Piano on Gansevoort Street. Founded by Gertrude Vanderbilt Whitney, the collection contains some of the finest 20-century American artists.
Gertrude Vanderbilt, like Peggy Guggenheim, patronised the avant-garde of her time. There are over 3,000 works by Edward Hopper in the archives. Two of my favourite artists are here - Jasper Johns and Mark Rothko.There's also lots of Warhol and the whole feel is experimental 1950s and '60s.
There's a sense of fun about the Whitney with its child-friendly terraces furnished in bold, colourful seating. It's a place you can enjoy on several levels for hours, and it has access to the Highline, where you can stroll further uptown without the bother of traffic. Plus, it has a new restaurant, 'Untitled', which is one of restaurateur Danny Meyer's (he of no-tipping fame) many diverse offerings in the city.
Shake Shack (shakeshack.com), the 'roadside' burger stand, is also one of Meyer's ideas, so if you're with young children and they want a break from all the culture and contemplation, its custard shakes could be the solution.
With all that fresh air and vertiginous exploration, a chilled night-dining experience at Delicatessen (delicatessannyc.com) on Prince Street in NoLITA is just right. It's not an actual deli, but a very trendy restaurant that opens out on to the street. Sit back, relax, and get grazing. All told, this tour can be done within 48 hours. The longer you stay, the better to find your own favourite spots, of course. Going to NYC before Christmas used to mean returning laden with goodies, but even though the poor exchange rate has spoiled all that, you can still opt for the January sales.
Better still, the first three months of the year see room rates dip by some 22pc, according to NYC & Company (nycgo.com/unlock). With Restaurant Week's cut-price set menus (January 18 to February 5) and the two-for-one tickets of Broadway Week (January 19-February 5), it could be the perfect time for a budget-friendly visit.
What to pack
New York winter style demands minimal fuss. Layer up: a nifty little black coat, good flat leather boots, leggings and a snug hat (buy your cashmere scarf and gloves over there in Uniqlo). Your bag should be cross-body or a neat backpack, for handling subway tickets and coffee on the go.
Three Must-Do's
Beautiful People
The best value Sunday blow dry costs $30/€28 at Jean Louis David (jeanlouisdavid.us), across the street from the Hotel Beacon. Downtown, have a Monday Martini and Manicure for $10/€9.40 at the Beauty Bar on 14th Street (thebeautybar.com), a retro-style cocktail bar with a burlesque show.
Brooklyn
It's easy to get to Brooklyn by train and well worth a visit for a change of tempo and character. Apart from the cafés, restaurants and artisan shops, try Brooklyn Unplugged (brooklynunpluggedtours.com), a boutique-style tour guide service that tailors tours based on what you, the customer, wants to see.
Bargains
The Staten Island Ferry (siferry.com) has enclosed seating, runs 24/7 and, best of all, is free. Take a night sightseeing cruise: grab a coffee or beer (sold on board), curl up by the big picture windows and watch the city skyline sail by. A multiple journey sub-way ticket is a great investment (web.mta.info).
Getting there
Aer Lingus (aerlingus.com) flies twice daily from Dublin, and once daily from Shannon, to New York. Economy fares start from €239 each way. Business class, with its new flat-bed seats, cosy duvets and Revival suite at Dublin Airport, starts from €969 each way, going to press.
Where to stay
Deirdre stayed at the Hotel Beacon (beaconhotel.com; rooms from $209/€197 plus tax) on the Upper West Side. The feel is quite Parisian, with New York's finest Beaux Arts building, the Ansonia, across the street. The hotel is two minutes from the subway to take you Downtown.