'The views are different every half an hour' - meet the slow travellers choosing trains over planes
It's not just about sustainability. Train travel can be more comfortable, social and an alternative for nervous fliers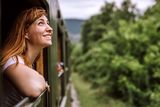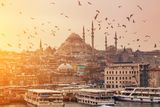 Lucy Thackray
© Independent.co.uk
For years, the travel industry has predicted that holidaymakers will become more aware of the environmental impact of flying and more sustainable ways to get around.
Sadly, however, many travel firms report that customer behaviour hasn't yet caught up with this awareness. Flights are still bargain-basement cheap, annual leave from work often too sparse for long journeys, and many consumers are still seduced by speed and cost effectiveness.
Still, people with the luxury of flexibility – or the challenge of travelling regularly for a living – are increasingly taking the time to experiment with overland journeys.
Some are seeking out ways to get around the planet that don't involve flying, or aiming to share the lower carbon output of ground transport with a train - or busload of other travellers. And this behaviour is on the up: ethical travel specialists Responsible Travel told us their slow travel holidays saw the greatest spike of any type of trip in 2022, with a rise in customer enquiries of more than 220 per cent.
We spoke to three travel pioneers about why they're staying grounded and regularly taking the long way to their destination, and what they've learnt by doing it.
"People have been travelling this way since the Grand Tour and the Hippie Trail"
Lucie Grace, travel writer and digital nomad
Last summer, I flew back to Europe from Asia and I just, suddenly, felt like I didn't want to fly for a while.
It partly came from the fact that flying makes me feel a bit anxious; and had done so even more than usual during the Covid pandemic. Plane seats are quite claustrophobic, and I feel hemmed in; also, something about air travel seems to make people edgy. I thought it would be way less stressful not flying.
And, as it happened, I had plans to live and work in Croatia for a spell, and I didn't have to rush anywhere – I'm lucky enough to be able to work remotely from anywhere with wifi.
So I looked into the prospect of getting the train from London to Croatia – and actually, it was really easy. Six weeks in advance, it wasn't too expensive. The Eurostar is the priciest bit; once you're in mainland Europe, prices just drop. A train from Paris to Milan cost me about €45.
I decided to go from London to Paris, Paris to Milan, Milan to Venice, Venice to Trieste, Trieste to Ljubljana, Ljubljana to Zagreb in Croatia, all by train. I was excited: I predicted that it would be low stress and quite pretty along the way. People have been travelling this way since the Grand Tour and the Hippie Trail – it hasn't always been this bish, bash, bosh, super quick way of tourism that's developed, with loads of individual trips by plane.
That first trip was really fun and successful – and I thought, I'm going to do this all summer. I hadn't just been in London one morning and Croatia by the afternoon – I'd enjoyed a night couchsurfing with a friend in Paris, I'd spent a night in Milan and another in Venice. If anything, I thought it would have been nicer to spend a bit more time in Italy along the way.
Next I had a great time travelling from Malta to Zagreb, via Italy. I got the Vertue ferry from Malta to Sicily and the train from Sicily to Naples, which is so cool because the train goes on the ferry. There are actual tracks on the boat! I was nerding out. The length of these journeys means you get to stop off anywhere that intrigues you, to break the journey up: that time I stayed in Siracusa for a couple of nights, two nights in Naples, and four in Treviso.
The longest distance I've done by train was Chiang Mai in northern Thailand to Singapore: 2,017km by rail. That's almost as far as Frodo and Sam went to take the ring to Mordor, my friend worked out. Obviously some destinations are better than others, and you'll have to take the odd plane between continents; but if you can take land transport once you're in a country, that's one way to dip a toe in.
For anyone starting to think about overland travel in Europe, I'd say have a look at what the Austrian train company ÖBB have on offer – they're really ramping up their night trains at the moment. Even if you work standard office hours or have limited holiday, you might be surprised at what you can fit into a train trip if you use overnight services.
And Eurostar isn't the only option for getting on to the Continent: there are ferries from Harwich to Hook of Holland, which is a really nice way of getting into the Netherlands, and from there you're really well connected by rail.
Top resources
I always have a look at Rome2Rio because they link to a lot of local bus operators and routes I wouldn't think of otherwise. My new obsession is looking at voyagesencargo.com, dreaming of hopping on a cargo ship from Thailand to Australia, via Singapore and Malaysia.
Top tip
It's not all about the train. I learnt to love Flixbus last summer; it has budget buses throughout Europe including into Sweden, Poland, Italy and Turkey (fares from around €33 one way).
"As train and bus links improve, that definition of 'no alternative' to flying is evolving"
Dom Tulett, travel writer and dad of two
Train travel came out of necessity for me. My wife and I don't drive and we love going to Europe with the kids, so travel by rail it is!
As non-drivers back home, we were pretty used to lugging bags about and taking long-ish trains around the UK. I'm also not a great flier, so I'd already been steering clear of taking lots of flights. People sometimes feel there's no alternative to flying, but as train and bus links improve and become more accessible, that definition of "no alternative" is evolving, I think.
The multi-stop nature of a long journey by train is actually the draw, not a drawback, for us – we're not trying to get to our destination as quickly as possible, we're looking to take in a lot throughout each journey. I guess you could say we were doing this before sustainability was "a thing"!
Last summer we took our two children, Heidi (8) and Barnaby (4) to Montenegro by train, passing through the Netherlands, Germany, Hungary, Croatia and Bosnia and Herzegovina along the way. My daughter and I actually finished off by going on to Istanbul. It's so enjoyable knowing that it's a much more sustainable way of travelling, but also surprisingly low stress with small children. Not to mention, fun: it's like camping for my two, they love the bunk beds, and restaurant car if they have one.
It went so well that now, when we look at booking a holiday, we start by thinking about where we can get to, not the barriers to certain places. It helps that there's lots of news about sleeper train routes opening up at the moment. This year we're going to head overland (and sea) to Morocco at Easter, taking a ferry from Portsmouth to Bilbao/Santander, working through Spain by train, stopping off in a few cities along the way, then a ferry across the Straits of Gibraltar to Tangier and onward to Marrakech.
Berlin's one of my favourite cities, so I'm looking forward to travelling there by sleeper when the new route from Brussels (via Amsterdam) opens this May. You take the Eurostar from London to Brussels, then on you go. We have flown occasionally with the kids, where overland travel is impossible. But Heidi and Barnaby don't enjoy airports as much as they enjoy stations, or planes as much as trains – they enjoy being able to wander about freely, watching the scenery.
You do have to book in plenty of time. A lot of the sleeper trains might only have one- or two-berth sleeper compartments, and we obviously want to be together as a four if we can. Our kids are aware that other people tend to fly to places – but they don't mind. They think they're the best-travelled kids in their school, having been to 10 countries in one trip.
In terms of the future, going with the family on the Trans-Siberian and Trans-Mongolian Railway is the dream. Once Russia and China open up again to Europeans, we'd love to get beyond there and rattle around Asia with them. India especially, would be an amazing family holiday by train. My main advice is to stay flexible: we did have to get a bus all the way through Montenegro when forest fires cut off our intended rail route, but there's always a plan B.
Top resources
The Man in Seat 61 is my absolute go-to site. Step-by-step guides on how to reach almost anywhere by train, as well as in-country guides, route maps, advice on how best to buy tickets – even tips on when to eat if you've got a short connection and the best side of the train on which to sit for key sights.
Top tip
We haven't had any disasters yet, but I will say that we're pretty pragmatic and realistic about what our kids are up for and what's too much for them. Both of ours were terrible sleepers until they were two, so we did wait until after that to do a sleeper.
"You can see so many interesting things instead of just flying direct"
Lizet Wesselman, digital nomad and sustainability blogger
Though I've been travelling by train for years, my starting point for prioritising overland travel was last year, when I started travelling full time for work.
I was in Spain and I had to get to Prague. Looking at options, I found a Flixbus route with a seven-hour layover in Lyon. Instead of thinking "Oh, how annoying," I immediately thought, "Why wouldn't I just make that a weekend?"
So it was a long bus, but with that nice stopover in the middle. That's when I first thought, this is a really nice way to travel if you have the time for it. After that I kind of kept travelling by bus and train.
Later that year, I was looking to go from the Netherlands to Budapest, and I found a flight which was only €25. But I thought I'd look into trains anyway. I ended up booking a rail trip for €150, from the Netherlands through Germany and Austria and on to Budapest. Quite a price difference, but I'd get to see more places, and make the most of the countries I was travelling through rather than over. That's one thing that I'm trying to get across to people: that you can see so many interesting things instead of just flying direct. And most European countries have a really great train network.
I'll travel wherever there are fun and affordable rail initiatives. When Germany introduced its €9 ticket last year, I went to do a couple of trips there. Taking the train through South Germany at the end of summer was an adventure. It was super popular: thanks to the cheap pass, all the trains were packed. On the other hand, it did lead to fun conversations with people – I'm from the Netherlands, and both Dutch and German people are really good at complaining! On one train to Munich, there was a bachelorette party at one point, all drinking and singing. One of them was a really good singer, so I got to enjoy a bit of an impromptu concert.
I hate flying. I'm not afraid of it, but I really don't like it. With trains you get amazing scenery; the views are different every half an hour. I don't always even read or work, I often just stare out of the window. On buses they often make stops on the longer journeys, meaning you can stretch your legs and get a snack and a coffee. If there is wifi on trains, it tends to work better than on flights.
I keep track of how much carbon I save by travelling overland instead of flying. I recently wrote a blog post about my calculations from last year. The average CO2 emissions from transport for a person in the Netherlands is 3,091kg per year; by travelling the way I did, my emissions were 30 per cent lower than that. I'm trying to reduce that even further this year, too. When I do fly, I do try to go to the shortest routes to lower my CO2, and offset wherever I can.
Top resources
I always use Rome2Rio for a broad overview of a long journey – you can see what the options are by bus or train, and choose accordingly. That's usually my starting point. Then for booking trains, Omio or RailEurope to see what's out there, what kind of connections there are.
Top tip
Even if I find a great route on a Europe-wide bookings website, I usually double check with the local operator to see if there's a price difference buying direct from their website. Those general sellers get a commission on all the sales they make, so they can be a bit more expensive. Not always, but it's worth checking.