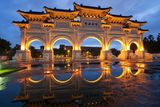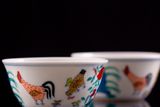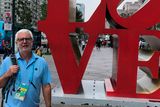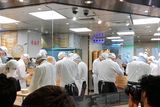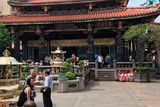 There is an energy about Asia that is exciting. There is also a refreshing politeness. So an opportunity to visit Taiwan was one I was not going to pass on.
One of the biggest sporting events in the world, the 2017 Summer Universiade, which is pretty much the Olympics for university sports was being held in Taipei. And while I was there I would get a chance to see the city of Taipei and some surrounding countryside. Plus hit a few interesting restaurants.
The locals are proud of Taipei. My guide couldn't wait to tell me that it really stood for Technology Art Innovation People Environment and Identity. It doesn't, of course. It just means the north of the island, located between Japan and the Philippines, and a little smaller than Ireland. But it shows how they are thinking. This sub-tropical island was named Formosa, meaning 'beautiful island', by the Dutch. They got it right. I began my days looking down on the hundreds of scooters from my very comfortable room in the Sherwood Hotel. Taipei has to be the scooter capital of the world. I played with the 'Handy' phone that gave me free internet access around Taipei. I examined the Asian toilet seat which has more controls than the space station. Then up to the 20th floor rooftop pool for a swim and down to the basement for sushi breakfast. I was ready to roam.
I began at the top. The top of the world that is, on the 89th floor observation deck of the stylish Taipei 101. With 101 floors it was the world's tallest building until the Burj Khalifa in Dubai passed it in the vertigo stakes. It takes 37 ear-popping seconds going up in one of the fastest lifts in the world. You can see the whole city of three million people from this vantage point in the 'Manhattan' of Taipei. Far below, in the 35th floor Moon Garden restaurant, I enjoyed a very tasty beef noodle soup with squid on the side. Delicious, and still a great view, including that of the amazing Agora Garden Tower, designed by Belgian Vincent Callebaut. This 20-storey, carbon absorbing, double helix skyscraper with 23,000 trees in suspended open air gardens is one of the wonders of the modern world.
Back to ground level and, being a Beatles fan I could not resist the touristy photo in the huge LOVE sculpture outside. Outside most of the great buildings in Taipei are public sculptures. Beautiful wide tree-lined litter-free streets with women using umbrellas for shade is my lasting impression of this city.
Down the road is the Eslite centre with a lot of small shops and many crafts workers selling their wares. I enjoyed a coffee in Musikaffee where you are served on a wooden board with a music box that plays a tune when it is brought to your table. Mine was Amazing Grace. The Universiade is the biggest sporting event ever to be held in Taiwan. I dropped by the pool and had a chat with Irish swim coach, Paul Dennis. He was hopeful. You were nobody if you didn't sport a stopwatch. That evening the opening of the Games in Taipei Stadium was a massive cultural display with lasers and fireworks aplenty. All that was missing was the queen parachuting in. They even had choreographed dancing scooters. The theme was 'youth' and the two young presenters did a great Eurovision audition. The Irish team looked splendid taking their selfies. Shane Ryan was to win gold in the 50m backstroke a few days later. Back to the Sherwood and the fifth floor Executive Lounge where a few of us sipped the local Kavalan single malt whisky. Free. A good day.
In 1949 the Government of the Republic Of China relocated to Taiwan having been defeated in the Chinese Civil War by Mao. The first President, and father of the nation, was Chiang Kai-shek. The magnificent National Chiang Kai-shek Memorial Hall and surrounding park make a big statement and the impressive changing of the guard under his watchful statue in Freedom Square is a Taipei must. Chiang Kai-shek died in 1975, aged 87, a year earlier than Chairman Mao.
Also in 1949 many of the timeless Chinese treasures in the Forbidden City were moved to Taipei for safe keeping. They are now housed in the magnificently imposing National Palace Museum, which houses more than 700,000 items. Those not on display are stored in safety within the mountain. The value is incalculable. One of the many stars of the show are seven Ming chicken cups. A similar cup in private hands sold in Hong Kong for $36m (€30m). The new owner, Chinese art collector Liu Yiqian, very controversially actually drank a cup of tea out of it and put the video on Facebook.
This is a place where you could while away many hours with your mouth open. The first floor takes you from ancient Buddhist writings produced with enormous care and artistic talent through to enamelled sculptures and recreated living rooms with intricately carved furniture. The overall impression is one of the massive time and energy that went into creating each of these inspiring works. The second floor houses ceramics and porcelain from the Yongle reign of the Ming (1368-1644) dynasty with informative texts about how the various colours were developed. Among the artefacts I particularly liked the multi-purpose Ge dagger and butt spike and the Ji spear which was apparently ideal for stabbing, slashing and hooking an unfortunate enemy between the 5th and 3rd centuries BC.
I like to lunch in places frequented by locals so I tried Shin Yeh in the Zhongshan district where I also did some market shopping. As well as chicken, fish, and pork I tried a disturbingly named, but very tasty, local delicacy called cold fungus. It was like crunchy mushrooms. Dessert was guava, squash and a red bean jelly. Taiwanese desserts often tend to be sweet vegetables. Bubble tea, or pearl milk tea, is often served. This tea is made with tapioca and sipped through a straw. Ugh!
There are many fine temples to see and Lungshan Temple, built in 1738 in the old Wanhua district, is worth a visit. You will find the usual mixture of tourists beside people praying among the many ornately carved buildings, waterfalls, and pools filled with koi. I love Asian food, and the variety in Taipei is stunning. I enjoyed NCIS, or Northern California Inspires Sushi where I chatted with the Taiwanese American owner Jo Lu over a local Kirin beer. In Datong, the old part of the city, I loved Brasserie Bonne Recolte where chef/owner Rolf wore Doc Marten boots, and the room where we ate had been his childhood schoolroom. I began with a tofu salad, followed by Chinese radish soup thickened with rice, next orzo with prawns, octopus and squid, followed by chicken and black rice, with dragonfruit and guava for dessert. Take me home!
After dark a few of us headed to Shilin Tourist Night Market. It is upfront about the tourist element, but don't let that put you off. It is a maze of shops, food stalls and tiny restaurants that buzzes. There is a temple in the middle of all the chaos where you can sit and take in the ornate declaration and smell the incense. Traders will bargain but if you try to go too low they let you walk.
I got some Christmas shopping done, in August. Plus I bought a very loud barbecue shirt that could be heard in Kilkenny. Keeps lots of 100 (Taiwanese) dollar notes (about €3) on you as it makes doing a deal easier. Save $200 for a taxi. I met tourists who used the metro which they said was cheap and very easy to follow. Money is easy in Taipei.
You divide the Taiwan dollar by about 30 and you get euros. After a wonderful week I stood on the weighing scales. I wished I could subtract 30. It was five days and I had not been out of the city. Over breakfast I met a surfer who recounted a great day trip to nearby Yilan Beach. It reminded me that this country is two-thirds mountainous and great for hiking.
They even have a marathon in the forest. And beautiful beaches that I had not yet seen.
Note to self: Must go back.
TAKE TWO: Top attractions
Pricey porcelain
There are 19 small Ming dynasty porcelain 'chicken cups' in the world. The National Palace Museum has seven. A similar cup in private hands, the 'Meiyintang', sold for $36m (€30m) at Sotheby's in 2014.
Delicious dumplings
Din Tai Fung is a famous restaurant chain where you watch chefs in glass kitchens make xiaolongbao, round dumplings. They pick up Michelin stars and global awards. They're simple and beyond yummy.
Getting there
John travelled to Taiwan as a guest of the Ministry of Foreign Affairs, Republic of China (Taiwan).
He flew with Emirates. Flights from Dublin-Taipei take about 20 hours, including the Dubai stopover, which is about three hours. Return flights from €795. See emirates.com.
The 5-star Sherwood Hotel is conveniently situated just six minutes from the subway and about 5km from Taipei 101. Room rates begin from $T4,700 per night (around €160) and internet access is free. Packages are available. See sherwood.com.tw.
For further information visit the Taiwan Tourism Bureau's website at http://eng.taiwan.net.tw and the Taipei Representative Office in Ireland at http://www.taiwanembassy.org/ie.