San Fran City Break: 'I can't think of a single thing it lacks'
"San Francisco is a golden handcuff with the key thrown away," John Steinbeck once wrote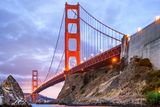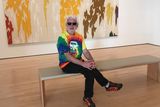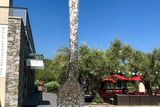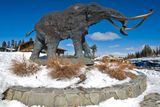 Paul Kantner, guitarist with Jefferson Airplane, described San Francisco as "49 square miles surrounded by reality".
Given that he was a player in the Summer of Love, he has a special perspective. A few days in SF and it is easy to see how it features on so many people's favourite places list.
As I drive in from the airport I see the signs for Candlestick Park. Every fan of The Beatles knows they played their last live concert there in 1966.
SF is located between the Sixties - the 1960s that I wished I was part of, and the 2060s that I expect to miss. Between now and then I intend to get in a few more visits to this wonderfully unreal place. This is Nancy Pelosi land. Trump got only 3pc of the vote, so I feel at home.
At the Hilton I was checked in by the helpful Caitlin who mentioned the Cityscape bar on the 46th floor. I like city views from high places. It was only prudent to eat first - two minutes away on Ellis Street, John Grill had been recommended. It is mentioned in The Maltese Falcon and for 70 or so years has always been owned by a 'John'. I ate some escargots in garlic cream and some red snapper, and then, you guessed it, I headed for the Cityscape bar for a nightcap. Caitlin did not oversell it. A beautiful night time 360-degree city view.
Next morning I felt like a Bay Cruise to see Alcatraz and the Golden Gate Bridge. I strolled to Pier 39 (where Robin Williams used to have his morning jog) through Chinatown and Saints Peter and Paul Church with the twin spires on the edge of Union Square where Joe DiMaggio and Marilyn Monroe posed outside after their civil wedding. Joe was divorced. Today senior citizens were doing physical jerks in the sun.
After the enjoyable boat trip I visited the aquarium which is big on conservation and very family orientated with good interactive stuff for children. It has one of those underwater tunnels. I bought a T-shirt made from 6.5 plastic bottles and feels like cotton. My bit done for the planet.
SF is a walkable city and you are always aware of the surrounding hills. I headed to the Museum of Modern Art which is the only place where I have been a visitor and an exhibit. Tie-dyed T-shirts are still a big hit in SF so I had bought one featuring a VW Microbus. I was, in any man's language, colourful. So it was that I was sitting taking in a picture when a very attractive woman interrupted me politely: "I hope you don't mind but I love your T-shirt. Could I take a photo of you in front of that Clyfford Still picture?" Clyfford Still is also colourful.
I was happy to oblige. Some might think it was a creative pick-up line but she moved on and I think I was just an available piece of art. Over the years I have bent the truth a little but this is 100pc what happened.
On to dinner in La Mar Cebicheria to be served by a veritable United Nations of staff. The cuisine is Peruvian which means a lot of lime. I enjoyed tuna and shrimp and eating out on the boardwalk. Then home to my Cityscape view.
Next day I kept walking. My destination was the Golden Gate Park where Robin Williams has a meadow. On the way are lots of vintage shops, wonderful architecture, anarchist bookshops, Haight-Ashbury and John Fluevog shoes. I sat in a cafe and saw two guys who had been growing their hair and beards since 1969 and probably wearing the same dungarees.
They looked like the Grateful Dead. If they weren't in the Dead they should have been, probably wished they were, and might not be sure if they had been or not. The idiot in me wanted to ask them could I have a selfie with them. The sensible part prevailed. The dress code in SF is athleisure. These guys were at the extreme end.
I had lunch at Finn Town Tavern in Castro district under a favourite Robin Williams quote: "If you were right I'd agree with you." I walked and walked... past the headquarters of Twitter which is more of a city block than a building. SF is also home to Levi's which were patented in 1873. I passed on the Antique Vibrator Museum which opened in 2012.
Onwards on foot to North Beach through Chinatown with fantastic shops and massive sculptures of lions and dragons. I had a choice between Vesuvio and Tosca Cafe. Vesuvio was on the right side of the street beside the City Lights bookshop. What a pub! People have been chatting here since 1948 and there is not an inch of wall space without something interesting to read or look at. At the table next to me I eavesdropped on two very trendy guys discussing Capital Gains Tax while the sign over them said "Beware pickpockets and loose women". I met neither.
On to nearby Cafe Zoetrope. Inside the door is a short story dispenser - a great idea as pasta is always freshly made so you need to allow 20 minutes. Cafe Zoetrope has a movie theme. Manager Danielle took me downstairs to Francis Ford Coppola's private screening room with the carpet from The Godfather. I drank the house red, a Coppola of course.
Napa is a short morning drive. I stayed in the comfortable River Terrace Inn. Lunch was in the nearby Stone Brewery where I had the Arrogant Bastard BBQ Platter. This included a beer called Turkey Vulture; the waiter told me to think of it as if Guinness and Modelo had a child. They have 24 beers on tap. Their logo is the Gargoyle. It protects you from cheap beer, pasteurised beer, big beer, and corporate beer.
In the 1970s America discovered fine wines and, from the Napa Valley, they tended to be very good. Much of the credit here goes to Robert Mondavi who promoted labelling wines varietally as is now the norm. He wanted to create wines that would rival the French and he did just that. The Wine Train is fun, and I ate scallops and drank bubbles until we reached the Grgich vineyard where we had a tour.
This was the best meal I ever had while moving. Mr Grgich, a Croatian, is, at 95, the oldest vintner in the valley, and in 1976 he was involved in the great win when Napa beat the French wines, a shock known as the "Judgment of Paris". Our guide Toni knew more about wine than I know about anything.
A few days in Napa visiting the colourful Quixote Winery in the Stags Leap Cliffs and the fantastic Joseph Phelps Vineyards and I had learned to drink wine slowly. I liked the Phelps attitude: "We are farmers with a new crop every year."
It was time to leave the wine behind and drive to Mammoth, and what a treat that was. I have done a few spectacular drives, and from Napa to Mammoth ski resort is one of the most beautiful. It begins with flatlands and cattle grazing. The mountains in the background look like a Wild West film set as you travel along the Nevada/California border. Then the gradual climb through pine trees along twisty roads until the snow begins at about 7,000ft and you turn the corner to the view of Lake Mono. Hard to beat.
The Mammoth Mountain Inn accommodation was simple but perfect to fall out of bed and be on the slopes in minutes. I hadn't skied for a while and my legs let me know. The altitude takes a little getting used to. Better skiers than me loved it. I had the time of my life on a snowcat.
The village is a short free bus ride away with a leather shop where I could have spent a fortune.
My final night was an enjoyable meal in Campo Mammoth before the morning drive back to SF and a replay of the wonderful scenery.
I have added San Francisco to my list of favourite places on the planet. I cannot think of a single thing it lacks. Steinbeck was right when he said: "San Francisco is a golden handcuff with the key thrown away."
I might try and make it back for the BottleRock festival, an annual event with great music, check shirts and long beards.
Take Two: Top attractions
Year-round skiing
Mammoth Moutain, high in the eastern Sierra Nevadas, has skiing for all levels — and it snows from November to June! There are 28 lifts, 300 sunny days and the views are only spectacular.
From farm to fork...
In Napa, just outside the headquarters of the CIA (Culinary Institute of America) is a 10ft statue of a fork, made of forks. On the roof of the institute's restaurant two 8ft figures happily drink wine - a tribute to Robert Mondavi and his wife Margrit.
Getting there
Aer Lingus, Ireland's only four-star airline, operates a daily service from Dublin direct to San Francisco, California, with fares from €249 each way, including taxes and charges, when booked as a return trip. aerlingus.com.
* Travelling with Aer Lingus guests can benefit from US-preclearance at Dublin Airport and can enjoy 10kg cabin baggage at no extra charge, complimentary meals and drinks, plus the very latest inflight entertainment system. l Guests can also avail of wi-fi onboard.
* John drove a car provided by rentalcars.com, the world's leading online rental car service, who arrange car rental in 60,000 locations, across 160 countries. Book online, on mobile and via the rentalcars.com app
*See also ikonpass.com.
*For more to see and do in the area, see visitcalifornia.co.uk.
This feature originally appeared in The Sunday Independent.