Living the Thai life: kick back in Koh Samui for luxury R&R on a budget
Is it possible to party and enjoy a relaxing wellness break in Thailand? Not only that, but post-pandemic R&R may be more affordable than you think...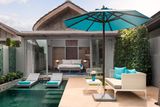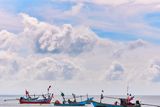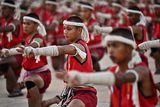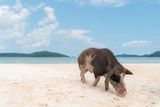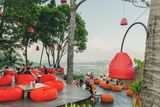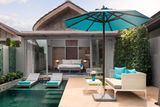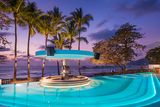 It's 9am on a Sunday morning and about half-a-dozen people have rolled out their yoga mats on the white-sand beach in front of one of Chaweng's newest hotels.
Beach yoga isn't a strange sight on Koh Samui's beaches, but it's a little surprising that it's part of this particular hotel's offering. An unashamed party destination, the Avani Chaweng Samui Hotel & Beach Club is better known for its DJ sets than its wellness programme. Here, arriving guests are greeted with boozy shots to get the party started before being shown to playful, retro-inspired bedrooms. The 4/4 thud of dance music reverberates through the hotel at night.
And yet, it doesn't get in the way of guests practising sun salutations on the shoreline come morning.
Chaweng is one of Thailand's party towns, and this highly Instragrammable Avani outpost is clearly marketed towards a younger, fun-loving crowd. But it seems even 24-hour party people want more from their trip to Koh Samui these days. Sure, they want to let their hair down but, equally, they want to recharge their batteries. They want to hit the nightclubs but they also want to explore the yoga studios, Muay Thai gyms, spa resorts, vegan restaurants and juice bars that have helped reinvent Koh Samui as a world-class wellness destination.
The second-largest island in Thailand, Koh Samui used to be known as a destination for backpackers on a budget. These travellers still come in their droves but, now, so too do couples, families and, most notably, wellness tourists.
Travelling 10,000km across the globe for some R&R might seem a little counterproductive, but the idea appeals to those seeking affordable wellness options and lengthier holidays. Week-long residential retreats cost as little as €450, a decent vegan lunch will set you back about a fiver, while an hour-long massage costs as little as €8. Add Wi-Fi, sunshine and a sea of smiling "sawadika!" and you can understand why there's an almost-constant queue of people applying to get their travel visas extended in Koh Samui's immigration office.
Tourism in Thailand has yet to return to pre-pandemic levels, and yet I find the yoga studios and Muay Thai gyms in Koh Samui are packed. Chat to fellow attendees and they'll tell you they're here to get fit/lose weight/recover after lockdown.
Dig a little deeper, however, and there's almost always a backstory. After a vinyasa yoga class in Lamai, a thirty-something American man tells me he quit his hectic job on a whim. He's hoping a month of yoga and sunshine will give him some clarity. During a stretching session following a HIIT class in Surat Thani, a forty-something British woman tells me she's here to mend her broken heart after a post-lockdown break-up.
Most of the thirty- and forty-something solo travellers I meet in Koh Samui plan to spend at least a week of their travels in a fitness retreat on the island — and almost all of them feel duty-bound to try at least one Muay Thai class before they go home.
Muay Thai is Thailand's national sport and there are dozens of dedicated camps that cater to all skill levels dotted throughout the island. Many international fighters train in Koh Samui ahead of their fights, so in these gyms you're likely to meet people who have never picked up a skipping rope, alongside professional fighters whose faces you recognise from billboards in the local stadium.
Some of the more popular Muay Thai gyms in Koh Samui include Punch It in Surat Thani, which has impressive facilities and an adjoining café known for its high-octane coffee, and Koh Fit, which includes a multi-storey gym and 20m swimming pool.
I chose Lamai Muay Thai Camp for my first session. It doesn't have the bells and whistles of some of the other camps but seasoned fighters tell me their training is top class.
What they fail to tell me is that it's also intense, exhausting and utterly relentless. I go in envisaging a personal reinvention akin to the Rocky training montage before being humbled by the 15-minute-long skipping-rope warm-up. After endless laps around the boxing ring, pad-work and some light sparring, I'm lying in foetal position, drinking a bottle of Gatorade like it's a bobo.
I find a slightly gentler pace next door in Visit Natural Detox Resort. Run by Lander Loos, a permanently upbeat Belgian man, the affordable retreat offers a residential programme that includes morning hikes to the top of the island's most scenic viewpoints, strength and conditioning classes, and yoga. Lander knows his stuff and while I'm not here for weight loss, I'm impressed by the healthy yet effective programme he has devised for those who are.
The adjoining Wild Tribe Superfood Café serves some of the best vegan and vegetarian food I try in Koh Samui. When I discover that they deliver via Grab — the Thai equivalent of Deliveroo — I spend the rest of my trip ordering ice-cold Wake Me Up smoothies (a shot of espresso, banana, raw cacao, tahini, coconut and vanilla) to my hotel room.
A lot of people come to Koh Samui to focus solely on their training, but they take their recovery just as seriously. At the plush adults-only Amba spa in Bophut, the sauna is full of tattooed Muay Thai fighters sharing blow-by-blow accounts of their last bout, while the freezing-cold plunge pool is something of a competitive sport. Meanwhile, everyone has an opinion on the island's best massage centre and the physiotherapist/acupuncturist/breathwork practitioner who will literally change your life.
If you're travelling solo, fitness and wellness retreats are great places to meet friends and like-minded folk. But Koh Samui has plenty of options for those who want to draw up their own wellness itinerary, too.
When I spend a few days in the upmarket Fisherman's Village, I move between Shahda yoga studio, Beach Coconuts Bowls café and the many massage centres that look out over the sea. Getting a foot massage to the sound of actual ocean waves is about as good as it gets.
I also checked into the Avani+ Samui Resort, which is tucked away in Panka Bay, at the south end of Taling Ngam. It's a world away from the hubbub of Chaweng, and feels like a peaceful retreat for those who want to catch their breath and switch off for a few days. Here, guests can partake in yoga and meditation sessions, kayak or stand-up paddle board around the surrounding mangroves, or just lounge in front of the infinity pool and watch the long-tail fishing boats bobbing in the ocean.
Essence Restaurant offers both international cuisine and traditional Thai food, which is fresh and well executed; there are spectacular hikes through the lush green jungle that surrounds the hotel, while the in-house AvaniSpa offers CBD-infused massages and treatments (cannabis was decriminalised in Thailand last June and CBD, which is non-psychoactive, now features on most spa menus).
If you really want to check out after checking in, treat yourself to one of the pool villas (priced from around €215 a night, it's not as expensive as you may think) and book at least one dinner on the beach.
Younger travellers are still coming to Koh Samui for the party scene but the guests lounging around the pool at the Avani+ are here for something else entirely. Staring out over the water, you can almost see their shoulders relax away from their ears as they take a much-needed exhale.
It seems everyone needs a little breather after the pandemic, and Koh Samui is the right place to do it.
Dinner with a view
Set high on a hill within a coconut plantation, The Jungle Club looks out over Chaweng Bay. Settle into a comfy bean bag and enjoy a laid-back dinner. jungleclubsamui.com
Island hopping
Boat trips to the islands surrounding Koh Samui are inexpensive and quick. If you're travelling with children, they'll love Koh Madsum, aka Pig Island, which is famous for the family of pigs that have made it home. Most operators combine the trip with a snorkelling tour in the waters of Koh Tan island.
Fight Night
Friday night is Fight Night in Koh Samui as local and international fighters compete at Samui International Muay Thai Stadium. Muay Thai is a graceful yet brutal martial art and ringside seats (€54) will get you as close as possible to the action.
Do it
Katie was a guest of the Avani Chaweng Samui Hotel & Beach Club and the Avani+ Samui Resort. Rates start from €113 per room, per night, B&B (before tax and service). avanihotels.com
There are no direct flights from Ireland, but one-stop connections are available with several airlines via hubs like London, Amsterdam and Frankfurt.
Thailand has removed all of its Covid-19 restrictions for travellers. A new tourism tax comes into effect this June, with arrivals by air required to pay 300 baht (approx. €8). Irish citizens can apply for visa-free travel for up to 30 days on arrival, but passports must have at least six months' validity from the date of arrival.
For more, see tourismthailand.org
​