Disney parks ban costumes for adults, but these fans have found a way around it
Disneybounding allows adults to channel characters,without breaking park rules… on TikTok, the #disneybound hashtag has nearly 770 million views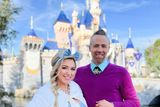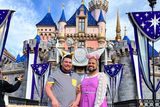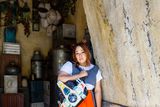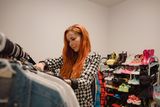 Hannah Sampson
Washington Post
For a subset of Disney superfans, preparing for a day at the theme parks means asking: "what would Snow White wear?"
Or maybe Donald Duck. Or Tiana from "The Princess and the Frog." Or the iconic Haunted Mansion ride. Or even a theme park garbage can.
Welcome to the creative, colour-blocking, accessory-rich world of Disneybounding, a practice that allows Disney adults to channel their favourite characters, experiences or objects without running afoul of the company's no-costume rules for grownups. Outfits are inspired by characters but use everyday clothes.
Disney parks in the US don't allow costumes or masks for anyone 14 or older, except at certain special events. Because the company has its own costumed characters that interact with guests, it doesn't want those likenesses to be misrepresented.
At Disneyland Paris, the dress code warns against any costumes that would offend, be seen as inappropriate, pose a security risk or "would impede the operation while posing as or portraying any character in costume".
"It's a fun way to, as an adult, have a similar interaction to what a kid would have when they're in their costumes," said Leslie Kay, who coined the DisneyBound term, runs sites devoted to the practice and wrote a book on the topic that was published by Disney in 2020.
Kay, who is in her early 30s, started blogging in 2011 in anticipation of her first Walt Disney World visit as an adult; the name came about because she was bound for Disney. She started pondering what the character Rapunzel - star of the 2010 animated film "Tangled" - would wear to the mall, pulled together outfits from fashion websites and posted them on the blog.
That simple beginning has grown into a web presence that now has more than half a million followers on social media, Kay says. On TikTok, the #disneybound hashtag has nearly 770 million views; 1.8 million posts on Instagram use the tag. A challenge that inspires participants to come up with new themed bounds every day takes place each March.
Though adults can't go in full costume to parks, Disney sells its own merchandise that can be used for bounding. In response to a question about the trend, a company representative provided a statement embracing the endeavour.
"We are incredibly humbled by the deep connection our fans have with Disney stories, and are blown away by the creativity they show in the love for our brand," the statement said.
Unlike cosplay, the intricate and true-to-character dress-up seen at events like Comic-Con, Disneybounding is generally more subtle. It can be as simple as choosing shorts and a top in the colours a character is known for, though many bounders says accessorising with jewelry, Mickey Mouse ears or backpacks is key.
A Snow White outfit might include a denim shirt, yellow shorts and apple-shaped purse, while Princess Tiana might wear a green romper with frog jewellery. A trash can? Well, that's open to creative interpretation.
"Every time I see a trash can Disneybound, you just know that the person has the best personality," said Kay, who has her own marketing company.
Stephanie Williams-Turkowski, a lecturer at Texas Tech University whose dissertation included a study of Disneybounding, said she found that princess characters were popular as well as the "fab five" of Mickey, Minnie, Goofy, Donald and Daisy. With the opening of Star Wars-themed areas, she said characters from those movies were also big.
"I found that when you recognise somebody and their efforts that they put toward bounding - whether it was on the simplest side of the scale or the most extravagant - it was not only validation to them, but it was also like a nod to a secret club," said Williams-Turkowski.
"Alice in Wonderland" and "Peter Pan" are also perennial favourites, Kay said.
"Millennials I find really like the 'Never grow up' themes of Alice and Peter," she said in an email.
Participants, who may wear their outfits in regular life or exclusively on theme park visits, say they love the creative outlet and the community they've found in Disneybounding.
"There's very few things that I'm super confident about, and Disneybounding is one of them," said Uriel Diaz, 36, of San Antonio, who has been bounding for five or six years. "I don't know if it's because I'm extra or what."
Diaz, who helps run a family retail business, has more than 233,000 followers on TikTok as @the_huntysaurus, often using a wall of themed Loungefly backpacks as a backdrop. Without Disneybounding, Diaz said, they probably would not have discovered that they are nonbinary.
Visiting Disneyland earlier this year with their husband, Diaz wore a dress when bounding as Daisy Duck. It was, Diaz said, a "big deal" because they didn't know what people would say.
"I literally felt like a princess that day, and it was a really, really strange but amazing and magical experience," they said.
Rachel Gagné, a calligrapher in her 30s who started bounding in 2018 after moving to Southern California from New York, said characters in the parks are often excited to see people paying homage to them with their outfits.
On a visit to Disneyland with a total of 13 family members last year, each one dressed up as a different Marvel character. She said the Thor and Loki characters at the park took note, gathered the family around and "put on a whole show" telling the story of the first Avengers movie using different members of the group.
"It was one of the most magical moments I've ever had at Disneyland," Gagné said.
As a New Yorker, she said her closet was full of black clothes; her first Disneybound was as Darth Vader. But more recently, she's been inspired by characters who represent her background with a Chinese mother and Puerto Rican father: Meilin from "Turning Red" and Miles Morales from "Spider-Man: Into the Spider-Verse."
"I tend to do them over and over again," she said. "I love feeling connected to my culture."
Tiara Henderson, a 36-year-old stay-at-home mom in Houston, says she has found a community among fellow Disneybounders after once feeling like she was "the weird quirky Black girl who likes Disney."
As a plus-size bounder, she has drawn inspiration and gotten tips from others, and was recently featured in a fan magazine for her look as Scar from "The Lion King."
"If you love Disney and Disneybounding and you feel like you're not going to fit in, you probably just haven't looked," she said. "I've never felt more included probably in my life as I have the last three years."
Many bounders - including Henderson, Gagné and Diaz - have social media followings and consider themselves Disney content creators.
Lilly and Paul Davis, who are on TikTok as Dear and Darling, have nearly 121,000 followers and say they get stopped and recognised regularly in the parks. The Salt Lake City couple have been bounding for just a year, but have already created some viral videos - for better or worse. Turns out not everyone appreciates a video titled "40 Year Old Princess Squad Has Arrived," which has been played more than 860,000 times.
"They're brutal," Paul Davis, 38, a chiropractor, said of some of the comments.
Said his wife, 42: "We're in such a beautiful day and age where people are being seen and heard. Not Disney adults. We are the exception to the rule."
Still, the couple - who both grew up loving Disney and went to the parks more than a dozen times in the first couple years after they met - said they don't offend easily. They create videos with rapid outfit changes and seek comments on which look is the best for a given character and occasion.
When they go to Disneyland about every other month, they will sometimes do two outfits in one day to create videos, and bring "comfies" at night, Lilly Davis said. They've also done family bounds inspired by Star Wars and Peter Pan with their six kids, ages 8 to 18.
"Disneyland was already like one of our favourite places in the world," Paul Davis said. "I think it's a little bit of a cherry on top."