As the Hollywood sign turns 100, now is the perfect time to explore LA
Katie Wright heads stateside to find out how Tinseltown is celebrating a very special anniversary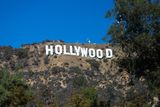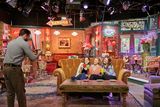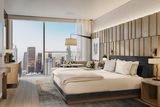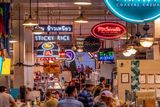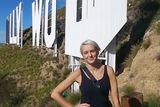 The barrier keeping eager fans out of arguably the most exclusive spot in Los Angeles isn't a red velvet rope.
It's an unassuming metal gate on the side of a dirt road, which swings open with a screech to reveal a steep slope leading down to the world-famous Hollywood sign.
Clinging to a neon orange safety rope installed for my visit, I shuffle down the gravelly path, landing a few metres behind the giant 'H' (just over 15m tall) and edge round to the front of the iconic landmark.
Bathed in morning sunshine and silhouetted against a cloudless California sky, the bright white letters – recently treated to their once-a-decade repainting – are beaming down on LA like a row of (slightly crooked) teeth.
"This started as an advertisement to sell homes," says Ferris Wehbe, trustee of the Hollywood Sign Trust (hollywoodsign.org), which has organised this special visit (members of the public shouldn't attempt the same – LAPD officers are stationed 24/7 above the sign to prevent trespassing).
Erected by a real estate company sometime in 1923 (the exact date has been lost in the sands of time), the original wooden sign said 'Hollywoodland' and was illuminated with bulbs like a dressing room mirror.
"It used to be lit up, and there was a guy living here, changing the light bulbs on an ongoing basis," Wehbe continues.
While the real estate firm went out of business within a decade, Hollywood was fast becoming a mecca for moviemakers, so the 'land' was lopped off and a star was born.
Rebuilt in metal in the 1970s, those nine pearly white letters remain Tinseltown's most recognisable symbol.
Now Los Angeles is enjoying a year-long, citywide celebration to mark the sign's centenary, so there's no better time to soak up the LA sun and discover the behind-the-scenes history of Hollywood.
Here's how culture vultures can make the most of the world's entertainment epicentre…
Major museums
Opened at the end of 2021, the Academy Museum of Motion Pictures (academymuseum.org) is a movie buff's heaven, with four floors packed with costumes, props and other memorabilia tracing the history of the film industry.
In addition to the permanent collections, current exhibition Regeneration: Black Cinema 1898–1971 (until July) puts the spotlight on pioneering African-American entertainers and filmmakers, while in September, a new exhibit will celebrate director John Waters.
Entry is $25/€23.50 for adults, free for under-18s, and for an extra $15/€14, the Oscars Experience lets you find what it's like to accept a coveted golden gong, smiling (or fake sobbing) as you lift the 8lb statuette. Your award-winning moment is captioned on camera then emailed over to share on social media.
Take a walk down memory lane at the Grammy Museum (grammymuseum.org), which pays tribute to hitmakers and award winners throughout the decades.
Celebrating songwriters, rock'n'roll heroes and today's pop greats, nostalgic exhibits will give music lovers all the feels. Adults $18/€17.
Behind the scenes tours
Also marking a centenary this year, the Warner Bros Studio Tour (wbstudiotour.com) is home to Stars Hollow in Gilmore Girls, as well as the Friends fountain and couch, and is still a working studio.
Opt for the last tour of the day on weekends and you might get to walk through 'live' sets (to use the industry lingo) when they're not in use. Adults $69/€65.
More of a theme park than a studio, Universal Studios Hollywood (universalstudioshollywood.com) has sections dedicated to Jurassic Park, the Simpsons and Harry Potter (among others), plus a 60-minute studio tour which ferries you round sets – old and new – on trams, and includes three virtual rides.
New this year, Super Nintendo World is like stepping through your screen into Mario and Luigi's technicoloured landscape.
Venture into Bowser's Castle and you can ride a real-life version of Mario Kart, donning a VR headset so you can throw virtual shells to try and hit 100 points and defeat Team Bowser.
Queues for the biggest rides and rollercoasters can stretch to well over an hour, so it's arguably worth splurging on the Universal Express ticket, from $199/€187.
Adults from $109/€102; children aged three to nine, from $103/€97.
Hollywood history
Proving that, contrary to popular belief, you don't need a car to get around LA, the three-hour electric bike tour from Bikes and Hikes LA (bikesandhikesla.com; $98/€92 per person) takes in La La landmarks like the Hollywood Forever cemetery, where the great and the good have been laid to rest, and theatre-lined Hollywood Boulevard, as well as the more upscale residential areas.
Stopping off at the Original Farmers Market (farmersmarketla.com), be sure to sample local favourites, such as a mac and cheese-filled Nonna's Empanada or a glazed Bob's doughnut.
For a more sedate option, stroll with LA Walking Tours (lawalkingtours.com; $28/€26 for adults) on the Downtown Architecture trail for a close-up look at the city's most stunning 1920s buildings, like the muralled rotunda of the Public Library and the ornate wrought iron staircases of the Bradbury Building, as seen in sci-fi classic Blade Runner.
The route winds up at bustling Grand Central Market (grandcentralmarket.com; above), where you'll find authentic Mexican pork tacos at Ana Maria, breakfast baps at Eggslut, crispy fried chicken at Lucky Bird and a whole menu of peanut butter and jelly sandwiches at PBJ.LA.
Where to stay
Quickly establishing itself as a hipster hotspot, Tommie Hollywood (hyatt.com) welcomes visitors with a laidback, art-filled lobby and is perfectly positioned for exploring LA's main attractions.
Flash your hotel keycard to skip the line (and there usually is one) waiting to head up to Desert 5 Spot, the buzzy, western-themed rooftop bar that locals love.
Conrad Los Angeles (hilton.com) sits among the skyscrapers of Downtown LA, providing five-star service to stars such as Olivia Rodrigo, who was spotted at the hotel on Grammys weekend.
Spacious rooms offer sleek décor in a calming colour palette, exceptional amenities and – if you're lucky – a view of the Hollywood sign.
How to plan your trip
To find out more about LA, go to discoverlosangeles.com.
Rooms at the Conrad Los Angeles start from $500/€470 per night. Rooms at Tommie Hollywood start from $199/€187 per night.
Aer Lingus flies direct from Dublin to Los Angeles (aerlingus.com).