VIDEO: Airport sniffer dog reunites passengers with lost mobiles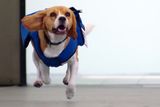 Independent.ie Travel
Telegraph Media Group Limited
Dutch airline KLM has hired an adorable beagle named Sherlock to help reunite passengers with their lost valuables... or has it?
In the video, the uniform-wearing hound is presented with items - from mobiles to headphones and stuffed toys - recovered by KLM's cabin crew.
The items are attached to the dog before it tears through Amsterdam Schiphol Airport in search of their rightful owners.
"It's a lot of fun. Personally, I think he's a real asset to the company," says Chantal Kremer, of the airline's ground services department.
"He can really do something no-one else can."
Sandra List, of KLM's Team Lost and Found, added: "Our main goal is to return lost items to the owner as fast as possible. We use social media, and the crew check the plane after every flight - now we have some help!"
Sadly, Sherlock is not a real - or at least, permanent - employee of KLM.
After the video was released last week, the beagle was revealed if not quite as a hoax, then as a symbol of "the active way in which the [lost and found] team will search for owners and unite them with their lost possessions" as the airline puts it.