The Mandrake: Get ready for a mind-altering journey at this surreal London hotel
The Mandrake in London demonstrates how a hotel can double as a creative gallery space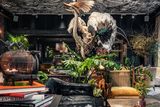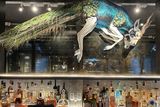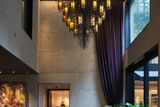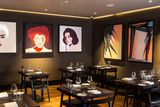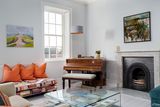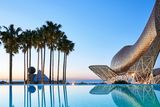 There's no finer furnishing to grace a grand entrance than a chandelier.
Whether it's an antique piece crafted from the finest Murano glass, or a Gothic wrought iron fitting flickering with candles, a hotel's choice of lighting reveals a great deal about your stay.
It takes me some time to work out exactly what's hanging from the lobby of the Mandrake Hotel in London's Fitzrovia. Ebony tassels tumble from several concentric crowns of wax lanterns, but there's something a little more unusual about the material - it's made from human hair.
Surreal and delightfully perplexing, the installation by hairdresser and artist Robert Masciave uses 200m of real-life manes to decorate The Haunted Chandelier, made by jewellery designer Lara Bohinc. It's one of many pieces commissioned by the hotel's art-loving owner Rami Fustok, who has fashioned the 33-room property into a hotel, restaurant, wellness space and gallery.
Inspired by the medicinal properties of 'the mandrake' (a Mediterranean plant belonging to the nightshade family, supposedly resembling the human form and historically used in rituals), rooms are named after legendary healing and hallucinogenic plants - but the artworks alone are enough to spin me into a mind-altering state.
An antelope dressed in a peacock's body appears to leap above the bar, while an extravagant ostrich with a snakeskin neck parades it's feathers in the dining area.
There are also works by big names such as Salvador Dali, Jeff Koons and Marc Chagall scattered throughout the labyrinthine property. Each piece has its own message to convey, making it very clear this is more than just eccentric interior design.
The idea a hotel can also double as an art space makes sense: away from our everyday stresses, it's much easier to appreciate statement-making sculptures and thought-provoking paintings. Equally, art has the power to soothe and relax - essential for a successful weekend away.
In fact, every element of the hotel is a creation.
In the YOPO restaurant, chef George Scott-Toft has prepared a South American and European inspired menu with an emphasis on spice and flavour. Standout dishes include a seabass with charred avocado and roasted pineapple, and a side of grilled Sicilian aubergine served with puffed rice, and a miso made with 28 ingredients.
Next door, in the Waeska bar, a cocktail menu is based on ethnobotany, with drinks made using herbs and botanicals. Fans of spicy infusions will enjoy the Mangosteen, made with chipotle agave and jalapeno vinegar on a tequila base.
And while a courtyard decorated with ferns and passion flowers is a winner in warmer months, seductive scents fill the corridors year-round. Carefully concocted by award-winning British perfumer Azzi Glasser, jasmine and fig are two key ingredients used in the secret potion said to heighten sense and arouse sexual desire.
Aphrodisiacs aside, though, it's very easy to fall in love with a hotel built on creativity and beauty - both inside and out.
Details: Doubles from with £306/€345 per night B&B. themandrake.com.
Three art-inspired hotels to try...
Hotel Arts, Barcelona
Frank Gehry's sculpture of a 52m-long goldfish about to leap into the ocean is one of 500 pieces of original art on display at this 455-room hotel close to La Barceloneta in the Port Olimpic neighbourhood. Throughout the year, temporary exhibitions are held in the Arts Suite in partnership with Madrid-based gallery We Collect. hotelartsbarcelona.com/en
Twr y Felin Hotel, Wales
Around 250 pieces of contemporary art hang from the walls of this hotel in Pembrokeshire - all specially commissioned to reflect the surrounding landscape in a mixture of literal and abstract forms. Choose the Windmill Tower suite for views of Skomer island. twryfelinhotel.com
Chapel House, Penzance
Rooms never stay the same at this coastal property, where students from the Newlyn School of Art curate a changing gallery. Owner Susan Stuart is a keen collector, supporting local artists such as Kate Jamieson, whose works are also displayed. Making the most of views over Penzance harbour and Mount's Bay as far as Lizard Point, many paintings are inspired by the sea. chapelhousepz.co.uk