Ryanair announces new direct flights from Dublin to Athens and Vigo
Greek connection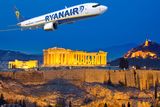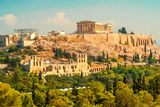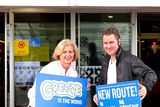 Ryanair has announced two new direct services between Dublin Airport and Greece, to commence from March 2016.
The new routes come as part of its expanded summer schedule, and will see three direct flights between Dublin and Athens every week.
The airline also announced two new weekly flight between Dublin and Vigo, and the continuation of its new, four-times daily service to Amsterdam.
Ryanair now operates 85 routes from Dublin, accounting for 60pc of the total growth in what could be the airport's busiest ever year, it says.
Seats on the Athens route are on sale from €39.99 until midnight on Monday, November 23, according to Robin Kiely, Ryanair's Head of Communications.
The sale fares apply to travel in March, April and May 2016.
Ryanair's new services follow Aegean Airline's announcement that it will fly direct from Dublin Airport to Athens for summer 2016.
The route will operate twice weekly from June 20 to September 19.
Aegean is the largest Greek airline, and its new service will enable passengers to patch into 30 destinations on its route network.