Rome's historical centre gets its first Starbucks as Frappuccinos infiltrate Italian coffee culture
There are over 35,700 Starbucks stores worldwide – but can the company make inroads in Italy?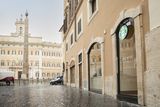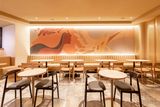 Amanda Finnegan
Washington Post
A few thousand years later, ancient Rome has a Starbucks.
The mega coffee chain opened its first location in the historical centre of the Italian capital last week - one of 25 Starbucks in the country since the Seattle-based company entered the market in 2018.
The newest Starbucks in Rome, a finely decorated two-floor store in Montecitorio near the Italian parliament, was inaugurated under an uncharacteristically rainy May sky.
As journalists and influencers roamed the floors, bartenders and waiters were still coming to terms with the challenging task of bridging the gap between hardly compatible cafe cultures.
Not unlike students before a test, baristas were asking each other questions, crucially trying to figure out how to translate Starbucks-ese into Italian.
"How am I going to explain to customers that our 'mocha' is a chocolate-infused beverage, when 'moka' is a traditional Italian caffè?" one bartender asked another.
"There's bound to be some confusion . . . like with latte, which is not the Italian caffe latte, but something else entirely."
Coffee culture in Italy is vastly different to that in the US, where Starbucks originated in 1971.
Cold brews are an oddity, so you can imagine how a strawberry crème frappuccino might be received by locals. Cafes rarely have bar counters, since Italians usually quickly down their morning espressos.
As then-Washington Post Rome bureau chief Chico Harlan wrote in 2019: "They tend to offer pastries in the morning - sometimes homemade, often not - and stock alcohol for the 5pm crowd.
"Without much fuss, they serve up espresso shots that are bitter and strong. They seldom have WiFi. They do not welcome laptop workers."
As of October 2 last year, according to its 2022 Annual Report, there are 35,711 Starbucks stores worldwide – 18,253 are company-operated and the rest licensed stores.
The company plans to open two more locations in Rome's Termini train station by the end of the month. Last year, Starbucks opened a store in an outlet mall in the greater Rome area.
Starbucks also operates in Milan and Verona, where founder Howard Schultz first encountered Italian coffee culture in 1983, the company said in a news release.
The cafe serves cornetti, the Italian version of a croissant normally eaten in the morning, along with their caffè or cappuccino. But it mostly offers American sweets and treats, like carrot cakes, muffins and brownies.
Starbucks announced earlier this year that it was introducing a new line in an effort to attract Italians, combining two quintessential ingredients: olive oil and coffee, dubbing the drink the "oleato" - after the Italian word for oil.