'Ireland's most magical address' – Tripadvisor reveals its top 10 Irish hotels for 2023
Travel platform now hosts over one billion reviews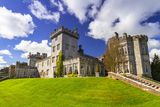 Harvey's Point, by Co Donegal's Lough Eske, has been named Tripadvisor's No1 hotel in Ireland for 2023.
Described as "specialising in top-class accommodation, exquisite cuisine and a genuine Donegal welcome", the four-star tops the list of Ireland's best hotels in Tripadvisor's Travellers' Choice 'Best of the Best Hotel Awards' this year.
It's a list the popular hotel has topped many times in the past.
Tripadvisor's Top 10 Irish hotels 2023
Ireland is also home to the "world's best hotel for sleep", according to Tripadvisor, with Co Clare's Dromoland Castle named No1 globally "for catching some ZZZs".
The Newmarket-on-Fergus five-star is described as "Ireland's most magical address" and a "perfectly secluded" hideaway that has been "welcoming guests since the 16th century".
It beat other snooze-friendly stays including Abigail's on Vancouver Island and Santa Barbra's Harbor House Inn to the top spot.
"We believe that a good night's sleep is the cornerstone of a memorable and rejuvenating hotel experience," said Mark Nolan, the hotel's managing director.
Tripadvisor's Travellers' Choice Awards are based "on the quality and quantity of traveller reviews and ratings" posted on its website over 2022, the company says, "as well as an additional editorial process".
The site now hosts more than one billion reviews, it adds.
Other notable Irish stays include Castlewood House in Dingle, which is named Ireland's top small hotel, and features at No14 on the list of the world's best small hotels.
The guesthouse, which was named Ireland's Best B&B in the Irish Independent's Reader Travel Awards for 2023, "gets high praise from guests for its warm hospitality, comfortable rooms and great breakfast," Tripadvisor says.
Sheedy's in Doolin, Co Clare, which tops the list of Ireland's best B&Bs, also features at No9 in Tripadvisor's list of the world's best B&Bs and inns.
Sheedy's is recognised for its "true Irish hospitality" with only "excellent" reviews on its listing, the company says.
TripAdvisor's Top 10 Irish B&Bs 2023
"It's clear that our community ventured far and wide in the last year," said Sarah Firshein, Tripadvisor's head of editorial.
"Our 10 winning sub-categories encompass 37 regions around the world and include a wide range of amazing places to stay."
Its No1 hotel in the world for 2023 is Rambagh Palace in Jaipur, India.
"Dubbed 'The Jewel of Jaipur', this 1835 palace-turned-luxurious hotel holds unbelievable extravagance," Tripadvisor says.
"Rambagh Palace has over 5,000 five-bubble reviews and is beloved for its polo bar, historic suites and high tea."
The full list of winners can be found at tripadvisor.com/TravelersChoice-Hotels