Five blooming lovely cities to enjoy cherry blossoms in each spring
Forget leaf-peeping season – we're all about flower-spotting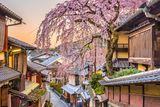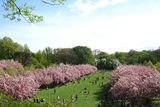 The clocks go forward next Sunday, March 26 – which puts us in the mood of longer days and springtime blooms. Here are some of the best destinations in which to admire nature's fleeting fireworks of sakura in late March and early April.
● The cherry blossom is the national flower of Japan, so it'd be remiss not to include its mother country in a round-up of best blossom sites.
Kyoto has the best of both words, with its sleekly modern city and the historic neighbourhood of Higashiyama. It's there you'll find Maruyama-Koen Park, one of the city's most popular spots for cherry blossom, where illuminations twinkle from dusk until midnight daily.
Elsewhere, Kyoto Botanical Gardens has a late-blooming variety, peaking in early April, with around 450 specimens.
● Washington, DC is best-known for its corridors of power – but its steely reputation is softened somewhat by its annual cherry blossom festival, which this year runs from March 18 until April 16.
Peak bloom will occur somewhere within that four-week period, with the city's Tidal Basin the focal point for festival events. You can expect a parade, live music, guided walking and bike tours, restaurant trails, firework displays, a kite festival and the 'petal porch' competition, where residents adorn their properties with floral decorations – kind of like a cutesy Halloween.
It's all thanks to globetrotter and travel writer Eliza Ruhamah Scidmore, who lobbied for a "field of cherries" after a trip to Japan in 1885, and finally got her wish in 1912. nationalcherryblossomfestival.org
● Springtime in Paris is a well-known confection, but did you know Germany's Bonn is also a firm fixture on the cherry blossom trail? Heerstrasse in the Nordstadt neighbourhood, just north of Bonn's main square, is even nicknamed Cherry Blossom Avenue for its yearly flowerburst.
The trees were planted here in 1980 as a symbol of friendship from Japan to the people of Germany. It's a gift that keeps on giving for the social media generation, whose grids become dominated by bright pink canopies every season. Nearby Breite Strasse, signalled by an 'Altstadt' sign, is also a haven for flower spotters.
● The Netherlands is best known for its tulips – but in Amsterdam every spring it's all about the cherry blossom. Kersenbloesempark, aka Cherry Blossom Park, in the Amstelveen suburb, is so-called since the Japanese Women's Club gifted 400 sakuras to the Netherlands in 2000. Every tree has a name – half have a Japanese female name, half have a Dutch female name.
Westerpark, too, is a plum location for picnicking under a canopy of flora – that is, if you can grab a spot, as residents and tourists flock to the picturesque scene.
● It's New York City's Central Park that gets much of the attention for its trail of cherry blossoms (there's even an interactive, real-time map for particularly fastidious petal peepers: centralparknyc.org).
But hop on over to Brooklyn Botanic Garden, where more than 200 trees flower all the way down Cherry Esplanade (it too has an interactive 'Cherrywatch' map which you can see at bbg.org).
The garden has such a rich variety of different species and cultivars that they explode in succession, allowing for a longer season than most.