Airbnb in callback to 'couch-surfing' origins as travellers look to save money on holidays
The typical Irish private room host earned more than €3,100 last year, Airbnb says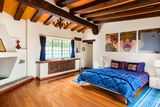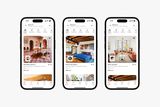 James Titcomb
Telegraph.co.uk
Airbnb will encourage people to stay in hosts' spare rooms in a return to its "couch-surfing" origins, amid rising concerns about the cost of holiday accommodation.
The company said its one million single-room listings would now be shown in a dedicated section on its app.
Privacy information, such as whether the door locks and if it has its own bathroom, will also be added to listings.
It has also launched 'Host Passports' to help guests get to know their hosts before booking. Hosts will also be asked to fill out detailed information about themselves, such as their job, hobbies and pets.
It comes as Airbnb says it saw 140pc growth in the number of nights stayed in private rooms in Ireland since last year.
"Private rooms remain one of Airbnb's most popular types of stay for guests as the third most booked category, with the average cost being just €89 per night," it said.
However, the average cost of a night booked through Airbnb has risen from $122/€111 at the start of 2019 to $168/€152 at the start of last year.
Last year, Airbnb said private room hosts in Ireland earned a total of almost €32 million, while the typical Irish private room host earned more than €3,100.
The company has been seeking to battle criticism that it has become unaffordable and ridden with hidden fees. Last year it started to show the total price of a stay up front after complaints from customers about being stung by items such as cleaning fees.
Airbnb was founded in 2008 as a way for people to rent out spare bedrooms and sofas but the site has become increasingly dominated by whole home rentals in recent years.
Airbnb said an update to the app would mean more than 50 new changes, which it said were made after analysing more than 4m customer service requests.
They include allowing users to spread payments over time through a deal with the buy now pay later company Klarna, better checkout instructions, and lower fees for stays of a month or longer.
Brian Chesky, the company's chief executive, said the focus on single rooms moved the company back to its "founding ethos". Airbnb was founded after Mr Chesky and his co-founder Joe Gebbia rented out space in their San Francisco apartment in 2007.
Mr Chesky said: "With Airbnb Rooms, we're getting back to the idea that started it all – back to our founding ethos of sharing. Airbnb Rooms are often more affordable than hotels, and they're the most authentic way to experience a city. This is the soul of Airbnb."
Additional reporting by Pól Ó Conghaile