€1.55 for a cup of coffee – Europe's cheapest city break revealed as Dublin hotel prices rise
While its hotel prices are high, Dublin was found to be cheapest for cultural attractions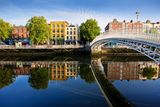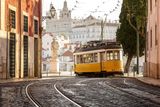 Lisbon is the best value city break in Europe, while Dublin's hotel prices rank among the highest of any European city, a new survey reports.
The average price of tourist staples cited in the Portuguese capital include a cup of regular coffee in a cafe or bar for €1.55, a 330ml bottle of local beer for €2.60 and a three-course evening meal for two with a bottle of house wine for €44.90.
By contrast, an average cup of coffee in a Dublin cafe or bar was reported at €3.22, a bottle of beer at €6.44 and a three-course evening meal for two with house wine at €91.63.
The UK's Post Office Travel Money also found Dublin's hotel prices to be the third-highest of 35 cities surveyed.
Prices for two nights' weekend accommodation for two people in a three-star hotel are quoted at €516 in Dublin – more expensive than Paris (€438) or London (€443).
Only Amsterdam (€604) and Venice (€553) had more expensive hotel rates.
Rising hotel prices are a Europe-wide phenomenon, the 'City Costs Barometer 2023' said, soaring by over 50pc in 27 of the 35 cities since last summer.
"The increased price of accommodation could add hundreds of pounds to the overall cost of a holiday," said Laura Plunkett, Head of Travel Money.
Accommodation prices were sourced from Hotels.com and Bookings.com based "on an average of the 10 cheapest available three-star city centre accommodation for two adults sharing a double/twin ensuite room between June 2-4 2023", it said.
The report comes as concerns heat up about the availability and price of hotel rooms in Ireland over peak season – particularly on big event or concert weekends in the capital.
The Irish Hotels Federation (IHF) said preliminary indications "are that Dublin will be busy this summer during peak times", but added that there is "plenty of availability" remaining.
It advised visitors to shop around, book in advance and contact hotels directly for the most competitive rates.
"Visitors staying in hotels on busy weekends will have booked their accommodation weeks if not months in advance, and these rooms would have been sold at much lower rates than any last availability rates," it said.
"Last availability rates represent a tiny fraction of all rooms in Dublin and are in no way reflective of the value that has been available to Irish consumers and overseas visitors."
Europe's cheapest city breaks for 2023
Post Office Travel Money's report, based on a price comparison basket of 12 typical items, found Lisbon to be "the best value of 35 cities surveyed", followed by Vilnius, Krakow, Athens and Riga.
Europe's most expensive cities for holidaymakers were Amsterdam, Venice, Paris, Dublin and Copenhagen, according to the barometer.
"However, Dublin is a good choice for culture vultures," it said.
"Cultural sightseeing remains one of the main components of a city break and Dublin emerges from this year's survey as the city with the lowest price tag.
"This is because entry to its leading museum and gallery are free, while the charge for its top heritage attraction, Kilmainham Gaol, is just €8.
"By comparison, entry to Dubrovnik's star attractions costs almost nine times as much – €73.
"There are wide variations in costs between cities and people who are prepared to swap destination can make their money stretch much further by choosing a cheaper capital like Lisbon or Vilnius," Plunkett said.
NB: Prices converted from sterling. Sterling/euro exchange rates calculated on day of publication.