This aircraft will change the way you think about transatlantic travel
Travel Insider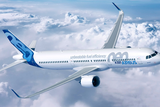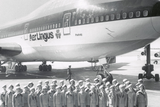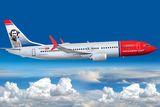 When United waved goodbye to its final Boeing 747 this month, I felt a pang of nostalgia. Delta similarly retired the 'Jumbo Jet' last September, while BA will phase out its 747s by 2024.
The plane was an icon of my childhood, from Things That Go picture books to Pope John Paul II's trip to Ireland in 1979. A big, beautiful airplane that seemed to defy physics; a bumblebee of aviation.
Well, things change. The 747, which debuted in 1969, has long since been surpassed by dashing Dreamliners and double-decker A380s.
But size isn't everything.
Today's real game-changers are aircraft that don't turn heads on the runway. They are the small workhorses of the future, and they're starting to fly big routes.
Think of Norwegian's narrow-body Boeing 737-MAX (pictured below), which took off from Cork, Shannon and Dublin on several transatlantic services this year. Or the Airbus A321LR, eight of which will join Aer Lingus after the model's launch in 2019.
They may look similar to the planes that ply Aer Lingus' short-haul network, but A321LRs will use 20pc less fuel and fly over 900km further. In fact, the aircraft (pictured top) "will have the longest range of any single-aisle jetliner'', Airbus claims, opening up "thinner" direct-route possibilities that would have been unthinkable just a decade ago. Charlotte, Detroit or Milwaukee, anyone?
Of course, you're still going to see growing numbers of wide-body A330s and 777s taking off from Ireland (not forgetting Qatar and Ethiopian's 787 Dreamliners).
Big planes are necessary for popular routes, pricey airports and longer distances such as the US West Coast. But you can expect more and more 737 MAX and A321LRs to slot in as complements,  rounding out these expanding fleets.
Having state-of-the-art, 200-seater aircraft running alongside larger Airbus A330s on east and northwestern US routes will be "a terrific enabler", as Aer Lingus CEO Stephen Kavanagh put it during the announcement of the airline's latest transatlantic route, a new Dublin-Seattle service due in May 2018.
Aer Lingus hasn't released any seating plans for the coming A321LRs, but it's likely to operate both economy and business classes (Norwegian and WOW, which also flies to several North American cities via Reykjavík, both use single-class configurations).
Granted, spending several hours crammed into single-aisle planes doesn't sound like much of a futuristic utopia. But fuel savings, lower prices and better-designed interiors are hard to argue against.
I'll still get wistful when I see a 747 on the tarmac, but these newer, smaller kids on the block are transforming the way we think about transatlantic travel.
Read more: