State-of-the-art ships and a direct sailing to Spain - are ferries sexy again?
Travel Insider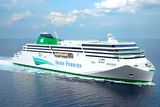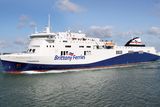 Ireland's first direct ferry route to Spain. A €150m Irish Ferries ship heralding 'a new era' in ferry travel. Four stonking, 1,000-passenger Stena Line vessels under construction at a cost of hundreds of millions in China.
Not to mention business class, free Wi-Fi, Nordic spas and pet-cams...
It begs the question — are ferries sexy again?
"People are looking at easier, stress-free ways of travelling," says Dermot Merrigan, Head of Passenger Sales at Irish Ferries, where car traffic is up 10pc in three years. "They see that, hey, ferries are really coming along."
"Ferry travel has got its cool back," adds Diane Poole, of Stena Line.
"People are frustrated with airline baggage allowances and airport security. They realise ferries are exciting, that they are comfortable and relaxing."
Surprised? If you're old enough to remember basic ships with yuck food and flickering TVs, you may be. Stena, Irish Ferries and Brittany Ferries have invested hugely in recent years, however — from restaurants to kids' play areas, Wi-Fi and shopping.
They're not cruise ships, but the term 'cruise-ferry' is increasingly justified.
New arrivals are coming thick and fast. Irish Ferries is investing €150m in "the largest and most luxurious ferry ever to sail on the Irish Sea" — a 1,885-passenger ship (pictured above) that will facilitate daily crossings between Ireland and France. Some 100,000 public votes were cast in a competition to name it, though sadly, Ferry McFerryFace missed the cut — the W.B. Yeats arrives in July.
In addition, Germany's Flensburg shipyard, where the W.B. Yeats is being completed, will shortly commence work on a second, even larger ship for delivery to Irish Ferries' parent, Irish Continental plc, in 2020. With 5.6km of lanes, it will be the world's largest cruise ferry for car capacity.
Spain is on the radar, too. This April, Brittany Ferries launches the first direct ferry crossing from Ireland — a Cork to Santander route running through November (the "no-frills" service will take 26 hours). Brittany will also add an extra weekly return service to its Cork-Roscoff route.
In truth, ferries never went away. Like a certain US President, Ryanair has a habit of sucking the oxygen out of the room when it comes to media travel coverage, but ferries offer major connectivity to the UK and Europe — for holidaymakers, business and freight.
They can still suffer from stereotypes — some more dogged than others. But they've generally gone beyond "the quick sandwich in a plastic bucket seat," as Dermot Merrigan puts it.
Irish Ferries, for example, voted 'Ireland's favourite cruise or ferry experience' in our Reader Travel Awards 2018, was described by readers as a "game-changer". Sea travelling "is something you now look forward to, rather than dread".
Investments in Wi-Fi, food, customer alerts and pet-friendly travel have been noted. Brittany Ferries has refurbed its Pont-Aven. Stena Horizon is installing heated kennels for pets on its Rosslare to France route, and the W.B Yeats will include a shopping mall and luxury suites with private balconies.
"Ferry travel today is transformed compared to a decade ago," according to Emma Batchelor, Director of industry group Discover Ferries. "In the next four years, the scale of this investment will see another step change in service for travellers."
What's next? Getting the message out.
"For years, ferry travel had an old feel about it," Diane Poole says. "We're trying to change that, to attract younger customers... to make people feel like the minute they're on board, they're on holidays."
"Guys, come back on ferries," she enthuses. "You will be wholly surprised at what you see."
Read more: