Viva Val Thorens: My all-inclusive ski holiday with Club Med
Having never skied before, Jillian Bolger tries out an all-inclusive trip to Club Med in France - in Europe's highest resort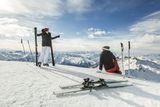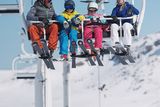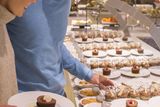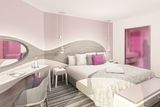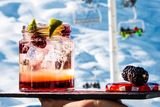 It feels like I'm in the pages of a children's pop-up book, each switchback on the mountain road leading me further away from the real world.
As we climb from sea level to snowy peaks, the Alpine scenery unfolds like a set of 3-D models standing tall against dip-dye pages, fading from forest green to powdery white. With each twist in the road the snow flurries intensify, until the deep green canvas has completely disappeared, village after village of wooden chalets and stone houses blanketed in layers of dazzling snow.
It's my first ski holiday, and I've picked quite a spot for my downhill debut. Val Thorens isn't just the highest ski resort in Europe, it's a town that's earned its stripes for having one of the longest ski seasons. A high altitude almost guarantees great snow conditions here and being part of the world's largest ski area, Les 3 Vallées, means there's over 600 kilometres of runs on offer… for those who actually know how to stand upright on skis.
The place may be a Mecca for hardcore ski bunnies, pro snowboarders and, it seems, the Chinese Olympic ski team - but that does little to deter my ambition.
What I lack in experience and fancy-pants ski gear, I more than make up for in blind optimism. A failed snowboarder, whose only souvenir was a wrist fracture on my maiden voyage years ago, I've always given winter sports a wide berth. But the promise of an all-inclusive ski experience in a world-class Alpine resort seemed as good a time as any to hop back on the proverbial horse.
It's cool and blustery and other-worldly when we arrive, eyes adjusting to the glare of white on white; skin responding to the nip in the air. Above us, a circle of towering mountain peaks seemed laced together by cables, a chain of ski lifts gently sailing through the skies. Flashes of bright colours move with speed down distant slopes and the pulse of music curls from our hotel door.
I'm staying at Club Med's Sensations retreat, a French ski-in ski-out four-star complex that's sleek, chic, comfy and incredibly well-equipped. Upon check-in, it's straight to the in-house ski room where I'm fitted with boots, skis, poles and a helmet by cheery staff. I'm also allocated a locker in the adjacent locker room that corresponds with my room number, and a digital wrist band that opens both. No faffing with keys or pockets, then - and it also means that I can rock up next morning, simply slip on my boots by my locker and shuffle straight out the doors on to the slopes.
Within an hour of check-in, I'm back with my group, sipping cocktails and booking in ski lessons via a digital screen in the buzzy bar. The Club Med model is all-inclusive, meaning everything from flights and transfers to ski pass and lessons, meals, drinks, snacks and nightly entertainment are bundled in the price. Ski hire is extra, but competitively priced and, frankly, so damn handy. No scoping out rental shops upon arrival and no schlepping down town on your last day to return your skis...
It's an early start next morning, layering the clothes, loading up on a carb-rich breakfast and slinking outdoors like a kid on the first day of school. The snow is whirling around and visibility isn't great, but we're greeted by a line of enthusiastic bilingual instructors, catering to four different levels.
I luck out with Jiri, a charming Belgian who was born to teach. Kind and patient, he's determined to turn our group of misfits into downhill skiers in a few short days. While looping about in circles, tentatively practising the basic snow plough manoeuvre, fleets of snowboarders and skiers shimmy past us. I'm not used to children showing me up, but here, in a flurry of snowflakes, kids no older then five or six swish past in elegant arcs, relaxed, excited and in control. Impossibly jealous of their abilities, I throw myself into being the best pupil I can be.
This desire to succeed and stay upright drowns out most self-doubt and I vow not to skive off any lessons. I will not head back early. I will not give up. (I hear rumours of a luxurious spa within the hotel, but I'm a woman on a mission destined for the slopes.)
Day One is slow and careful, as I unceremoniously land on my bum yet again. We're on nursery slopes down in the town and the gradient is embarrassingly gentle. Despite the lack of anything resembling an actual hill, I'm amazed at how easily I pick up speed. A magic carpet, a sort of skiers' travelator protected by a tunnel, whisks us back to the top of our hill so we can go again.
And again. In fact, I can't remember the last time I focused so hard on anything.
Part of the exhaustion is down to the sheer physicality. Part is due to the concentration required. We spend hours on the slopes, twice a day, under instruction, never resting. But we also laugh, and bond, and help each other up when we fall. All around us bodies whizz past, swooping down the slopes and heading for the ski lifts. All around us boarders wipe out and children outshine us.
It's fun and infectious and exhilarating.
And the food? Club Med's all-inclusive approach includes a relaxed buffet restaurant serving breakfast, lunch and dinner. You'll work up a serious appetite on the slopes, and I was happy to find the offering really exceptional - offering a huge choice of high-end fare, from charcuterie and pizza to noodles and seafood, roasts and classic Alpine dishes like raclette and casseroles.
The à la carte, The Epicurious, is a swankier option and there's also a take-away corner for snacks on the go.
On Day Two, something clicks. I start to trust myself. Slow and steady, I try to lean into the turns, softening up my limbs, un-tensing my shoulders.
By Day Three there is no fall. Not one. And the sense of achievement is immense.
We've scaled new heights, taking the ski lift up to a Blue slope, carving ribbons across the mountainside, keeping to the tracks made by my group.
It's here, higher up than I ever thought I'd be, that I can appreciate the beauty of Val Thorens. Its icy peaks glisten in the late afternoon sun, encircling the buzzy town below as I point my skis towards home.
From ski virgin to ski evangelist in three short days, I leave planning my return. Perfect conditions, perfect instructor, fantastic food, fun company, simple-as-pie ski hire and zero injuries. If Carlsberg did ski trips, they'd never come up with something as good as this.
What to pack
Layers that peel off easily are key, starting with good base layer trousers, tops and a fleece. Buy or borrow your own ski googles. First-timers should keep an eye out for Lidl's annual winter sports gear sale, where you can pick up decent gear without breaking the bank.
Fuel up
Don't hold back at the delicious buffet. You'll be burning serious calories on the slopes, even if you're just a novice, so tuck into the carbs and high-energy foods. Everything from the gooey raclette to rich casseroles and desserts will boost your energy levels.
Take the kids
Val Thorens Sensations, where I stayed, doesn't cater for children under-12. Club Med's other Alpine properties have dedicated kids' ski schools and kids' clubs, however, which are all included in the price.
Get some rest
The combination of early mornings, intense physicality and altitude can take their toll, especially if you're not used to regular exercise. Don't be afraid to slink back for a power nap after lunch or before dinner. Aprés ski entertainment is full on every night, but remember that alcohol is harder on your body at higher altitude.
Get there
Jillian travelled as a guest of Sunway, agents for Club Med in Ireland. Based on a December 8 departure, prices start from €1,715pp including direct flights from Dublin to Geneva, checked bags, transfers and seven nights' all-inclusive, sharing a superior room in Club Med Val Thorens. Lift passes and ski or snowboard lessons or guiding are included, but not ski equipment. Contact Sunway on (01) 236 6800 or visit sunway.ie.