Slopes, golf and fine dining: How a five-star Alpine resort is adapting to Covid
The Swiss resort of Crans-Montana is eager to welcome visitors once lockdown ends, says Catherine Murphy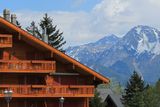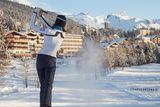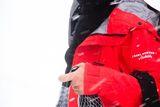 The Swiss mountain resort of Crans-Montana was, in the 1960s and 1970s, a hideaway for Hollywood A-listers and royalty – Bond star Roger Moore, the queen of Belgium and members of the Kennedy family all honed their ski technique on slopes beneath the Plaine Morte glacier.
It was common for wealthy guests to spend the entire winter there, soaking up views of the Valais region's 4,000-metre peaks from the resort's sunny plateau setting. Winter-long sojourns may be a thing of the past but Crans-Montana is enjoying something of a renaissance.
It's still a high-end resort with plenty of five-star hotels but has a younger family vibe. Affordable three-star properties and a youth hostel mean that everyone is catered for.
Rue du Prado, with its Louis Vuitton, Prada and Moncler stores, brings a cosmopolitan air to the resort centre and tourist bosses are busy attracting younger holidaymakers with freestyle ski training at the nearby Alaïa Chalet multisports venue.
From skiing and snowboarding up to 3,000m in winter to golfing, mountain biking and water sports in summer, Crans-Montana offers an appealing mix of outdoor activities, fine dining and locally produced wines.
In February 2020, just before our first lockdown, I visited the resort to meet some of the people creating its 21st century reboot.
Among them is chef Franck Reynaud, a man who lives life to the fullest in a place that has everything he needs. He owns three restaurants in the resort, the Michelin-starred L'Ours, its sister restaurant the Bistrot des Ours and the Cabane des Violettes, and is raising three children with his wife.
He finds time to compete in a gruelling ski mountaineering race, the Patrouilles des Glaciers, and when summer arrives, he kite surfs on Lake Grenon and plays golf on the resort's 18-hole course.
In winter it's common for him to hike up to work at the mountain restaurant he co-owns, Cabane des Violettes, ascending the slope with skins attached to the base of his skis and the bindings released so that he can glide steadily uphill. Along the way, he forages for herbs and dreams up menus for the coming season.
During my visit, I joined him on his "commute" one morning, watching as he foraged for juniper berries, listening as he gave invaluable ski touring tips and struggling to keep up as he moved quickly up the slope.
"This is my subway to work each day," he said. "Crans-Montana has everything I need all year round and I feel as if I don't work a day in my life because I love what I do."
This winter has been different, of course. The Swiss government has allowed ski resorts to keep lifts running and hotels open but there have been restrictions in place. Face masks must be worn in lift queues and up until recently, restaurants could only offer a take-away service. They're now allowed to serve diners on outdoor terraces.
While skiers from Ireland and the UK can't currently travel due to Covid restrictions, and it looks like it may be next winter before they can clip on their skis again, Swiss, French, Italian and Belgian visitors have been able to enjoy quieter slopes at Crans-Montana.
Franck has had to make tough business decisions, he tells me in a recent call, as a result of Covid. He has temporarily closed his flagship restaurant, the L'Ours at the Hostellerie du Pas de l'Ours, which is a five-star Relais & Châteaux hotel. However, the Bistrot des Ours is full every day with guests of the Hostellerie and the nearby Hotel de l' Etrier.
"I temporarily closed the gastronomic restaurant because it was taking up a lot of my time and there has been a lot to do," he says.
"I switched to catering and had to reduce staff numbers – the Cabane des Violettes has been operating a take-away menu with three staff instead of 12. On the plus side, there is a bit more time for longer ski tours with friends and clients."
Originally from the south of France where generations of his family ran hotels, Franck has lived in Crans-Montana for 25 years and is now a gastronomic ambassador for the resort.
Even during a very different season, he takes inspiration from skinning up the mountain, often at dawn. His ski-touring ethos mirrors the beautiful, locally sourced dishes he creates – sustainable, organic and seasonal.
Being invited to the chef's table at his Michelin star (plus 18 Gault Millau points) l'Ours restaurant is a coveted experience, one that will be even more desirable when the restaurant reopens.
After my skinning exertions last year, I was granted a place at the table and it felt like I was witnessing a kind of wizardry, from amuse-bouche through to petit fours – the creation of art.
I was served a tasting menu that began with delicate aromas then built in intensity, from trout poached in olive oil with bergamot to foie gras with coffee bread (a genius creation) and velvety reindeer, all served with fine sommelier-chosen wines.
Reynaud is a chef with a big character who runs a pristine kitchen, usually wearing trail runners. Locally he's known fondly as "the most Valaisan French man".
Many of the people who make Crans-Montana unique have deep roots in the area: Catherine Antille, who specialises in wine and history tours of the area, could even be classed as local royalty – her grandfather built the first hotel in the resort.
The same goes for former ski racer, ski instructor and golf pro Nicky Rombaldi with whom I spent a fun morning skiing despite white-out conditions. He's a son of the legendary Bouby Rombaldi, who coached the Swiss women's ski team for 20 years with 32 medals won in the process. Bouby Snr also designed the women's downhill course in Crans-Montana and taught members of the Kennedy clan to ski.
Nicky spent time working for billionaire Vassilis Constantakopoulos at his six-star Costa Navarino development in Greece and has close links to Ireland.
He previously worked at Delgany Golf Club in Co Wicklow and now divides his time between Crans-Montana and Dublin, where his partner, June, lives. He has spent this season ski instructing at the resort but golfing fans should keep an eye on his golfschool.ie website for pro golf lessons in Ireland.
Golf is a crossover sport for many skiers, which makes Crans-Montana a highly attractive destination for them. It's possible to play winter golf there with coloured balls on groomed slopes but the real action happens each September when the Omega European Masters tournament takes place at the Golf Club Crans-sur-Sierre.
All the Irish greats have played here and have more than likely enjoyed wines produced by one of the area's hardest working families.
Twins Simon and Régis Bagnoud are the youngest wine producers in the region, having taken over the business when their father Nicholas retired in 2019.
They work with local grape varieties, such as Petite Arvine and the ancient Cornalin. And despite long hours of work to increase output in a vineyard that is almost 100pc organic, Simon finds time to paraglide and ski tour, while Régis has a second job as a snowboarding instructor.
Since local wine production is small and little is exported, one of the great pleasures of a holiday here is drinking it. Holidaymakers can visit the Bagnoud vineyard to enjoy a very informal tasting with Nicholas. Friends of the family drop in for a glass as guests taste, making for a relaxing local experience.
For the moment, Crans-Montana is off limits but when restrictions lift, wine, food and, of course, the slopes, will still be waiting.
Getting there
● Catherine Murphy travelled as a guest of the Crans-Montana tourist office.
● When travel opens up again, Aer Lingus and Swiss offer flights to Geneva. From Geneva airport, Crans-Montana is easily reachable by train and funicular via the town of Sierre.
● Along with hiking, mountain biking, golfing and a host of other activities, CransMontana is scheduled to host a new waterskiing festival on the lake this July. A major opening for the resort, the Six Sensations hotel and residences is expected for winter 2021/22.
● For more information go to crans-montana.ch; bagnoudvins.ch; pasdelours.ch; myswitzerland.com