Ski in Austria: The dawn patrol over Kirchberg
Fran Power enjoys the thrills (and spills) of a four-day ski break in the Austrian Alps...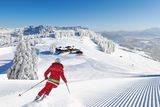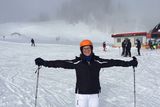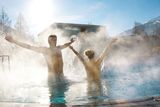 I'm falling and it's not pretty. I'll admit to some shrieking.
And yes, feet in the air, a blur of ski and pole, a ripping noise and I come to rest head first in a bank of snow, on an Austrian ski slope. My ski pants have taken a hit and torn along the side seam of one leg and I am bleeding foam stuffing.
It is day three of a four-day ski break in the Austrian resort of Kirchberg, a town just 6km from its more glamorous sister Kitzbuhel. It's the sort of place where multimillion-euro ski chalets are tucked away in the valley folds and impossibly elegant women waft in and out of the designer label shops of the medieval town.
It is also home to the famous Hahnenkamm Downhill race which takes place every January on the Streif, one of the toughest pistes in the world. It features the terrifying Mouse Trap jump where skiers can reach speeds of up to 90mph.
If you feel you've got what it takes, you can ski it yourself from Kitzbuhel, or from Kirchberg, by taking the Fleckalmbahn cable car.
Otherwise, you can take the Family Trail or Familienstreit, which avoids the more gruelling parts of the run. Or you can just sit in the ritzy Rasmushof Hotel near the bottom, drinking gin and tonics and browsing the gallery of photographs featuring the heroic pros who have won the race (my recommendation).
Down in Kirchberg though, things are more beer and schnitzel than Cristal and caviar, and the town of 5,000 or so inhabitants is popular with families and groups who appreciate the cheaper prices - and the fact that you share over 200km of the red, blue and black slopes with Kitzbuhel.
My ski holiday had begun so well. I was pretty pleased with my wardrobe - €50 in Lidl had bought me a jacket and trousers, and I had borrowed hat and gloves (crucial), goggles (not so much), thick socks, and thermal leggings from ski addict friends. It might not win me much fashion kudos in Kitzbuhel, but it did the job.
We had spent our first few days in the spa town of Bad Hofgastein in the Gastein valley, about 90km from Kirchberg. It had over 86km of slopes - not that I saw much of them. Myself and three other beginners in our party had booked a ski instructor (about €60 an hour) to teach us the basics and spent the morning tumbling around like puppies on the baby slopes at Angertal.
Austrian kids, I was told by one local, have to know how to ski before they can start school and we had survived the humiliation of crocodiles of tiny skiers whizzing in and out of our path.But our patient Argentinian instructor, Florence, had taught me how to point my skis together into a pizza slice, turn at a snail's pace, and even use the treacherous ski lift. I was ready to tackle the grown-up slopes.
And in the evening there was the spa. Austrians take their spas very seriously. Our four-star Hotel Norica, for example, led down through a series of underground passageways, doors, stairs, lifts and finally, when I'd almost lost hope, opened out into the changing rooms of a huge complex - the Alpentherme Thermal Spa - somewhere deep under the streets of the town. And that was where, judging by the buzz of chat, most of the town's citizens also seemed to be hanging out.
There was a series of pools, some with massage jets positioned to massage those beginners' aches away. You could swim through flaps to an outdoor pool with ferocious jets that bubbled away. There were loungers, saunas of ever increasing heat, solariums…
But, Irish people, take note - the saunas are mixed and naked. Totally naked.
We spent the following clear-skied morning snowshoeing through the pine forests around Angertal. For beginners this is heaven. The snowshoes are clumsy at first but you soon learn that walking backwards will tip you over. It also gives your muscles a welcome break from skiing.
Our party was the first out on the virgin snow and left deep snowshoe prints and messy snow angels and occasionally one of us would disappear into a drift and have to be pulled out. We snapped icicles off the eaves of a mountain hut and ate them like lollies. Pure magic.
But that was all before I had to face my own Hahnenkamm at Kirchberg.
I gathered together my poles and skis and the last of my shredded dignity. The last time I had been so terrified was ziplining at Tibradden in the Dublin mountains when I was faced with a rope bridge and a 20m drop beneath. This didn't look so different. The slope dropped away sheer and fast and narrowed into a curve to the left. If I didn't curve to the left too, I'd shoot straight over a big drop.
My nerve gave out. I had had quite enough of skiing.
Was this because I was older? I certainly felt mortal in a way I never had when I used to race yachts in my 20s and 30s and had to shinny up swaying masts and jump onto shifting pontoons.
I took off my skis and carried them to the restaurant where I was due to meet the experienced skiers in my group for lunch. When I was offered a taxi ride back down to the town I grabbed it.
But I woke up the next day determined to give skiing another go. It was my last chance - we were heading to the airport and home in the afternoon.
This time, though, my fellow beginners came to the grown-up slopes too and we had a sort of fellowship of fear. And we also had our instructor with us to read the slope. What had looked like a sheer cliff face the day before, with her guidance, translated into a gentle series of zigzags.
It was exhilarating. As the morning went on, we grew more and more fearless - we whooped, we sliced through the snow, turning this way and that, and swooshing to a stop in a spray of snow. To anyone else we might have looked like beginners but to ourselves we were heroes ready to join the hall of fame at the Rasmushof.
Getting there
Fran travelled with Topflight, Ireland's award-winning tour operator, voted No 1 ski tour operator for 23 years. Topflight's programme includes Austria, Andorra, France and Italy.
She stayed in 4* Hotel Norica in Bad Hofgastein and 4* Hotel Metzgerwirt in Kirchberg.
Topflight's ski holidays include return flights from Dublin, Cork or Belfast, airport transfers, seven nights' accommodation, 20kg baggage allowance, taxes and services of Topflight's expert in-resort team.
* A week in 4* Hotel Norica on half-board costs from €1,119pps in March and includes entrance to Alpentherme Thermal Spa.
* 4* hotels in Kirchberg start from €939pps.
* Call 01 240 1700, visit www.topflight.ie or drop into your local travel agent.