Plagne 1800: A 'Calmakaze' holiday ski holiday combines adrenaline and calm on the slopes
'Skiing gratifies the parts of you that spur you on towards throwing yourself into life, no holding back, embracing the moment and going with the flow...'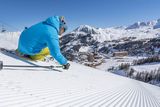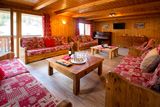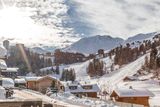 I've often said that what makes skiing so unlike anything else is that it combines a high adrenaline rush with a trance like state of calm and peacefulness. Transcendental exertion. Blissed out and bonkers on the snow. Calmakaze. Ahem.
Anyway, the thought first came to me in one of those moments of, which in the lack of the correct terminology, I like to call, universal reflection.
Those moments of universal reflection usually come when you're not skiing. When you stop to take in the surroundings - the massiveness of the mountains, the sparkle of sun on virgin snow, the sense that some impossibly gigantic infant idly sculpted these deep-blanketed foothills like a toddler would build smooth sided castles in the sand.
At these times you hold your breath just to hear the silence a little more keenly. They're moments that you can't really share. Later you might meet people who've experienced the same feelings and you may find that talking about these moments is difficult. Single word sentences capture it best. Fully formed single word sentences: like "Beautiful" or "Exhausted" or maybe "Terrifying".
It's funny, if you were sitting down trying to plan an ideal holiday they probably aren't the words you might expect to use. But then skiing gratifies the parts of you that spur you on towards throwing yourself into life, no holding back, embracing the moment and going with the flow.
If you were to rework a much-overused buzzword of the age you might get close. My word for it is mindlessness.
And the skiing in La Plagne is mindlessly beautiful. Some of the piste details might help explain.
La Plagne is part of the massive Paradiski area (the resorts together have 425km of runs served by 130 lifts) and LP's situation at 1,800m means the snow is guaranteed up to May. Ski hounds will also delight in the glacier which is 3,250m above the town, and the descent is only beautiful - and very doable for intermediate skiers who avoid the blacks.
One unique attraction in La Plagne is a 1,500m long Olympic bobsleigh run with 19 bends, and you can take a ride in a four-seater self-braking and driving bob raft which moves at speeds of up to 120kph. (There is currently no Irish bob sleigh team, so start dreaming you wannabe Olympians.)
First though, test your skills on the snowpark. It's the BMX track of the mountain. It's got attitude. It's got bumps and lumps and snowy folderols I don't know the words for. There are arches to ski under, cambered corners to ski around like gravity doesn't apply, and little jumps to show that even clumsy humans can fly. Of course with all these attractions, it's also got those pesky French kids who ski so well that you want to give it all up and go back to taking the bus. But up in the mountains everyone learns consideration, and these pesky little kids have got such good manners that you can't stay mad at them for long.
The village of La Plagne has got everything you need. We were staying in a chalet, a Directski.com chalet - Chalet Alisier - which wasn't ski-in, but was a 50m walk over the road to the lift. When you consider that this 50m walk will save you hundreds of euro over a week's skiing, it's well worth the walk.
It's a catered chalet, so all meals are included, healthy breakfasts (or not, depending on your sausage intake), coffee and cakes for those finishing up early - and best of all, top notch three-course evening meals, with wine, They've very chilled out at Alisier, and the big shared table encourages that friendliness. Speaking of which, the nearest bar is La Mine, ooh, maybe 100m away.
Now, if you back up a little bit, you'll remember I mentioned "exhausted". That's the condition you're in every evening. Fit to fall into your soft bed. In fact the only other thing that holds any interest is the prospect of mountain food. Sorry, that should be FRENCH mountain food. Ah yes, if there's one thing the French do well (apart from football, fashion, art, skiing, literature, etc) it's food. And when you're at 1,800m above sea level, your appetite is sharpened to the point where you could slice meringue and not spill a crumb.
For a treat we visited Le 360 - a superb restaurant with all-glass walls reflecting the mountain and allowing diners a 360° panoramic view over the most beautiful valley in the region. It's a good distance on skis, top of the chairlifts from Montalbert or Aime 2000. But the really friendly and obliging staff and the generous portions rounded things off to the point where half of us had to take the lifts back. That tells its own story.
Closer to Chalet Alisier was Restaurant Le Loup Blanc (200m - more walking!) where we ate traditional mountain food, the obligatory fondue of raclette and gruyere. Wine may have been involved.
And after all the skiing was done, and we set off for the two-hour drive to Geneva we stopped in the village of Bourg Saint Maurice at the foot of the mountains, to pick some last minute presents of the local Beaufort cheese (something you've got to do it when you're in the Haute Tarentaise). We wandered past a 16th Century abbey, where once upon a time tonsured monks kept bees and goats, and found the local cooperative - which had just closed for lunch.
But outside was something to restore your faith in resourceful humanity: a coin-operated cheese vending machine. I'll say that again. A cheese vending machine. Which also took credit cards. And they say you can't find heaven on earth.
Getting  there
* Shane travelled to the French Alps with Directski.com and stayed at Chalet Alisier in Plagne 1800.  l Chalet Alisier prices start at €999 per person sharing (based on travelling in January 2019). Price includes return flights from Dublin with a 20kg luggage allowance, return transfers, canapes on arrival, breakfast each day, afternoon tea each day and six three-course evening meals including wine, taxes, a L'Occitane gift and your chalet host on hand for great local advice all week.
* Directski.com have a selection of chalets in the French Alps with weekly flights from Dublin. Resorts include La Plagne, Les Arcs, Meribel and Val Thorens.
See directski.com for their full range.