Austria: Skiing with the smallies
An avid skier in her former life, Sophie White and her husband returns to the slopes with their five-year-old son...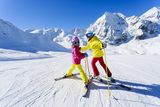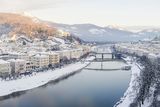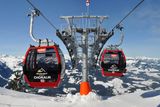 In my pre-parent life, I was an avid snowboarder and skier.
I lived in resorts in France and New Zealand and spent years on the other side of the ski holiday experience - providing the ski holiday to families rather than partaking of it. And I'll be honest, I spent most of those years in a state of constant bafflement as to why any sane person would subject themselves to the ski holiday en famille.
Of course being 20-something and child-free, I simply couldn't comprehend why anyone would opt to pay enormous sums of money to bring what looked to be fairly unwilling tiny cranky humans to the slopes. Fast forward seven years and my husband and I are embarking on our second family ski holiday with our oldest, who at five is finally ready, we hope, to embrace the family passion for flinging ourselves down mountains at speed.
Dublin to Westendorf is a very manageable two and a half hour flight to Salzburg. This is followed by a two hour transfer to the pretty resort town nestled on a sunny shelf of the Brixental valley surrounded by the imposing mountains of the Tyrol region. The attractive little town connects to the greater ski area by gondola, affording nearly 300km of skiing and links to surrounding resorts like Sol and Scheffau. The sheer variety of skiing on offer is a major attraction. Blue runs make up about half of all the routes on offer and the miles of sunny wide blues make it perfect for the slightly more relaxed groups. While challenging blacks spiral down from the highest peaks and below the tree line offers great technical off-piste opportunities for the more intrepid.
The biggest appeal of Westendorf for me - a harried mother of a novice skier - was the accessibility of the resort services. Our accommodation, Hotel Post was about 20 steps from the ski rental shop, with the ski school and nursery slopes directly behind. It's a parent's dream.
For anyone yet to attempt the family ski holiday, let me lay it out for you: just getting kids into their ski clothes will be your day's cardio taken care of, now picture herding them through icy streets overheating in layers of essential warm clothing and plastic ski boots that are both uncomfortable and liable to slip out from underneath them at any moment. Just transporting kids around a ski resort is an extreme sport, so proximity to the slopes, as is the case of Westendorf, is a major boon.
Hotel Post was the perfect base. We had a large lounge-come-bedroom with an adjoining twin room where my son set up his kid cave of lego, books and the mountains of toys we'd brought to entertain him.
The set-up meant that we could stay up for adult time aka Netflix and secret sweets after his earlier bedtime. In my years working in resorts, I picked up a thing or two about skiing with kids. The reality is that the best of the day's skiing happens in the morning as by the afternoon smallies are liable to be tired - and tired skiers tend to be clumsy. After much observation of the family ski trip, I identified a stereotype among ski parents akin to the 'stage mom' trope - ya know the pushy woman hothousing her three-year-old into every dance/acting class with Hollywood dollar signs in her eyes. A kind of Kris Jenner Lite - I dubbed the snow equivalent the 'ski dad'. 'Ski dad' was invariably several shades too pushy about the skiing and as a result his kids were invariably having the worst time.
We generally live by the 'quit while you're ahead' maxim when skiing with our son. It's pretty important that it remains a fun experience for them when they are learning.
Most days he did ski school in the mornings, leaving us free to charge around in our thirty-somethings-on-snowboards, trying-to prove-we've-still-got-it kind of way, then a long lunch in our favourite pizza place beside the hotel was followed by some intensive lounging back at our hotel. Luckily the hotel had a fully-stocked playzone which was a huge hit for my son and even had cosy nooks for the parents supervising to curl up with a book and a hot chocolate.
We opted for half-board with breakfast and dinner provided each day. Being given the same table for every meal meant we had the opportunity to make friends with our neighbours, an English couple who either found our manic child unfailingly charming or were pretty adept at pretending. Breakfast was an absolute feast of fresh fruit, cereals, yoghurt and pastries with delicious cold meats, cheeses and eggs - the perfect pre-slopes fare. Our servers were also exceptional actors or else were genuinely fond of our wild boy. They gamely gave him a king's welcome each morning when he would barrel in at 6.55am while they were putting the final touches to the buffet.
In our family, we rise early and we rise famished. We were also always the first in for dinner in the evenings. Dinnertime with young kids, I find, requires precision timing. Too late and you are essentially dining with a starving, over-tired, three-foot velociraptor - luckily Hotel Post are old hands and the waitstaff were expert in conjuring up nibbles to placate the child before the dinner arrived. The kid's fare was the perfect mix of crowd-pleasers like spaghetti Bolognese and chicken and chips followed by ice cream, while the adult meals were exactly the kind of hearty bowls of pasta, risottos and grilled meat and fish that you need on crisp cold nights. The salad bar was well-stocked and rich, gorgeable desserts like tiramisu rounded off each meal.
We were blessed with a good whack of snowfall early in the week meaning we had a couple of blue sky powder days that were simply too stunning to squander on a short day's skiing - so on those days we booked our son into both the morning and afternoon ski school session, so that we could make tracks while the sun shone and the snow was pristine.
Ski school in Westendorf serves a hot lunch to their charges for a small additional fee and by now our son had made friends in his class so we were comfortable to leave him for a longer stint. The ski school will always contact you by phone if an issue arises and unless you cross over to the connecting resorts you're rarely more than a half an hour's skiing away from the nursery slopes.
The snow off-piste remained largely untracked for the first morning and we were treated to some absolutely stunning lines just off the pisted areas. As we were not completely au fait with the terrain, we played it safe just dipping in and out of the piste-side powder and later when it was becoming tracked by other skiers we explored the tree runs where you can usually still find pockets of fresh snow long after everyone has had their way with the rest of the powder.
One day we lunched in a rustic cabin high on the mountain with roaring fires and a very merry crew of boozed-up skiers sampling delicacies of the region like bratwurst - a giant flavoursome grilled sausage served with Austrian potato salad which is slightly more piquant than our mayonnaise-drenched variety, the potatoes come dressed in a sharp vinegar and mustard dressing. We then spied an intriguing UFD (unidentified flying dessert) landing on the neighbouring table. Some gesturing saw us being served the same gargantuan orb swimming in sauce a few minutes later. It was the Germknodel, a large dumpling, pumped full of plum jam and served with poppy seeds and drowned in custard. Unmissable.
Our last day in the gingerbread town of Westendorf rolled around and soon we were attending the ski school prize-giving ceremony. After six-days, the five-year-old was completely competent on his turns and the chair lift didn't faze him one bit.
My own boarding was severely compromised as I welled up with pride skiing down beside him. And I was definitely veering into 'ski mom' territory screaming as he crossed the finish line during the ski school races.
Take Two: Top attractions
Savour Salzburg
On transfer day, we explored Salzburg, sampling the flakiest strudel and exquisite cakes in the historic Cafe Tomaselli. Going since 1705, the beautiful marble and wood cafe was a haunt of Mozart's.
Gondola Gander
The great thing about Westendorf is that a gondola connects the village to some of the highest slopes - so the smallies can still experience the majesty of the mountains and enjoy slope-side chips.
Getting there
* Sophie and her family went to Austria with Topflight, Ireland's award-winning ski tour operator and stayed at the three-star Hotel Post in Westendorf. Topflight also offers ski holidays throughout Austria, France, Italy and Andorra.
* Prices for the Hotel Post start from €873 per person sharing based on travelling in March 7, 2020 and includes return flights, return transfers, accommodation for seven nights with breakfast and evening meals plus taxes.
* Topflight also includes an in-resort management service so customers know there is always someone on hand locally for any questions and guidance throughout the holiday, ensuring the personal touch. Austrian holidays are available from Dublin, Cork and Belfast.
* For further details call Topflight on (01) 240 1700 or (028) 9752 1168, visit topflight.ie and drop into your local travel agent.
NB: This story originally appeared in The Irish Independent.